Trump's Praise of Paul Manafort May Have Led His Attorney to Commit an Ethics Violation: Legal Experts
Donald Trump's praise of Paul Manafort may have led one of his attorneys to commit an ethics violation, law experts say.
Attorney Kevin Downing has been accused of making a "totally inappropriate" comment on Friday, after Trump told members of the media that Manafort was a "good man."
"I think the whole Manafort trial is very sad... I think it's a very sad day for our country," the president told the press on Friday morning. "He worked for me for a very short period of time but you know what he happens to be a very good person and I think it's very sad what they have done to Paul Manafort."
After announcing that the jury was dismissed for the weekend, reporters followed Downing, asking him what his reactions were to the Trump's sympathetic comments toward his former campaign manager.
"We were very happy to hear from the president, and that he's supporting Mr. Manafort," the attorney told Pierre Thomas from ABC.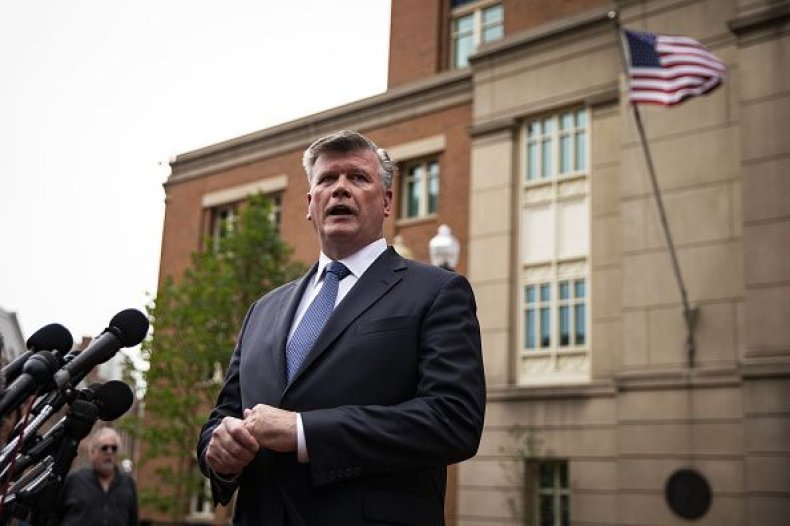 Downing made the comment after day 14 of the trial, which saw the jury go home earlier on Friday after a second day of deliberations. No verdict has been reached yet, as Manafort faces charges of bank fraud and hiding foreign bank accounts. The jury will reconvene on Monday morning at 9:30 a.m. for a third day of deliberations.
Law experts say that Downing's statement may have breached ethical standards. Former federal prosecutor Renato Mariotti tweeted that the comment was "totally inappropriate." Mariotti also accused Downing of making the remark in an effort to get a hung jury.
In another social media post, Mariotti pointed to the American Bar Association rules of conduct on trial publicity. One rule states that an attorney should never "make an extrajudicial statement that the lawyer knows or reasonably should know will be disseminated by means of public communication and will have a substantial likelihood of materially prejudicing an adjudicative proceeding in the matter."
Mimi Rocah, another former federal prosecutor echoed Mariotti's statements, saying that Downing's comment "is likely violating ethic rules" and that the government should file a motion based on the statement.