What We Know About Paul Manafort's Links to Oleg Deripaska and the Kremlin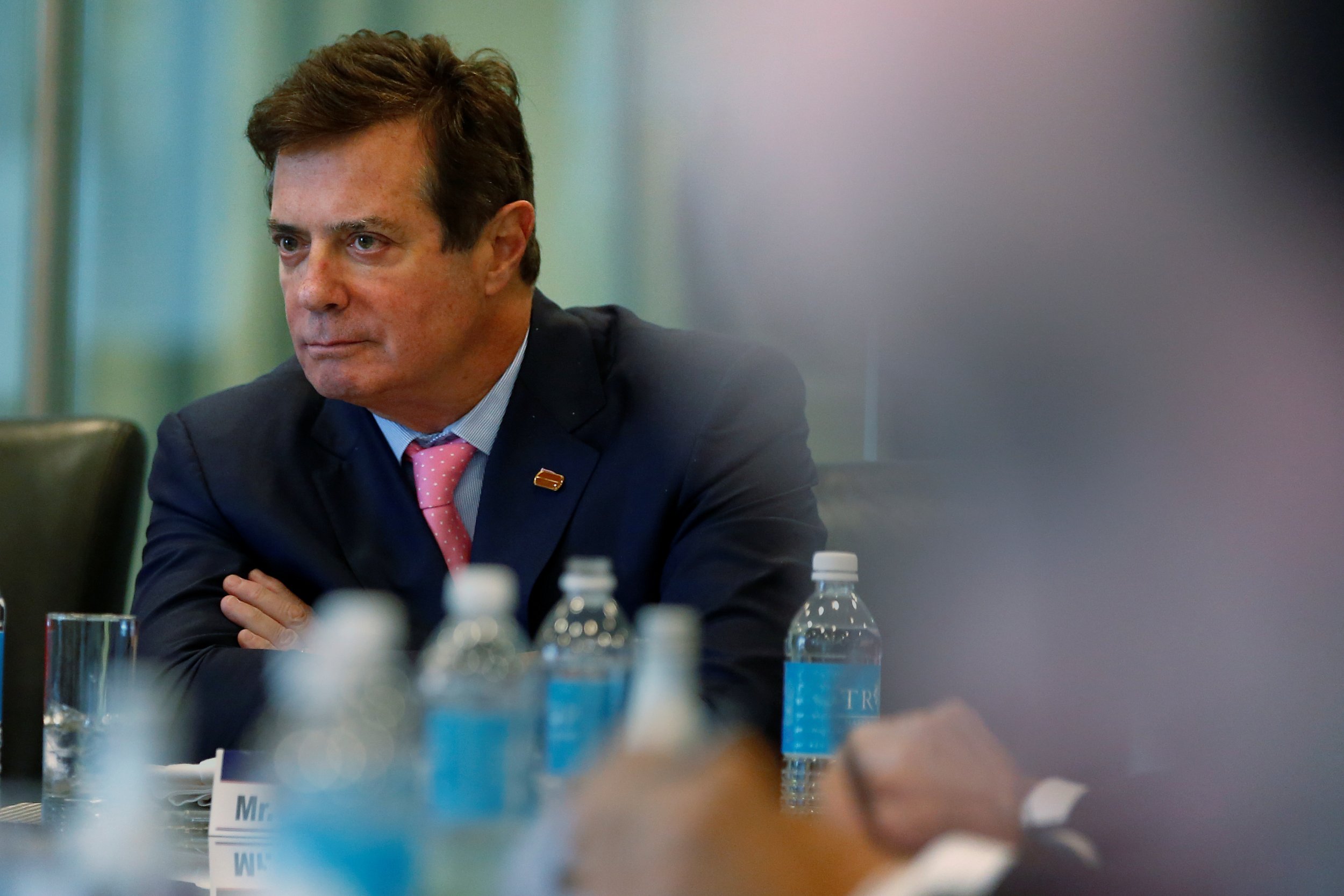 The ongoing scandal around emerging links between Donald Trump's associates and the Russian establishment found a new twist on Wednesday. According to an exclusive Associated Press report, the former Trump campaign head Paul Manafort contacted Russian oligarch Oleg Deripaska in 2005 proposing a strategy to "greatly benefit" Russian President Vladimir Putin's government.
Manafort and Deripaska forged a professional relationship shortly after, the AP report states, coinciding with Manafort's now well-publicized career as adviser to Putin ally and former Ukrainian President Viktor Yanukovych prior to 2014. The new reports have prompted concern in the U.S. Congress where both Democrats and Republicans have been troubled by persistent reports linking Manafort and other Trump associates to pro-Kremlin forces.
Here's what we know—and still don't know—about Manafort and Deripaska's relationship.
Did Manafort and Deripaska work together?
Both men have confirmed Manafort did work for Deripaska. However what is unclear is how this relates to Manafort's reported proposal in 2005 to boost the Kremlin's agenda and his later work for Kiev's pro-Russian leader.
The AP report cites Manafort arguing that the strategy he proposes "can greatly benefit the Putin Government if employed at the correct levels with the appropriate commitment to success." In executing it, they would be "be offering a great service that can re-focus, both internally and externally, the policies of the Putin government."
Read more: Meet Oleg Deripaska, who allegedly worked with former Trump aide Paul Manafort to push Putin's views
Deripaska and Manafort have both confirmed to Newsweek and the AP respectively that Manafort worked for Deripaska, but insist it was in the interest of Deripaska's business endeavors. A spokesperson for Deripaska told Newsweek that "there was an agreement between Mr Deripaska and Mr Manafort to provide investment consulting services related to business interests of Mr Deripaska which now is a subject to legal claims."
The spokesperson refused to comment on when the agreement was struck, when it ended and whether it involved any political commitments. It is a matter of public record, however, that Deripaska filed a legal case in 2014 to recover a multimillion-dollar payment to a now defunct fund set up by Manafort. The reason for the payment was an attempt to acquire a cable TV network in Ukraine with the help of the fund.
Is Oleg Deripaska a 'Putin crony'?
Deripaska is reportedly worth around $5 billion, according to Forbes. According to Anders Aslund, a former economic adviser to the governments of Russia and Ukraine who is now working for the Atlantic Council, the businessman has a good relationship with the Kremlin but is "not a Putin crony."
"I have met him personally and he is very direct to talk to, less cautious," Aslund says. "Deripaska is not very involved in politics but businessmen cannot be uninterested in politics in Russia. There is a number of people suspected of being middle men for Putin, of holding assets for Putin but nobody thinks Deripaska is among them."
Nonetheless, Wikileaks cables released in 2012 indicate that private intelligence analysts perceived Deripaska as close to Putin and he may have received benevolent treatment by the Kremlin because he married into the family of Putin's predecessor—Boris Yeltsin.
Robert Amsterdam, an attorney who represented Russian oligarch Mikhail Khodorkovsky during his case to keep his Yukos oil company from a state takeover, says that in Russia, having close ties between wealthy businessmen and the Kremlin "is not just normal, it is mandatory."
"There are no major Russian oligarchs now that are not in some level of collaboration with the Russian government," Amsterdam says. According to him, while some oligarchs are personally closer to Putin than others, most feel that their own interests tend to align with those of the current government.
"What you have happening in Russia is oligarchs spend money on initiatives to benefit Russia, which would in turn benefit them," he says, though noting that he has "not kept tabs" on Deripaska.
In 2009, Deripaska was notably the target of a public shaming by Putin, who was prime minister at the time; he walked the businessman through an industrial town near a factory owned by Deripaska, and in a televised meeting, criticized him strongly and demanded he pay all outstanding wages by the end of the day. The stunt followed a government bailout of Deripaska during the financial crisis in the previous year.
Lauren Goodrich, Eurasia analyst at a private intelligence firm says the incident illustrates Deripaska's complex relationship with the Kremlin. "They have leverage over him but he isn't really personally loyal to Putin whatsoever," she says. Maintaining contact with figures that may benefit his business and possibly the Kremlin "make sense" with how Deripaska operates, she says.
Is Manafort's link to Deripaska a problem for Trump?
White House spokesman Sean Spicer has repeatedly tried to distance the Trump administration from Manafort's presence in the campaign prior to his departure in August. Speaking on Monday, Spicer said it was "a bit ridiculous" to believe Manafort "played some lasting role" or his past was evidence for "some high level collusion" with Russia and the campaign.
John Herbst, a former U.S. Ambassador to Ukraine from 2003 until 2006, who met Manafort on two occasions during his station to Kiev told Newsweek the report "raised some serious questions," particularly because during Manafort's tenure for the campaign, Trump's Republican party shifted its stance on Ukraine from one calling for the provision of "lethal defensive aid" to a much more benign phrasing of providing "appropriate assistance." The latter is much more in line with Russia's belief that Western powers should not interfere in the Ukraine conflict, where Russia is backing separatist fighters.
"I met Manafort in very early 2006, when I thought he and [business partner] Rick Davis were just beginning work with Yanukovych," Herbst says. "Nothing they did at the time seemed untoward—in fact turning Yanukovych to a politician who wins from popular support as opposed to through falsifying votes seemed like a good thing to me."
"I think [the AP report] is a bombshell and I have not used the term so far when speaking about the Trump campaign's reported links to Russia," he says. "I knew there was a business connection with Deripaska from reading about it but the information today suggests the connection predates the Yanukovych connection."
The Republican Party made a major shift from its position on supplying Ukraine with lethal aid, while Manafort headed Trump's campaign. The platform was strongly backed by members of the party who saw Russia's behavior in neighboring Ukraine as unacceptable. Herbst says that while it is unclear whether Deripaska took up Manafort on his offer to propagate pro-Putin goals, the offer is significant in the context of the Trump administration's changing policy on Ukraine.
"The information today, that he had a plan to improve Russia's image here, raises some very serious questions when someone under Manafort's command [of the campaign] introduced language to the platform on Ukraine that would gratify the Russians," he says.