Read the Full Text of Robert Mueller's New Indictment Against Paul Manafort and Rick Gates
Updated | New charges were filed against Paul Manafort and Rick Gates on Thursday. The 32-count indictment by Special Counsel Robert Mueller's gives greater detail on the money laundering and fraud allegations against the two men.
The indictment is the latest development in the case against Manafort, President Donald Trump's former campaign chairman, and Gates, Manafort's longtime associate and a Trump campaign aide. Mueller, who is investigating Russian meddling in the 2016 election and possible coordination with the Trump campaign, first filed charges against the pair last October. They have pleaded not guilty.
The new charges include 16 counts stemming from alleged false filings of individual tax returns, seven counts relating to failure to report foreign bank accounts, five counts of bank fraud conspiracy and four counts of bank fraud, according to the special counsel's office. Manafort is now accused of laundering more than $30 million, as opposed to more than $18 million in the previous indictment.
Yet there are significant differences between the two indictments. The earlier one included allegations of conspiracy against the United States, failure to register as an agent of a foreign principal, making false and misleading Foreign Agents Registration Act statements and making false statements to the Department of Justice. But the new indictment instead focuses on alleged income tax violations, bank fraud and bank fraud conspiracy. Both indictments allege failure to file reports of foreign bank and financial accounts.
Related: Who is Alex van der Zwaan, Mueller's new defendant?
As with the October indictment, the new one does not directly mention Trump or the issue of Russian meddling in the 2016 election. Trump weighed in on the October charges at the time, tweeting, "Sorry, but this is years ago, before Paul Manafort was part of the Trump campaign. But why aren't Crooked Hillary & the Dems the focus?????"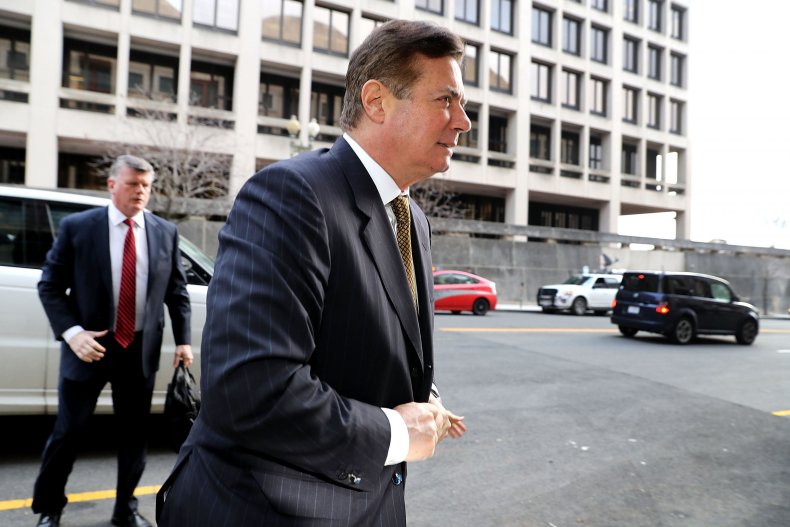 Mueller's team now alleges that Manafort and Gates secretly transferred more than $10 million from entities in Cyprus to entities Manafort owned in the United States. The defendants disguised that money as loans to avoid paying taxes, the prosecutors claim. Manafort allegedly used this money to buy real estate in the U.S., and later took out loans against that real estate for more cash flow. An unnamed bank employee helped Manafort falsify records to take out loans against the real estate, the indictment alleges.
In a statement Thursday night, Jason Maloni, a spokesman for Manafort, said, "Paul Manafort is innocent of the allegations set out in the newly filed indictments and he is confident that he will be acquitted of all charges. The new allegations against Mr. Manafort, once again, have nothing to do with Russia and 2016 election interference/collusion. Mr. Manafort is confident that he will be acquitted and violations of his constitutional rights will be remedied."
At least two companies the indictment says are controlled by Manafort received millions of dollars from companies owned by Russian oligarch Oleg Deripaska, Bloomberg reported last October, after the first indictment came out.
While reports have characterized Manafort as a political dirty trickster who owns expensives suits, antiques and properties and spends lavishly on rugs, Gates has been less of a public figure. There had been speculation that Gates would change his plea and cooperate with Mueller's team.
Gates's name also came up in a charge that Mueller's team made public on Tuesday involving Alex van der Zwaan, a Dutch lawyer. Van der Zwaan admitted to lying to federal agents about communications he had with Gates when the two were doing work on behalf of the Ukrainian government.
Mueller's team has also secured guilty pleas from former Trump campaign foreign policy adviser George Papadopoulos, former National Security Adviser Michael Flynn and Richard Pinedo, a California man who sold fraudulent bank account numbers. The team has also indicted 13 Russian nationals and three companies affiliated with the Internet Research Agency, a Russian troll operation.
This article has been updated to include more information from the February 22 indictment. It was later updated again to include a statement from Jason Maloni.
Manafort-gates Edva Indictment by Max Kutner on Scribd