'Highly Unusual': Ex-Prosecutors Question Top DOJ Official Intervening to Stop Paul Manafort Going to Rikers
Former Trump campaign chairman Paul Manafort received an unlikely gift from Department of Justice officials on Monday, when it was revealed that he would be spared from pre-trial detention at Rikers Island, the violence-plagued New York detention facility that is set to close in the next decade after a pledge from Mayor Bill de Blasio.
The change reportedly involved an intervention from one of the Justice Department's top officials, a move that is being described by former federal prosecutors as highly suspect.
Manafort was poised to await his arraignment on over a dozen state fraud charges at the city's island jail complex until last week, when, according to a report from The New York Times, Deputy Attorney General Jeffrey Rosen wrote to Manhattan prosecutors that he was personally keeping tabs on Manafort's case.
Then on Monday, federal prison officials informed the Manhattan district attorney's office that they wouldn't be ceding custody of Manafort to the state ahead of his court appearance but would allow him to stay at the federal Metropolitan Correctional Center in Lower Manhattan instead.
Former Department of Justice officials began to weigh in after the report was released, calling Rosen's involvement "highly unusual," and a former Bureau of Prisons official told Newsweek that the determination about which facility would hold Manafort should have been negotiated solely between Bureau of Prisons representatives and state prosecutors.
"Calling this highly unusual doesn't even begin to capture how strange it is for the no. 2 official at DOJ to intervene in a state custody issue," former Alabama federal prosecutor Joyce Vance wrote on Twitter.
Elizabeth de la Vega, a former Northern California assistant U.S. attorney in the criminal division, questioned if intervention from top Justice Department officials would be replicated for other "federal prisoners being held at Rikers while facing state charges."
"I wonder, is there something special about Paul Manafort?" she tweeted.
While arrangements avoiding detention at state facilities during prosecution for state crimes are "not common," according to a former correctional treatment specialist at the Bureau of Prisons, accommodations like the one offered to Manafort "can be made."
"I've seen them over the years," former Bureau of Prisons official Jack Donson told Newsweek. "It's not typical protocol, but to be honest, these situations can happen if the prosecution is cooperative. I think it's the right thing to do."
But Donson cautioned that the reported involvement of the second-highest law enforcement official in the country was "an overreaction by the Department of Justice."
"It is unusual that it did arise from the [Deputy] Attorney General's office," he observed. "I don't think it's appropriate."
Donson explained that while the decision-making process for the transfer of detainees, governed by the Interstate Agreement on Detainers Act, can be a bit fuzzy, directives don't normally deviate so blatantly from standard channels.
"Usually those things come down by word of mouth," he said. "Somebody says, 'hey, make this happen.' And there's eventually going to be something in writing, but certainly not something from the deputy attorney general."
Donson added that the decision likely "could have been accommodated at lower levels" within the Bureau of Prisons.
The Times report also indicated that Manafort could be transferred back to his regular detention complex in Loretto, Pennsylvania, where he is serving a seven-and-a-half-year federal sentence, and return to New York as needed for pre-trial hearings in the Manhattan case.
But according to Donson, this back-and-forth arrangement might further arouse suspicion, as federal inmates being tried on state charges usually "come on a writ and stay until they're prosecuted."
"He's ordinarily going to remain the writ area until there's some kind of resolution," he said.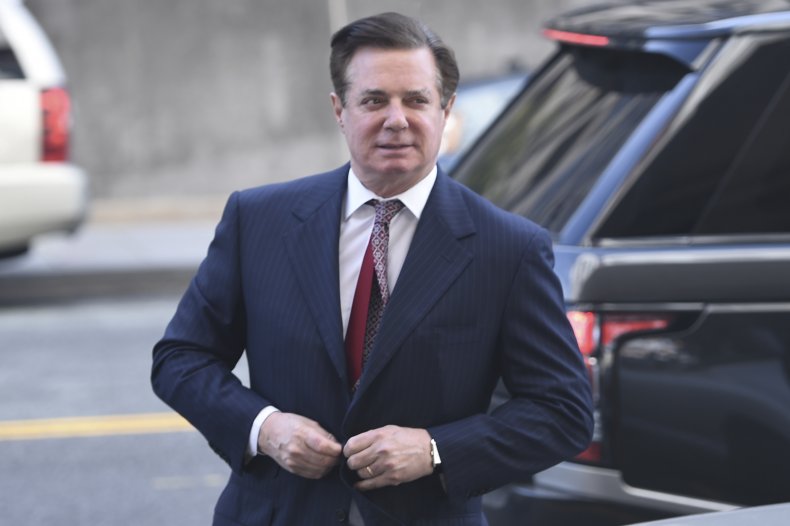 Last month, New York State lawmakers approved a measure that would protect prosecutors' abilities to bring state charges against individuals convicted of federal crimes, a proposition that the U.S. Supreme Court recently upheld but that New York law prohibits in many cases.
President Trump's unconventional use of the pardon power suggested to New York lawmakers that he could seek to pardon Manafort in connection with the Russia probe, a move that the state legislature sought to preempt by carving out prosecution exemptions for individuals connected to the presidency who have received pardons for federal crimes.