Paul Manafort Gets Shorter 4-Year Sentence As Judge Says Former Trump Campaign Chair Lived 'Otherwise Blameless Life'
The man who was once President Donald Trump's campaign manager has been sentenced to just under four years behind bars.
A federal judge in Alexandria, Virginia, handed down the 47-month sentence Thursday evening to the 69-year-old man for hiding money in foreign bank accounts and tax and bank fraud. The sentence was far less than the 19.5 to 24.5 years that special counsel Robert Mueller's office recommended, with Judge T.S. Ellis stating that Manafort had "lived an otherwise blameless life."
Manafort will receive credit for time-served for the approximate nine months he's been jailed. He'll also be forced to pay up to $24 million in restitution and a $50,000 fine, which prosecutors said will partially come from two houses: one in Alexandria worth roughly $3 million and one in Palm Beach, Florida, worth around $1.2 million. In addition, prosecutors said Manafort has millions of dollars worth of investiments and a life insurance policy that will be used.
In a separate criminal case next week in Washington, D.C., Manafort will be handed another sentence of up to 10 years for witness tampering and conspiracy charges.
The former campaign manager was brought into the courtroom in a wheelchair, along with sporting a dark green prison jumpsuit with the words "ALEXANDRIA INMATE" printed along his back in large, white block letters, and wore a long sleeve white T-shirt underneath. Manafort remained stone-faced and emotionless throughout much of the court proceedings.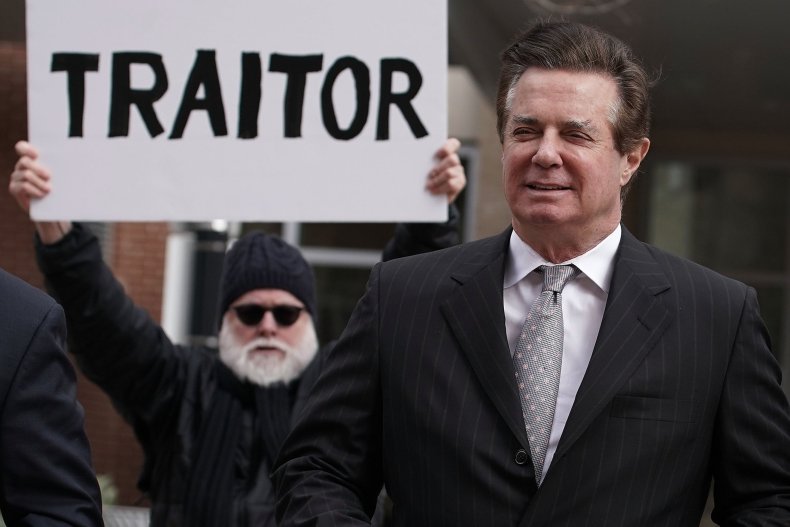 "The last two years, your honor, have been the most difficult that my family and I have ever experienced," Manafort told U.S. District Judge T.S. Ellis just prior to his sentencing. "To say that I am humiliated and ashamed is a gross understatement."
"My life professionally and financially is in shambles," he continued. "The person that I am and have been described in public is not someone I recognize."
Noticeably missing from Manafort's brief remarks, Ellis said, was an explicit sign of regret and apology.
"I was surprised that I did not hear you express regret," Ellis said, shortly before handing down the years-long sentence.
The prosecutors' recommended sentence of up to more than two decades, essentially a lifetime sentence for the 69-year-old whose health condition has now confined him to a wheelchair, was viewed as "excessive," "unwarranted" and "disparaging" by the judge.
"The sentences have been remarkably light [for these types of crimes]," Ellis said.
He noted that the millions of dollars in tax fraud and in foreign banks accounts, while excessive to the everyday taxpayer, was a crime that was usually awarded a sentence ranging from a few months of probation to a few years in prison.
"I need to take that into account," Ellis said.