Celebrate Paul McCartney's Birthday With Some of His Best Words of Wisdom
Paul McCartney—you know, of the Beatles and Wings and being Paul McCartney—is 78 today.
Born in Liverpool on June 18 in 1942, McCartney and his schoolmate George Harrison joined with John Lennon and his band the Quarrymen when they were all teenagers, thus launching the most successful songwriting collaboration in the history of pop music.
For all their accomplishments and glory, McCartney has prided himself on keeping the Beatles held in a humble perspective. "The Beatles were always a great band. Nothing more, nothing less," he once famously said.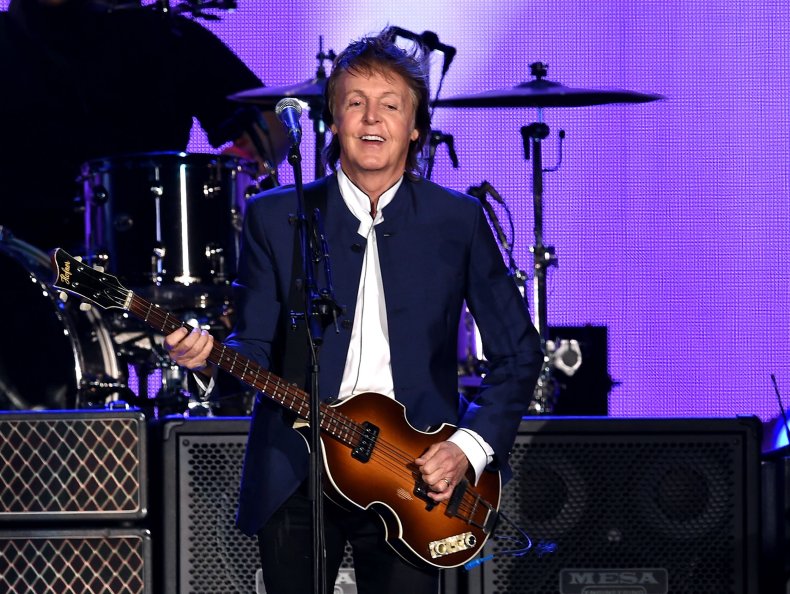 But when looking for words of wisdom from the singer and songwriter, none ring more true than his thoughts on art.
"I think there's an urge in us to stop the terrible fleetingness of time. Music. Paintings. It's the same with [wife Linda McCartney's] photos. Try and capture one bloody moment please. The night we blew the candles out on a birthday with the kids. Capture it, please," McCartney told The New Statesman in 1997.
Here are some of the many other quotes McCartney has said over the years, on topics ranging from vegetarianism to the preciousness of life itself:
"If slaughterhouses had glass walls, everyone would be vegetarian," McCartney and his first wife, Linda, were known to have said. The couple became vegetarians in the 1970s and were lifelong animal rights activists. The quote became a central part of a PETA video campaign in 2013.
That's not the only well-known McCartney quote related to animal rights:
"You can judge a man's true character by the way he treats his fellow animals."
"If anyone wants to save the planet, all they have to do is just stop eating meat. That's the single most important thing you could do. It's staggering when you think about it. Vegetarianism takes care of so many things in one shot: ecology, famine, cruelty."
McCartney shared several quotable gems in a 1984 interview with Playboy, including thoughts on his hometown and the elusive true nature of the Beatles:
"There are only four people who knew what the Beatles were about anyway. Nobody else was in that car with us. The chauffeur's window was closed, and there were just four of us in the back of that car, laughing hysterically. We knew what we were laughing at; nobody else can ever know what it was about ... I doubt if even we know, in truth."
"I've been right around the world a few times, to all its little pockets; and, in truth, I'd swear to God I've never met any people more soulful, more intelligent, more kind, more filled with common sense than the people I came from in Liverpool."
"Nothing pleases me more than to go into a room and come out with a piece of music."
Between the deaths of John Lennon, Linda McCartney and George Harrison—the latter two lost to cancer—McCartney has some experience with personal tragedy. His remembrance of his final time with Harrison is particularly moving.
"He'd always felt like my little brother," McCartney told The Mirror two years after Harrison's death. "The last time I met him, he was very sick and I held his hand for four hours. As I was doing it, I was thinking, 'I've never held his hand before, ever. This is not what two Liverpool fellas do, no matter how well you know each other.'"
"I kept thinking, 'He's going to smack me here.' But he didn't," McCartney continued. "He just stroked my hand with his thumb and I thought, 'Ah, this is okay, this is life. It's tough but it's lovely. That's how it is.' I knew George before I knew any of the others and I loved that man. I'm so proud to have known him."
But while McCartney is often thoughtful in interviews, with perspectives worth sharing in celebration of his birthday, for the purest experience of his wisdom, it's best to turn back to the music.