Paul McCartney Honors John Lennon's 80th Birthday With Poignant Photo of Their Close Beatles Bond
Paul McCartney has himself and John Lennon to mark what would have been the late musician's 80th birthday.
The Beatles legend took to Twitter to mark the occasion with a poignant throwback photo of the pair in their heyday.
"I love this picture," McCartney wrote. "It reminds me of the bond between us. Happy 80th John. Love Paul."
The black and white photo shows the musical duo smiling while looking over what looks like pages of music or lyrics.
The pair met during a chance encounter at a church fete in 1957 and would later go on to become one of the world's most famous songwriting partnerships.
The estate of George Harrison also tweeted to celebrate the occasion, with an old photo of the band members.
"'Oh My Love' is one of five songs on @johnlennon's 'Imagine' album that George played on. George plays the guitar while John sings and plays piano," they wrote.
Beatles drummer Ringo Starr also shared a tribute to his late bandmate, tweeting: "Let's celebrate John's 80th birthday with come together Friday, 9 October I still miss you man peace and love to Yoko Sean and Julian."
Noel Gallagher of Oasis fame also shared a birthday tribute to Lennon, tweeting a video of him singing.
Lennon was shot dead aged 40 in the archway of the Dakota building in New York City on December 8, 1980.
To mark the "Imagine" artist's birthday yesterday, the Empire State Building was illuminated a bright shade of blue with a white peace sign rotated around the mast.
Lennon's son Sean Ono Lennon, 45, was present to switch the lights on.
The memorial coincides with the release of Lennon album new album, Gimme Some Truth: The Ultimate Mixes, which is a compilation of 36 of his solo tracks. The album was produced by his wife Yoko Ono Lennon.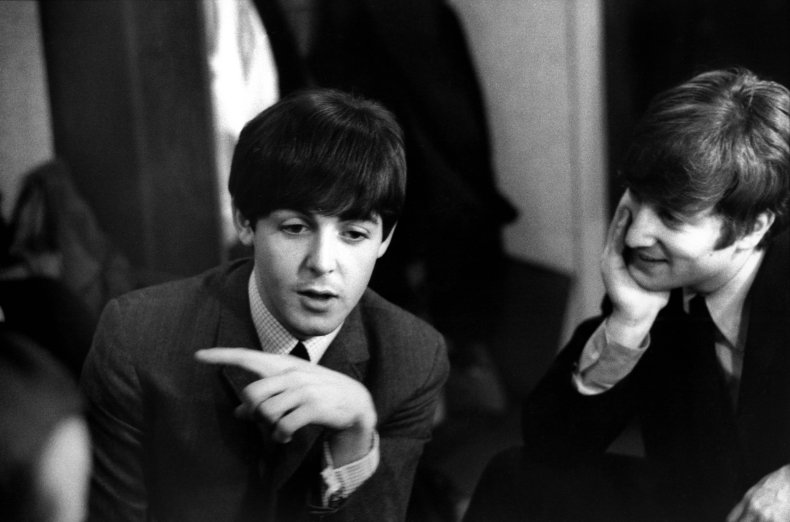 Lennon's enduring influence on pop culture has seen a number of other events planned to mark what would have been his 80th year.
A pop-up television channel called LENNON80 was also created, which will feature special programming about the musician's life.
McCartney's birthday tribute comes as Lennon's sister Julia Baird helms a series of events taking place in the Beatles' hometown of Liverpool.
Baird has described her brother's legacy as "anti-war, equality, diversity—all the things that we've gotten nowhere with, that we're still talking about today."
Speaking to Sky News, Baird said her brother was a "proper son of Liverpool."
Earlier this week, Sir Elton John spoke to Lennon's son—who is his godson—for a BBC Radio 2 special.
"I think if your dad had still been alive he would have definitely been, maybe won the Nobel Peace Prize or something," the Rocket Man singer said.