Paul Rudd on Grace, Bar Mitzvahs and This is 40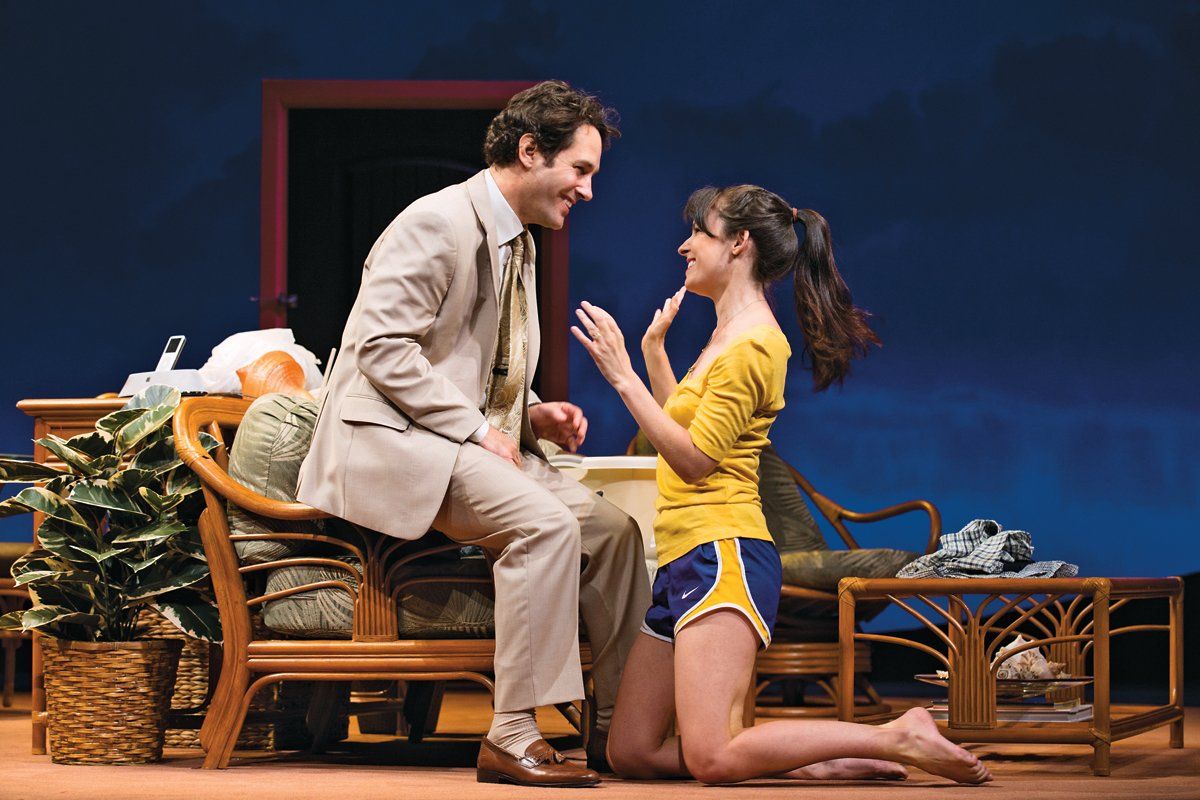 I'm not sure we've seen you kill anyone before, in a film or on stage.
I don't think I have! This is a very interesting and different part for me. And there are not many plays that open right with someone blowing their brains out.
Is theater more creatively satisfying for you than acting in film?
Acting in a play takes a lot of focus, concentration, and energy. The big myth is that you have a show at night so you have your days off, and that isn't the way it works. Your day revolves around the show. I spent the early part of my career doing plays and independent movies, and while I'm grateful that I'm still working and consider myself extremely fortunate, over the last few years I've gotten jobs in big studio movies that have much higher visibility; I hit that [Judd] Apatow trend. And those movies are very creatively fulfilling because the actors are involved in many different capacities.
Was it strange to be a Jewish kid growing up in Kansas? This evangelical subject matter must hit pretty close to home.
Oh yeah, man, I grew up in the Bible Belt. While I'm not the born-again Christian I'm playing, I know a lot of people who are because I was surrounded by that.
The idea of gospel-themed hotels is -pretty wild. Ever had any strange -business ideas of your own?
When a friend and I were in college these "Don't Be A Dick" shirts were popular, so we made one about safe sex. We actually made good money.
You also DJed bar mitzvahs. What's the craziest thing you saw happen?
I was just out of college and going to acting school, so I got this job working on the weekends. I had never seen bar and bat mitzvah receptions that were such huge deals. The Laker girls were at one. It was surreal. It was a weird job.
What were your most-played songs?
"U Can't Touch This" was pretty big at the time and "I'm Too Sexy," by Right Said Fred. You had your classics like "What I Like About You." It was good to start a set with "In the Mood," by Glenn Miller, because then you got the grandparents up and dancing. You don't throw MC Hammer at them right out of the gate. These are the tricks of the trade.
Your next film, This Is 40, is out soon. Did your outlook change when you hit 40?
You think, Oh my God, the weight of even the word 'forty.' But my father died when I was 39, and I was still in a daze by the time I turned 40, so I didn't process that the way I should have.