A History of Paul Rudd and Seth Rogen's Bromance—Movies to Massages
Paul Rudd and Seth Rogen are two of Hollywood's most loved leading men with comedy careers that have dominated the best part of the last 20 years.
Today, fans of both actors are reveling in a bizarre anecdote shared by Rogen about his sometime co-star and friend, involving a massage prank.
Taking to Twitter on July 5, Rogen, 39, of Bad Neighbors fame, randomly shared a story of an encounter he had with Rudd, 52, in Las Vegas.
"Once I was in the spa in a hotel in Vegas getting a massage," Rogen tweeted. "When I finished I turned over and to my shock Paul Rudd was massaging me.
"He saw me go in and convinced the masseuse to let him take over, thinking I'd notice immediately. I didn't, and Paul did the entire rest of it."
The bizarre anecdote led to Rudd's name becoming a trending topic on Twitter on Tuesday morning prompting fans to ask more questions and create memes about the joke.
Producer Jeremy Wein asked Rogen on Twitter: "Are we sure this wasn't a weed-induced hallucination Seth?" To which Rogen replied, "I'm sure Paul would confirm it."
"Paul Rubb," joked another.
Rogen's anecdote seems like a bit that would not be out of place in one of either his or Rudd's films, offering a classic bromance gag for comedy fans.
The two have starred in a number of films together over the years including The 40-Year-Old Virgin, Anchorman: The Legend of Ron Burgundy, Knocked Up, This Is The End, Sausage Party, and more.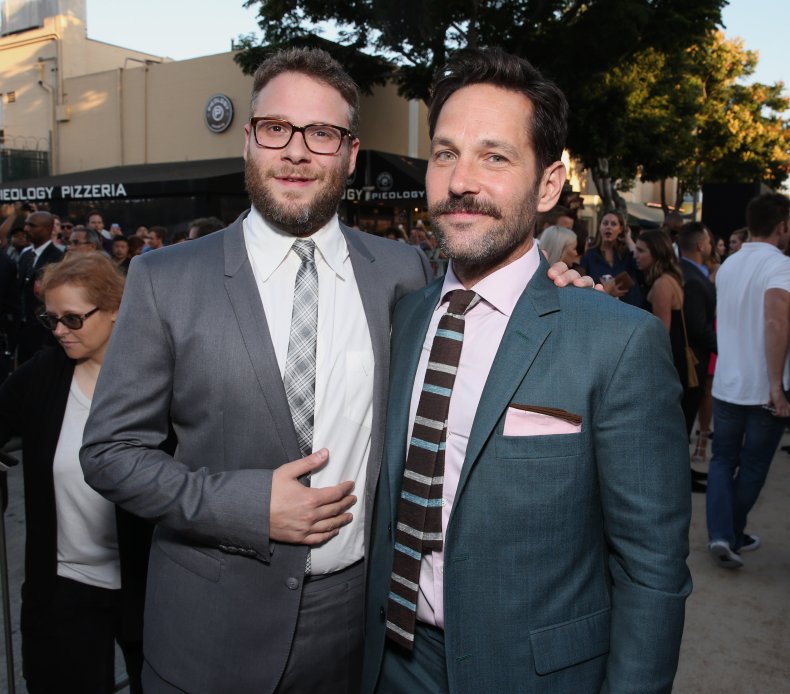 Back in 2009, both actors appeared in a Vanity Fair spread titled "Laughing Matter: Comedy's New Legends" alongside Jason Segal and Jonah Hill.
The article describes this quartet as "summa cum laude graduates of the Judd Apatow school of comedy" and suggests they are at their funniest when "part of a tightly knit ensemble."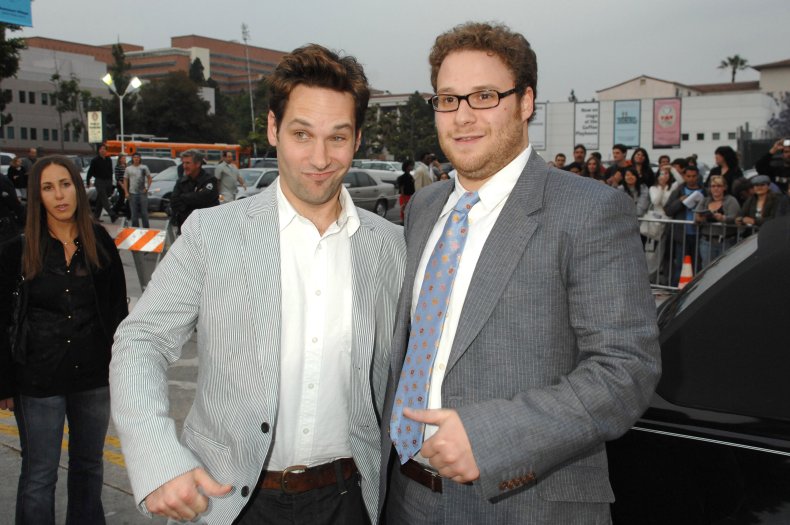 Perhaps Rogen and Rudd's best-loved onscreen performance is their characters', Cal and David's, banter in 2005's The 40-Year-Old Virgin.
One famous scene shows the homophobic pair playing video games and sparring with the line: "You know how I know you're gay?" in what is reportedly an improvised exchange.
Another scene showing the pair bouncing off each other comically is in 2007's Knocked Up when they both do Robert De Niro impressions while on a double date.
More recently, Rudd and Rogen made a joint appearance on The Graham Norton Show where the Antman actor recalls another of his pranks—this time a failed attempt to amuse Michael Douglas—that leaves Rogen chuckling uncontrollably.
Rudd and Rogen are both due to star in an upcoming Apple TV series titled The Shrink Next Door.