Paul Rudd's Running Joke on Conan O'Brien Explained
Paul Rudd appeared on Conan O'Brien's talk show for perhaps the final time last night and continued a tradition between the pair that stretches back 17 years.
Gatecrashing Bill Hader's appearance on Conan, Rudd came out to prank O'Brien and the audience by playing a bizarre clip of the 80s movie Mac and Me not once, but twice.
The audience, who at this point were in on the joke, met the clip with rapturous laughter and applause. O'Brien and Hader lost it while Rudd remained the coolest man in the room.
As Conan comes to an end this week on TBS, Rudd discussed the long-running joke on O'Brien's shows and revealed its origins.
What does Paul Rudd do on Conan O'Brien's shows?
Rudd has developed a unique tradition with O'Brien. Almost every time he appears as a guest on one of his talk shows, Rudd will pretend he has an exclusive clip to share, as many guests do.
However, almost without fail the clip turns out to be a scene from the 1988 movie Mac and Me. Specifically, it's a scene where a boy in a wheelchair uncontrollably rolls down a hill and off a cliff, falling into the water below, before an alien appears on-screen with an unusual reaction.
The first time, Rudd played the trick on O'Brien was on February 6, 2004. Rudd was a guest on Late Night with Conan O'Brien and claimed to have a clip from the upcoming finale of Friends. Of course, instead he played the now infamous clip from the movie Mac and Me.
The prank has now gone on for years since then, with various iterations of the same joke implemented across Late Night with Conan O'Brien and Conan on TBS.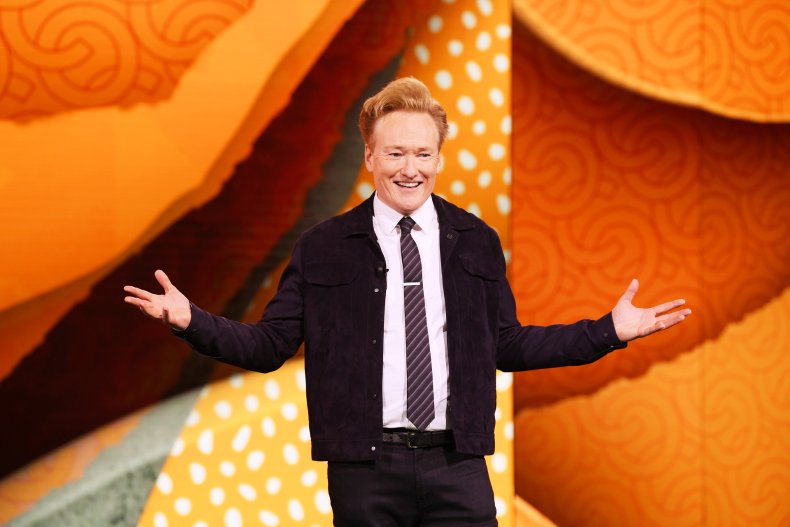 Over the years Rudd has played the clip after pretending to queue up projects like The 40-Year-Old Virgin, Role Models, Our Idiot Brother, Living With Yourself, This is 40, Anchorman 2 and even a new play Rudd claimed he was starring in.
During the promotion for Marvel's Ant-Man, Rudd even went as far as to bring a clip that had his character Ant-Man superimposed into the Mac and Me footage.
Paul Rudd's final appearance on Conan
Rudd appeared on last night's episode of Conan alongside Bill Hader. Once again he tricked O'Brien into thinking they were about to bring a clip of a failed Saturday Night Live sketch before playing Mac and Me, much to Hader and O'Brien's delight.
O'Brien admitted that he was always fooled by Rudd because he's so nice.
"Every time for years I would be convinced that I would see the real clip because you're such a genuinely nice person," O'Brien said, "and you would say 'this movie is really important to me, and I put my own money into this and I really care about this.' Then you'd pull that s*** every time."
During his latest appearance on the show, Rudd explained why he decided to start the joke. He said: "I just remember the very first time thinking, it's so artificial to come on and sell your wares and show a clip from your movie. What if I just show a clip from another movie?"
After this explanation, Rudd reveals to O'Brien, Hader and the live studio audience that he chose Mac and Me over another strange clip from a movie called Baby Geniuses. He tells everyone that on O'Brien's last week he'd like to show this alternative clip—he then proceeds to play the original Mac and Me clip again, potentially for the final time.
What is Conan O'Brien doing next?
O'Brien has hosted Conan on TBS for over ten years, and he'll host his final episode on June 24, 2021 when Jack Black is scheduled to be the guest.
He's hosted talk shows for 27 years but he's now taking his talents over to the streaming service HBO, Max where he's due to host a weekly variety show.
On the move, O'Brien said: "In 1993 Johnny Carson gave me the best advice of my career: 'As soon as possible, get to a streaming platform.' I'm thrilled that I get to continue doing whatever the hell it is I do on HBO Max, and I look forward to a free subscription."
O'Brien isn't cutting ties with TBS altogether as he's still planning on hosting his travel specials Conan Without Borders for the channel. He'll also continue to front his successful podcast series Conan O'Brien Needs a Friend.