Paul Ryan Says Alexandria Ocasio-Cortez Ignored His Advice on How to Be a Good Member of Congress: 'I Don't Think She Really Listened to a Thing I Said'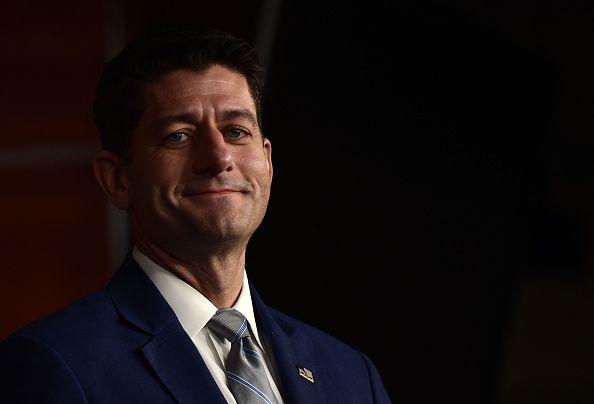 Republican Paul Ryan said that he tried to give freshman Democratic Representative Alexandria Ocasio-Cortez advice on how to be a good member of Congress, but he doesn't think she took on board anything he said.
"I don't think she really listened to a thing I said, you know," Ryan noted, according to local outlet GazetteXtra, on Tuesday while speaking at Forward Janesville's annual dinner in Florida. The former House speaker retired in January after spending over two decades in Congress.
Ryan added that he recommended Ocasio-Cortez "just take it easy" and "just watch things for a while" when first starting out in Washington D.C.
But the 29-year-old Democrat from New York has done anything but "take it easy" since arriving on Capitol Hill this year. In just a few months, she has become one of the most outspoken lawmakers in Congress and one of the most recognizable figures in national politics.
Last month, Ocasio-Cortez was featured on the cover of Time, which dubbed her The Phenom. It took Nancy Pelosi, who has served in Congress for over three decades and has been elected House Speaker twice, 31 years to make the cover of the magazine.
Ocasio-Cortez, a self-described democratic socialist, has become a lightning rod for conservatives in particular as she promotes progressive policies like the Green New Deal and Medicare for All.
"[The criticism] is next level," Ocasio-Cortez told MSNBC's Chris Hayes last week, though she did say she expected the attacks to be a little bit more sophisticated.
"I didn't expect them to make total fools of themselves," she told Hayes. "I expected a little more nuance."
President Donald Trump has also criticized the freshman congresswoman. On Tuesday, he mocked both Ocasio-Cortez and the Green New Deal during a fundraising dinner for the National Republican Congressional Committee.
"A young bartender, a wonderful young woman, the Green New Deal. The first time I heard it, I said, 'That's the craziest thing,'" the president said, before warning Republicans not to kill the legislation because he wants to "run against it" in 2020.
"If they beat me with the Green New Deal, I deserve to lose," he added.