House Speaker Paul Ryan Slammed After He Snubbed Florida Teacher On Gun Control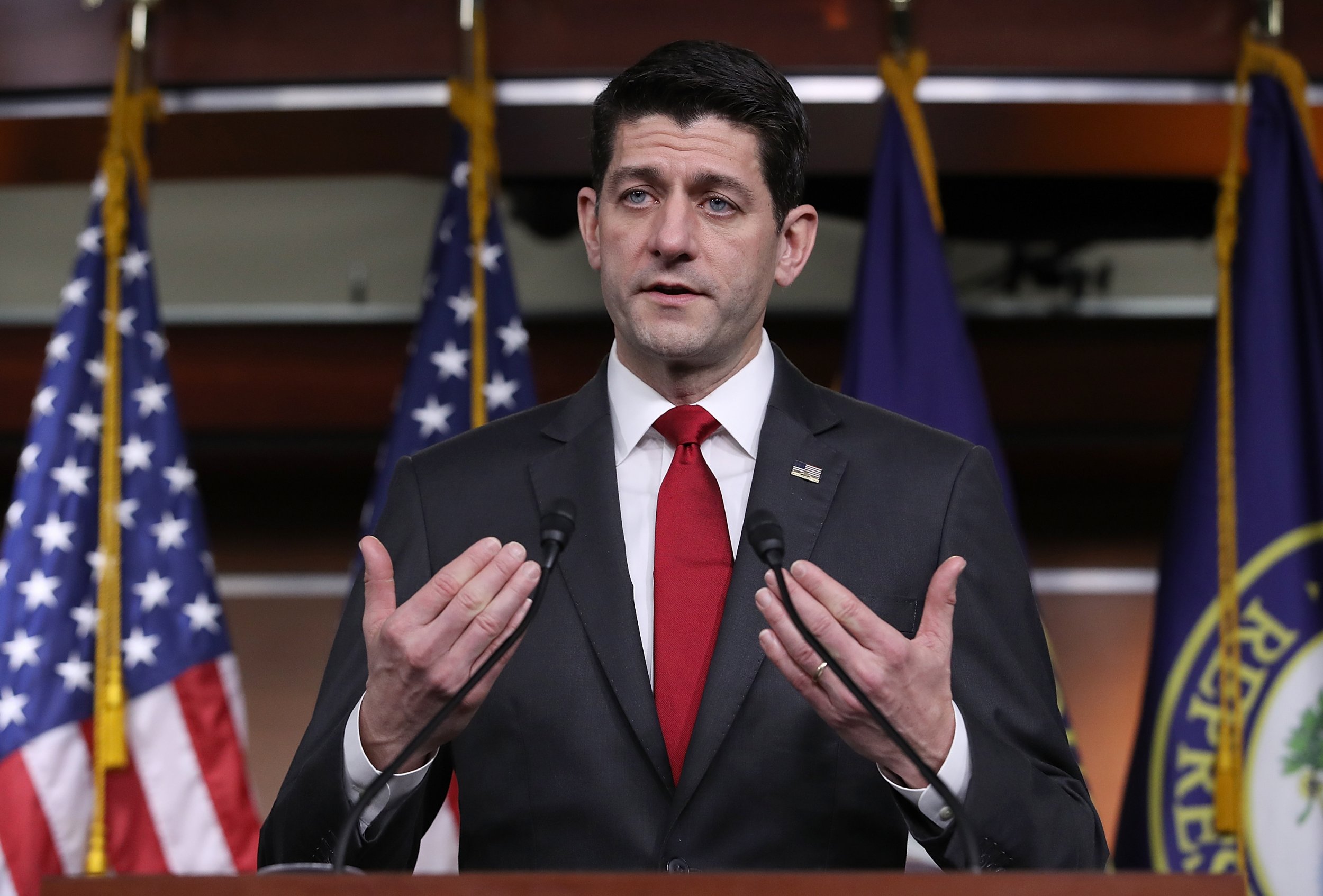 House Speaker Paul Ryan is a tool of the National Rifle Association, said his would-be Democratic challenger after Ryan told a Florida teacher that he "didn't want to talk politics" when she criticized his response to Wednesday's deadly school shooting in Broward County.
"We need a speaker who will listen to everyone, not just the NRA and other special interests who cut him checks," Democratic candidate and ironworker Randy Bryce said after the Friday night encounter between Ryan and the fifth-grade teacher, the Milwaukee Journal Sentinel reported. Bryce, who goes by the nickname Iron Stache, is seeking the Democratic nomination to run against Ryan in the upcoming 2018 midterms.
Bryce also attacked Ryan for going to Florida to "raise money" rather than to support a "grieving community."
The teacher, Maria Thorne, and another protester were escorted out of the Ritz-Carlton in Key Biscayne by security Friday, according to The Miami Herald. In recalling her exchange with Ryan, Thorne said she introduced herself as a teacher to the House Speaker, who responded, "Nice."
"Nice?" she questioned. "You're here celebrating the death of 17 children." After Ryan said he didn't want to discuss the issue, Thorne and a friend chanted "No more guns" and were ejected from the event.
Thorne, the teacher and activist, told the Herald that she attended the National Republican Congressional Committee fundraiser after she had struggled to reassure her own students at Miami's iPrep Academy that she could protect them from shooters such as Nikolas Cruz, who, cops say, murdered 17 at Marjory Stoneman Douglas High School earlier in the week in nearby Broward County.
"This is @SpeakerRyan's version of Thoughts and Prayers. Odd, it looks like a donor event in the tropics," an activist tweeted, adding footage from outside the National Republican Congressional Committee winter meeting.
Ryan denied Bryce's claim that he is ignoring gun control in the wake of yet another school shooting.
"As Speaker Ryan has expressed in recent days, the shooting in Parkland is horrific and senseless," a spokesperson for Ryan told the Sentinel. "He is praying for the entire community during this period of unimaginable pain and sorrow."
Ryan called the shooting horrific, but said that lawmakers do not just "knee-jerk before having all the facts and the data" in making decisions about gun control law in a Thursday interview with WIBC radio. During the 2016 election cycle, Ryan recieved about $171,977 in campaign contributions from gun lobbyists.
The latest attacks on Ryan for ignoring gun violence comes after the Speaker dodged legislation outlawing bump stocks, a modification for semi-automatic weapons that allowed Las Vegas shooter Stephen Paddock to rain death on a Las Vegas concert last October. At the time, even the National Rifle Association suggested it could support restrictions on the device. Ryan declined to move legislation, saying he would leave the matter to the Bureau of Alcohol, Tobacco and Firearms, which has not acted.
After Wednesday's shooting, The New York Daily News ​called out GOP lawmakers who had received campaign contributions from gun lobbyists yet only offered "thoughts" and "prayers" to the families and victims of the Florida school shooting. In a tweet responding to Texas Senator Ted Cruz, the outlet wrote, "Cruz received $41,805 in campaign donations from gun rights groups during the 2015-2016 campaign cycle and received an "A+" grade from the NRA."
Republicans and President Donald Trump blamed poor mental health care for Wednesday's shooting. "So many signs that the Florida shooter was mentally disturbed, even expelled from school for bad and erratic behavior. Neighbors and classmates knew he was a big problem. Must always report such instances to authorities, again and again!" Trump tweeted a day after the shooting. He has not addressed the ease with which Americans can buy powerful weapons such as the AR-15 that Cruz used, according to police.