Paul Ryan's Farewell Speech Slams Country's 'Debt Crisis,' but Debt Soared Over $300 Billion While He Was Speaker
Paul Ryan of Wisconsin, capping off three years as House speaker and another two decades as a representative, is serving out his last few days before he departs from the halls of Congress for the last time as a sitting member.
In his farewell address from the Library of Congress on Wednesday, the GOP lawmaker gave thanks to his family, mentors who supported him over the years, and "colleagues who became lifelong friends." The outgoing congressman gave an impassioned speech about what it personally meant to become one of Washington's most powerful men, the shortfalls of politics that result in fighting between political parties and offered advice for incoming members of Congress to "do your best to stay grounded."
Naturally, Ryan boasted of the chamber's record under his leadership, saying the House was the "most productive we have had in at least a generation" during the 115th Congress. As he's done throughout his time as a leader within the Republican Party, he called for the next Congress to reform entitlement programs, immigration and "confront this debt crisis."
"What continues to plague us is a mandatory spending system that is deeply out of balance and unsustainable," Ryan said. "This was the case when I came here 25 years ago and remains the case today."
Like a true conservative, he spoke on the issue of lowering the nation's debt. Ryan took partial credit for budgets and policies that, according to him, lowered the debt.
"I'm proud that every year I was Budget Committee chairman, we passed in the House a roadmap to balancing the budget and paying off our debt," Ryan said. "If we do these three things—make progress on poverty, fix our immigration system, confront this debt crisis—we can make this another great century for our country."
But since Ryan became speaker in 2015, the national deficit has continued to grow as he's supported policies that significantly add to the nation's "debt crisis," despite often touting fiscal responsibility and being a deficit hawk.
The deficit increased from roughly $439 billion in 2015 to a six-year high of $779 billion this year, according to the U.S. Treasury Department. The House and Ryan are but two components of an entire federal government responsible for managing the country's fiscal policies. Still, the reality of a growing deficit flies in the face of Ryan's comments that the House has paid off debt under his leadership.
He also strongly pushed for the passage of the tax overhaul initiated by Trump in 2017, a bill that Republicans argued would pay for itself. The nonpartisan Congressional Budget Office projected it would balloon the national debt by $1.9 trillion over the next 10 years.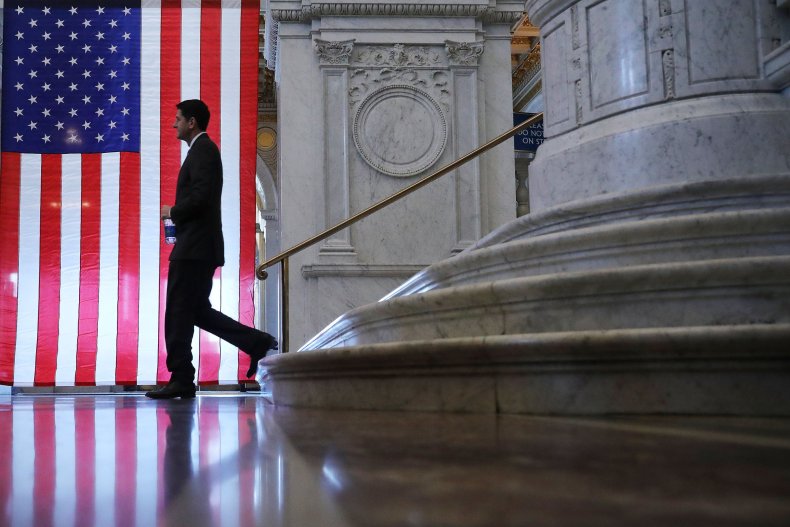 "After years of doubt, years of the cynics saying it could not be done, we achieved the first major overhaul of our tax code in 31 years," Ryan said. "Think about it. We went from having the worst tax code in the industrialized world to one of the most competitive."
The speaker suggested in his speech that repealing the Affordable Care Act—former President Barack Obama's signature health care law ruled as unconstitutional last week by a federal judge in Texas—and rolling back entitlement reform would have helped tackle the debt issue.
"Federal health care spending remains the principal driver of entitlement spending," Ryan said. "Ultimately, solving this problem will require a greater degree of political will than exists today. I regret that."
The 48-year-old man is young to have already served two decades and be retiring, considering that the average age of a current House member is nearly 58. Ryan did not yet know what was on the horizon for him in terms of his career, but he did offer some nonpartisan advice for those who were about to join Congress for the first time come January.
"You have to keep your sense of self. Work hard at staying who you are. Insist on it," Ryan said. "Never forget the excitement that brought you here.... Hone your ability to advance ideas.... Get to know the human side of serving with people."