Lou Dobbs Blasts Paul Ryan Retirement: 'Get out of the Way'
Fox Business Personality Lou Dobbs blasted the retiring Speaker of the House Paul Ryan telling him to "get out of the way." Ryan announced Wednesday that he would not seek re-election and would resign in January after finishing out his term.
Dobbs, who according to the Daily Beast has joined White House meetings via speakerphone regularly, thinks Ryan should leave his position sooner.
"Why would he not resign the speakership? He's a lame duck speaker, he's a lame duck congressman now. What use is he as speaker and what is he––what is he thinking in terms of the good of the party, assuming that it remotely does occur to him? He is jeopardizing a seat. He is also jeopardizing the entire slate of the House of Representatives as a lame duck speaker? Why not move on?," asked Dobbs on his show Lou Dobbs Tonight.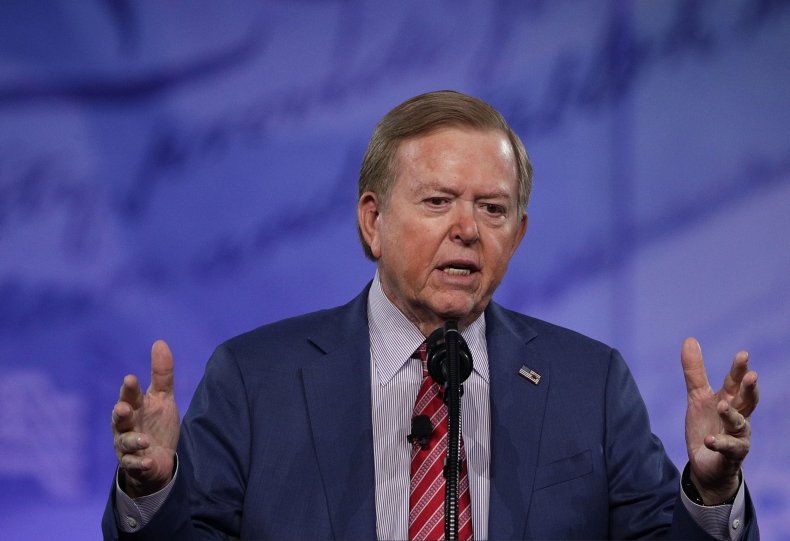 Many of President Donald Trump's allies were not sad to see Ryan go.
"GOOD RIDDANCE" tweeted Sebastian Gorka, a former White House assistant and current Fox News commentator.
The far right website Breitbart posted an article after Ryan's announcement titled "Paul Ryan's Globalist Legacy: Ignoring America's Working Class at the Behest of Billionaire Koch Brothers."
Dobbs, who holds many of the same policy positions as Trump, also went on to attack the Department of Justice and FBI calling them "corrupt," and saying they are attacking the president Wednesday.
"I have to say, if in the same position, just my frustration level alone, were I President of the United States, would compel me to fire somebody, anybody that I could get my hands on -- because this is a direct attack on our system of government by the deep state. No matter how you structure it, you have a Justice Department that is attacking the Constitution," said Dobbs.
The White House and Fox News did not immediately respond to Newsweek's request for comment.
Deep State Obstruction- @ByronYork: The FBI & DOJ have stonewalled congress. Devin Nunes had to threaten Rosenstein & Wray with impeachment just to see the memo that launched the Mueller witch hunt. @realDonaldTrump #MAGA #TrumpTrain #Dobbs pic.twitter.com/1HmekVGAKj