Paul Ryan was fresh off one of the most humbling defeats of his career. It was days after the collapse of his party's seven-year quest to repeal Obamacare, and Ryan, the speaker of the House, was set to appear at a Republican caucus meeting in Washington, D.C. The blame game had already begun, with anonymous White House sources sniping at Congress and conservative commentators publicly calling for Ryan to step down. But instead of recriminations, members gave their speaker a standing ovation as they convened on March 28, says Texas Representative Randy Weber. "I actually texted him...when I heard of people calling for him to step down," says Weber. "And I said, 'Paul, don't even think about it.'"
Even President Donald Trump, who had a famously fractious relationship with Ryan during the 2016 campaign, voiced his support for the speaker in the wake of the decision to cancel a House vote on the health care bill. (Trump did, however, punch out a cryptic tweet, which seemed to align the president with a Fox News host's call to oust the speaker, though the White House denies that was the intent.)
Yet if Ryan's job isn't in jeopardy, the health care debacle raises questions about his relevance. Rising partisanship and institutional changes mean the power of the speaker is not what it used to be. It doesn't help that the Wisconsin congressman's brand of traditional free-market, corporate-friendly conservatism clashes with the populist strain that fueled Trump's electoral victory. Those factors, along with a series of tactical missteps, are what stymied Ryan's health care plan. And there are few signs those dynamics are changing as Republicans pursue other priorities, like tax reform, spending cuts and, possibly, a second run at health care.
Ryan still wields considerable power. As speaker of the House, he can choose which bills move through the chamber and has an outsized say in what goes into them. He also has strong relationships across his caucus, as well as with key players in the White House such as Vice President Mike Pence, Chief of Staff Reince Priebus and Health and Human Services Secretary Tom Price. He even appears to have made peace with Steve Bannon, Trump's controversial presidential adviser, although Breitbart News, the far-right site Bannon once ran, continues to mercilessly attack Ryan.
But compared with House leaders even 10 years ago, the congressman has much less influence over how his members vote and virtually no opportunities for bipartisan compromise. Partisan squabbling has forced him to rely entirely on votes from the GOP's unruly majority to pass legislation, says Sarah Binder, a George Washington University professor of political science. Meanwhile, the changing nature of party politics has dulled many of the tools congressional leaders have to influence their members. As columnist Timothy Carney pointed out recently in the right-leaning Washington Examiner, the rise of ideologically minded outside groups like Americans for Prosperity and the Heritage Action Fund mean party leaders no longer have a "money monopoly."
Not long after Trump threatened to campaign against members who opposed the health care proposal in their 2018 re-elections, conservative mega-donors Charles and David Koch promised to spend millions defending the bill's opponents. And by rallying the grassroots on social media or cable news, members can pull in just as much, if not more, cash as Ryan can raise from Beltway power brokers at a tony Washington fundraiser.
Carney also blames the speaker's shrinking leverage on the death of earmarks—the practice of tucking funding for a lawmaker's special projects into legislation. Earmarks were an integral part of the horse trading that went on during bygone eras of Congress, when leaders sweetened legislative deals with money for bridges and hospitals in districts of wavering members. Republicans banned them earlier this decade as part of their pledge to clean up Washington.
However, analysts such as Binder and Norm Ornstein, an expert on Congress at the right-leaning American Enterprise Institute, aren't convinced earmarks would make much of a difference for Ryan. One former senior congressional aide agrees. There's a lot leaders can do to win members' support beyond "buying votes," he argues, asking for anonymity because of the sensitivity of the subject. "A lot of it has to do with just listening really closely" to what members want and then trying to address their concerns, whether it's in the same piece of legislation or down the road. Ryan isn't much of an arm twister, friends and foes agree, but he's "a pretty good listener," the aide says.
It's clear, however, that Ryan and company weren't doing enough listening during the health care debate; they misread their caucus and voters. The warning signs were obvious from the beginning of 2017, when Republicans in blue and purple states began worrying about people losing their health insurance if the GOP repealed Obamacare without putting anything in its place. That forced Republican leaders to hastily tack on provisions to their proposal that would replace provisions in the 2010 law. But it was far too little to stanch the coverage losses nonpartisan observers predicted would occur. An analysis by the Congressional Budget Office estimated roughly 24 million more Americans would become uninsured under the GOP plan, panicking the party's more moderate senators and House members. The additions also pushed away conservatives, who complained the proposal didn't do enough to rein in costs or regulations.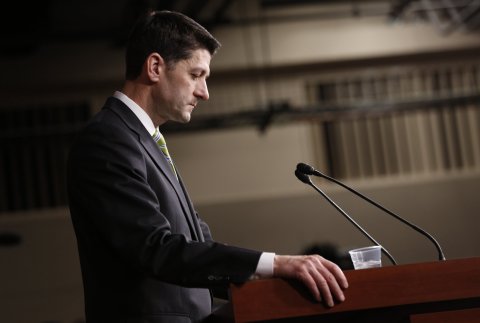 House Freedom Caucus member Dave Brat, an opponent of the Ryan proposal, says he was getting hundreds of phone calls from constituents about the health care overhaul, the vast majority against it. "Here in the bubble, you guys are all like, 'There's tremendous pressure on you. Why can't you do this?' Well, because there's 800,000 people back home, and we represent them. Go look at the polling on this!"
A March 23 Quinnipiac University poll that found just 17 percent of voters approved of the bill. The measure's dismal approval rating quickly became a rallying cry for GOP opponents in the chaotic final two days of the debate. For GOP pragmatists and hard-line Republicans alike, it's hard to sell a bill that offers billions in tax breaks to millionaires but cost increases or coverage losses for the poor, elderly and those living in rural states—many of them Trump voters.
Yet Ryan—a disciple of Ronald Reagan–era supply-sider Jack Kemp—failed to take into account just how much the GOP coalition has shifted in the past few years. Fiscal conservatives still reign, but they increasingly have to respond to a working-class part of their base for whom government programs like Medicaid aren't evil but necessary. Trump, after all, campaigned on the promise of health care that would "take care of everybody" and preserve Medicaid. The House proposal achieved neither of those things.
Ryan didn't get much backup from outside groups either. Before they rolled out Obamacare, Democrats spent months cultivating key health care players like the AARP, hospitals and insurers. Republicans skipped that step as they hastily crafted their repeal bill. And most of those powerful lobbying groups quickly came out against the Republican proposal. So did free-market fiscal conservative organizations such as Americans for Prosperity, Heritage Action and Club for Growth. "There was no real cavalry in terms of interest groups," laments former Republican Representative Tom Davis.
Ornstein says the bill's supporters seemed to think that if the speaker crafted a policy and Trump sold it, that was all they needed. They "bought into their own notions that [Obamacare] was so unpopular, including with their own supporters, that anything they put forward would get applause." Instead, the debate over repealing Obamacare and the glaring inadequacies in the Republican alternative have made the 2010 law more popular.
Public opinion, meanwhile, isn't too favorable toward many of the proposals in Republicans' next legislative effort—tax reform. Here again, Ryan's approach runs against the populist tide. The proposal would slash corporate and personal tax rates, changes that would disproportionately benefit the wealthy, according to analysis by the nonpartisan Tax Policy Center. Yet a Washington Post /ABC News poll from January found just a little over a third of Americans support reducing income taxes on the rich. Even Republicans are split on the idea. "I think that's a key problem for them," says Binder.
Meanwhile, after the GOP's failure to pass a health care bill, the White House has promised Trump is going to come up with his own tax plan. Spokesman Sean Spicer insisted at a March 27 press briefing that Trump would be "driving the train" on tax reform, though he provided no details on when a proposal would be unveiled.
Ryan, meanwhile, insists he can unite his party. At a press conference after their March 28 caucus gathering, he sought to project an air of calm control. "Since I became speaker, I have talked about the need to go from being an opposition party to being a proposition party and a governing party. It may take a little bit more time, but we are certainly listening, and we are going to get there," he told reporters.
A few days later, however, as talks between the Freedom Caucus and more moderate Tuesday Group were breaking down, and Trump was attacking the former on Twitter, the speaker's tone became more ominous. "I know that [Trump] wants to get things done with this Republican Congress," Ryan said in a March 30 interview with CBS. "But if this Republican Congress allows the perfect to be the enemy of the good, I worry we'll push the president into working with Democrats."
That wouldn't necessarily be the end of Ryan's speakership—"Who else is there at this point?" asks Davis, the former congressman. But the speaker's gavel would feel pretty hollow.