Paul Ryan Says GOP at a 'Crossroads' After the 'Dishonorable and Disgraceful End' of Trump's Term
Former GOP Speaker of the House Paul Ryan said Thursday that the Republican Party was at a "crossroads" following the "dishonorable and disgraceful end" to former President Donald Trump's presidency.
Ryan, the 2012 Republican nominee for vice president, made the remarks during a speech at the Ronald Reagan Library in Simi Valley, California. He said that the party was "not going anywhere" if it remained enamored with Trump, while blasting the "yes men" and "second-rate imitations" lining up to win the approval of the former president. Ryan urged Republicans to put their loyalty to "conservative principles" above loyalty to Trump.
"Even for our good showing in the House, 2020 left Republicans powerless in Washington," said Ryan. "Even worse, it was horrifying to see a presidency come to such a dishonorable and disgraceful end. So, once again we conservatives find ourselves at a crossroads. Here's the reality that we have to face: If the conservative cause depends on the populist appeal of one personality, or on second-rate imitations, then we're not going anywhere."
"Voters looking for Republican leaders want to see independence and mettle," Ryan continued. "They will not be impressed by the set of yes men and flatterers flocking to Mar-a-Lago. We win majorities by directing our loyalty and respect to voters and by staying faithful to the conservative principles that unite us."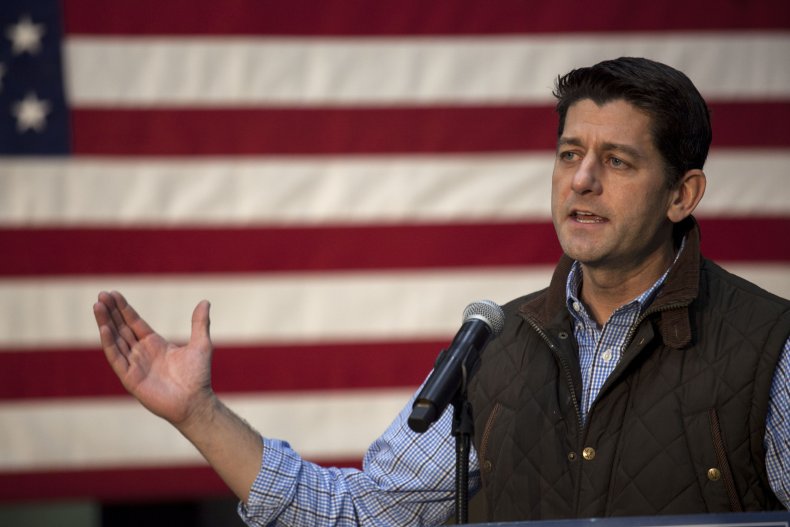 Ryan spent a significant portion of the speech praising Reagan, noting that he was a "successful two-term president." He said that Reagan "had nothing but good influence on the Republican Party in his time" and commenting that the party "sure could use more of that today."
Ryan also blasted Democrats in the speech. He described President Joe Biden as "a nice guy pursuing an agenda more leftist than any president in my lifetime." While Biden campaigned on unity in 2020, Ryan said that he is now "focused on unifying not the nation but the Democratic Party" and supports policies that "break faith with the middle-of-the-road folks who made the difference for him on Election Day."
He also spoke against "identity politics," saying "as the left gets more woke the rest of America is getting weary." However, he urged conservatives to become less "enamored" with the issue and focus on issues of policy instead.
"We need to be frank," Ryan said. "Today, too many people on the right are enamored with identity politics in ways that are antithetical to Reagan conservatism."
Ryan's address was the first in the Reagan Library's "Time for Choosing" speaking series, which focuses on questions about the future of the Republican Party. The 51-year-old retired from Congress in 2018 and those close to him do not expect him to run for public office again, according to the Associated Press. Ryan currently sits on the board of Fox Corporation, which operates Fox News.
Newsweek reached out to the office of Trump for comment.