Paul Ryan Mocks Donald Trump's Sycophantic Cabinet, Tweets and Steve Bannon in Al Smith Dinner Speech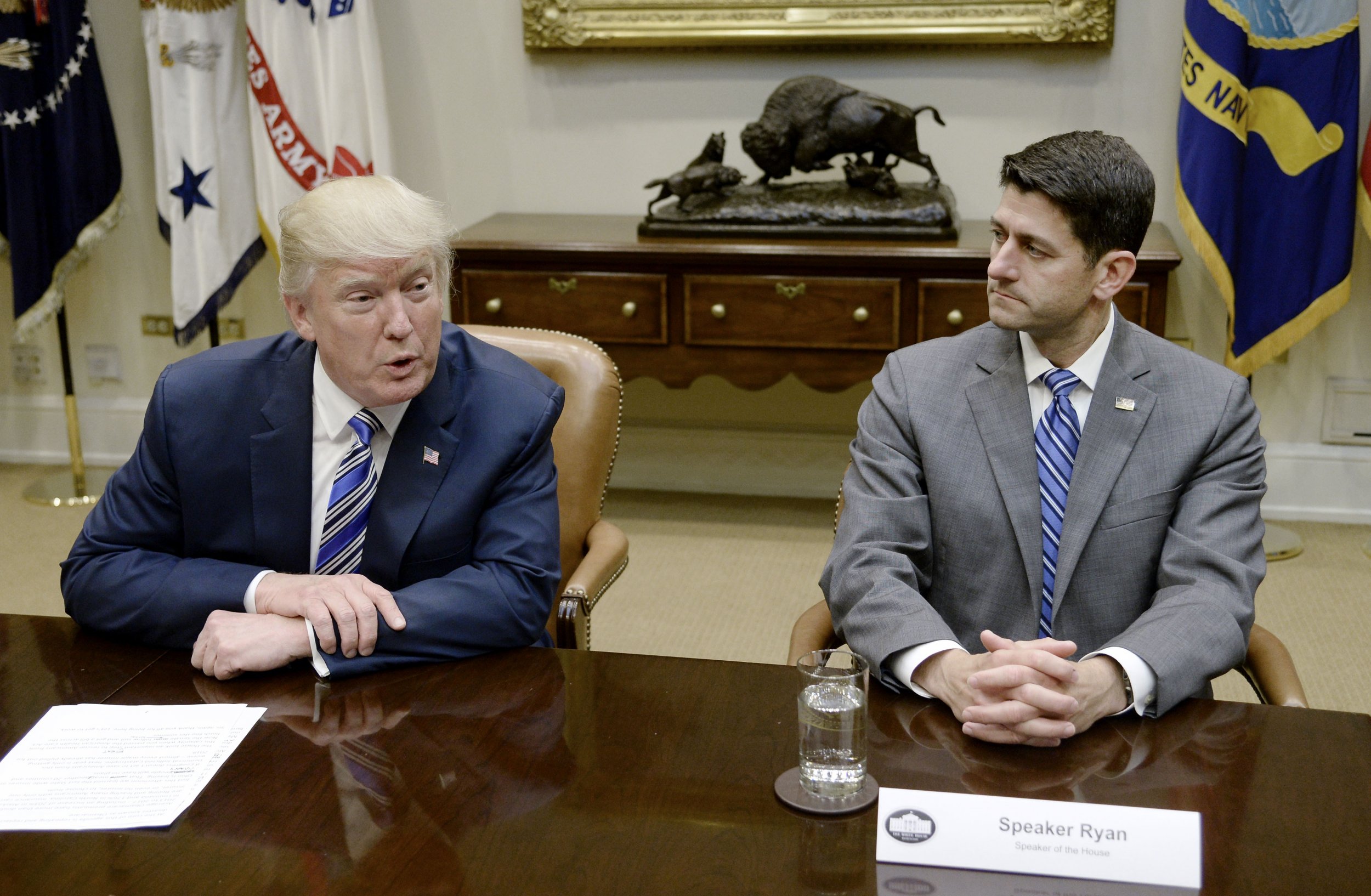 Despite controlling the White House and both chambers of Congress, the reality of dealing with a historically unpopular, divisive and unpredictable president has provided little for Republicans to laugh about in 2017. But as protesters marched outside and gridlock reigned on Capitol Hill, cracking jokes was exactly what House Speaker Paul Ryan was charged with on Thursday night as he took the microphone as the keynote speaker for the annual Alfred E. Smith Memorial Foundation Dinner at New York City's Midtown Hilton Hotel.
Related: Donald Trump Calls Paul Ryan a 'Boy Scout' and Can't Make Small Talk With Mitch McConnell
"Enough with the applause, you sound like the Cabinet when Donald Trump walks in the room," Ryan began to laughs from a room of diners who had paid $3,000 a piece for the privilege of their dinner and exclusive company.
It was at last year's event that Trump earned boos with his attacks on Hillary Clinton, which were seen as stepping over the boundary of good taste at a decades-old event designed to raise money for needy children in New York City. As Ryan pointed out, criticisms that Trump had gone too far have far from dissipated in the 12 months since.
"I know last year that Donald Trump offended some people, I know his comments, according to critics, went too far, some said it was unbecoming of a public figure and they said that his comments were offensive," he said. "Well, thank God he's learned his lesson."
It was also the same stage a the Hilton in Midtown Manhattan that Trump appeared in the early hours of November 9 last year to give a victory speech that few outside his immediate circle believed he would require. Two months later he entered the White House and immediately caused controversy over falsely assessing his inauguration crowd to be the largest in history.
When imagining how Trump would react to his speech, Ryan mocked the president's questionable relationship with the facts. "The president will tweet '300,000 at Al Smith dinner cheer mention of my name,'" he said.
Ryan's barbs were far from reserved for the president. He took aim, too, at Clinton, the media and Democrats, including Senate Minority Leader Chuck Schumer, who was absent from the dinner as he voted and debated a budget resolution in the Senate. The late-night session was just the latest squabble on Capitol Hill as, with Trump as president, Ryan and Republicans have failed to pass any major pieces of legislation. At the same time, Ryan and his GOP colleagues have been repeatedly put on the defensive over the president's outspoken rhetoric, often sent out via Twitter.
"Every morning I scroll Twitter to see what tweets I will have to pretend I did not see later on," he joked about the stance he has generally taken, to plenty of criticism, of failing to condemn the president.
The remarks about Trump's tweets did not end there.
On what he has learned in Congress, Ryan said: "Tweeting after midnight is a really bad idea whether you're President Trump or especially Anthony Weiner, or Ted Cruz for that matter."
Steve Bannon did not escape Ryan's jokes, either. Since departing as Trump's chief strategist in August, Bannon has declared war on establishment Republicans, supporting primary challengers across the country.
Famously, Bannon once said that Ryan was "born in a petri dish at the Heritage Foundation. It was a comment Ryan recited on Thursday, before mockingly saying: "No one knew Steve believed in science."
And Ryan couldn't help but mention the investigation that has dominated Trump's early months in the White House. Addressing what else he had in common with his fellow losing vice presidential candidate Sarah Palin, he remarked: "Given the current investigations, I, too, can see Russia from the House."