Paul Ryan Says Donald Trump is Worse Now Because There Aren't People Like Him to Stop 'Knee-Jerk Reactions'
Former House Speaker Paul Ryan reportedly said Donald Trump is worse off since he and other Republican leaders the president clashed with left government, because they advised him out of following his "knee-jerk reactions."
Ryan, who retired in January 2019 rather than seeking reelection, believes Trump is fixed on governing and campaigning the way he wishes and will reject Republicans' efforts to moderate his actions in his second bid for president.
"Those of us around him really helped to stop him from making bad decisions. All the time," Ryan says in the book American Carnage: On the Front Lines of the Republican Civil War and the Rise of President Trump by Politico Magazine chief political correspondent Timothy Alberta.
"We helped him make much better decisions, which were contrary to kind of what his knee-jerk reaction was," Ryan says. "Now I think he's making some of these knee-jerk reactions."
In the book, to be released July 16 but obtained by The Washington Post, Ryan characterizes Trump as lacking in government knowledge.
"I told myself I gotta have a relationship with this guy to help him get his mind right, because, I'm telling you, he didn't know anything about government," Ryan says. "I wanted to scold him all the time."
Ryan retired as an "escape hatch" from spending two more years in government with Trump, a thought he could not stand, according to the book.
"We've gotten so numbed by it all. Not in government, but where we live our lives, we have a responsibility to try and rebuild. Don't call a woman a 'horse face,'" Ryan says, referring to how Trump referred to adult film star Stormy Daniels, who alleged having an affair with him, in an October 2018 tweet.
"Don't cheat on your wife," Ryan continued, seemingly referring to Melania Trump, Donald's wife during the alleged affair with Daniels. "Don't cheat on anything. Be a good person. Set a good example."
Trump calls Ryan a "f***ing Boy Scout," according to the book.
Another excerpt of the book, obtained by Politico, details the day in October 2016 when Ryan found out about the Access Hollywood tape in which Trump said "grab 'em by the pussy" about women, and disinvited the Republican nominee to a political rally.
Ryan "burst into a fit of cursing" and in a phone call to then-Republican National Committee Chairman Reince Priebus, said, "He cannot come here." In a press release, Ryan announced he was "sickened" by Trump's comments from more than a decade ago and that he was banished from the rally. Ryan later told Priebus that the tape was "fatal" and asked "How can you get him out of the race?"
But after Trump won the presidency, Ryan ended up working in favor of Trump's agenda while at the same time trying to avoid opining on the president's tweets and outrageous statements.
The White House did not immediately respond to a request for comment from Newsweek on Thursday regarding Ryan's remarks.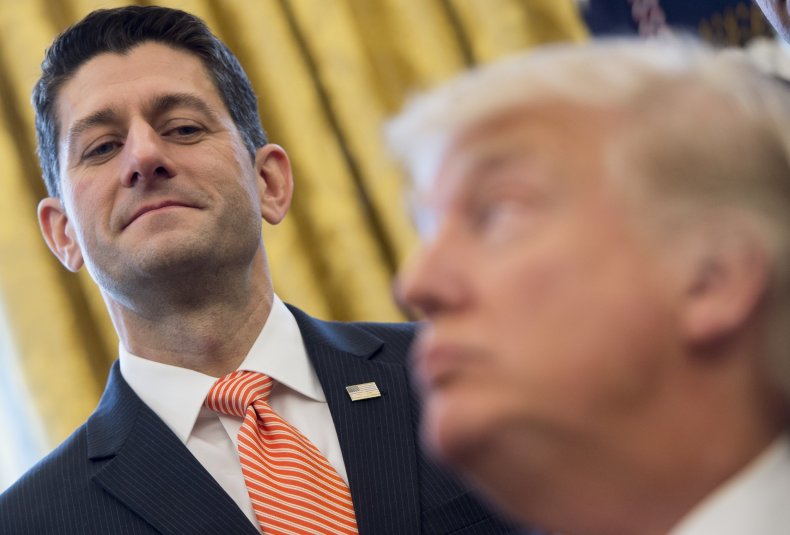 After Ryan announced his retirement, Trump spoke favorably of him, likely because the House speaker did things he wanted, such as agree to publicly praise Trump for signing a 2018 spending bill though it did not include border wall funding the president desired, according to the book.
"Speaker Paul Ryan is a truly good man, and while he will not be seeking re-election, he will leave a legacy of achievement that nobody can question," Trump tweeted in April 2018. "We are with you Paul!"