Paul Ryan Warns Electoral Objections Could 'Do Significant Damage to American Democracy'
Former House Speaker Paul Ryan joined the growing collection of Republicans who stand against congressional lawmakers' intent to reject the Electoral College vote count.
Ryan, who served as a Wisconsin congressman and ran for vice president in 2012, rarely shares public remarks as they relate to politics in the aftermath of his congressional term. However, Ryan broke his silence on the upheaval currently dividing GOP lawmakers in a statement obtained by Newsweek on Sunday.
"All our basic rights and freedoms flow from a fidelity to the Constitution and the rule of law. This principle is not only fundamentally American but a central tenet of conservatism," he said. "Under our system, voters determine the president, and this self-governance cannot sustain itself if the whims of Congress replace the will of the people. I urge members to consider the precedent that it would set."
Echoing arguments presented by other Republican critics, Ryan noted that questioning the electoral vote, in a presumed effort to reverse its outcome, risks harming the democratic election process, regardless of whether the dispute is successful.
"It is difficult to conceive of a more anti-democratic and anti-conservative act than a federal intervention to overturn the results of state-certified elections and disenfranchise millions of Americans," the former House Speaker continued. "The fact that this effort will fail does not mean it will not do significant damage to American democracy."
A group of Republican lawmakers plan to challenge President-elect Joe Biden's Electoral College victory on Wednesday, when Congress is scheduled to certify results of the vote. Although there is no evidence to suggest that Biden's win against Donald Trump during the general election was invalid, some of the sitting president's supporters—including a handful of political allies—have backed his unfounded allegations of voter fraud manipulating results to his opponent's benefit.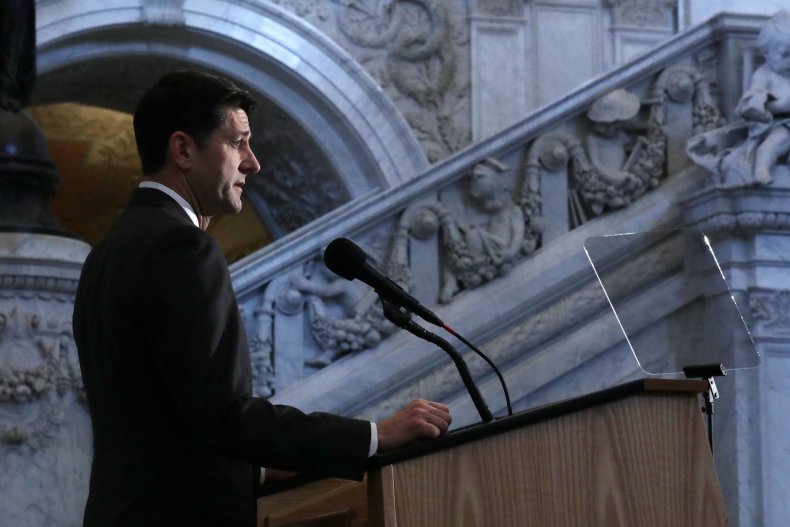 After receiving a majority of the nation's popular votes during November's presidential contest, Biden earned 306 votes from the Electoral College when representatives formally cast their ballots in mid-December. His tally stood well above the 270-vote threshold necessary to win a presidential election, and exceeded Trump's 232 votes by a substantial margin.
Trump's campaign pursued an extended effort to discount election outcomes in states and counties that supported his Democratic competitor, filing lawsuits that objected to results and ultimately seeking to overturn them. The sitting president has not accepted his loss following the Electoral College vote several weeks ago, and repeatedly publicized unfounded claims about the election as recently as Sunday afternoon.