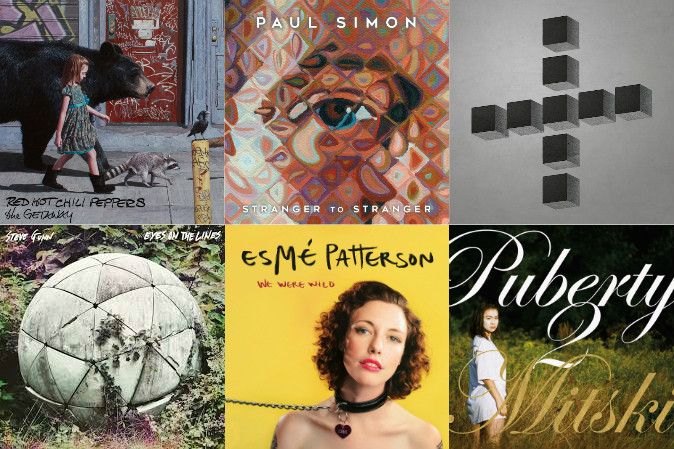 It's summer now, which of course means barbecues, beaches and gorilla murder—but also summer albums. There are a lot of them, led off by the first release in five years from the Red Hot Chili Peppers, who teamed up with Danger Mouse for their new album The Getaway. There's also the sophomore effort from last year's hip-hop sensations Rae Sremmurd (for the club), Steve Gunn's exploratory follow-up to 2014's Way Out Weather (for the open road), Train's Led Zeppelin II cover album (for absolutely everywhere) and plenty more exciting records to take along wherever you may be spending the summer. Here's what we're looking forward to hearing.
Steve Gunn, Eyes On The Lines
Release Date: June 3
Label: Matador
Steve Gunn has been releasing albums for years now—Eyes on the Lines will be his seventh—but it wasn't until 2014's Way Out Weather that the Pennsylvania-born, New York-living guitarist truly rounded into form as a polished bandleader in his own right (and not just the guy who played with Kurt Vile). He's carried this momentum into Eyes on the Lines, his first release on Matador. Woven full of mellow, meandering guitar lines, it's an album all about exploration, loping along pleasantly while never forgetting to stop and take a look around when it find something interesting. Its songs bask in the uncertainty of being lost, a feeling that can be unsettling, but also warm, comforting and even exciting. Eyes on the Lines is the soundtrack to allowing it to be the latter.
Train, Train Does Led Zeppelin II
Release Date: June 3
Label: Crush Music
For some, Train is one of those bands where you can easily sing every word to, like, ten of their songs despite never having actually bought a Train album. Indeed, for many kids of the 1990s, the mental space occupied by "Meet Virginia" likely prevents us from recalling our multiplication tables to this day. You'll probably be able to sing every song to this new record too, but not for the same reason. Apparently Pat Monahan and Co. have been working Led Zeppelin covers into their live sets since the band first started out, which answers the obvious "Why?" one is asked when one mentions the Train Led Zeppelin cover album. The other answer to that question is that, for reasons not entirely clear, Train is really, really good at sounding like Led Zeppelin. They might be the best Zeppelin mimics of all time. It's worth checking out Train Does Led Zeppelin II just for the feeling of impressed confusion you'll have throughout its runtime. Sure, they're not really putting any new spin on these songs, but maybe that's for the best. After all, who is Train to try to improve upon "The Lemon Song"?
Paul Simon, Stranger to Stranger
Release Date: June 3
Label: Concord
In 1986, Paul Simon revitalized his career by releasing Graceland, an eclectic album influenced primarily by African music that had yet to be given such a large platform on which to be appreciated. Thirty years later, Simon is still exploring the world for off-the-beaten-path sources of inspiration. On Stranger to Stranger, the songwriting icon's 13th solo release, he draws from 20th century composer Harry Partch, flamenco music and Italian electronic dance music. It's being hailed as his finest release in years.
Minor Victories, Minor Victories
Release Date: June 3
Label: Fat Possum
When Slowdive reunited in 2014, we hoped it might bring a brand new album from the shoegaze legends. That's on the way, but for now we have something altogether different: a collaborative debut between Slowdive's Rachel Goswell, Mogwai's Stuart Braithwaite and Editors' Justin and James Lockey, who are dubbed Minor Victories. It's a UK indie supergroup of sorts. The songs are airy and majestic, matching Slowdive's dreamy vocal sensibilities with Mogwai's penchant for orchestral drama.
Band of Horses, Why Are You OK
Release Date: June 10
Label: Interscope
In the past, Band of Horses frontman Ben Bridwell has opted to "squirrel away in some cabin or a beach house" when writing new material. For the group's fifth album, however, he didn't have that chance, he told Entertainment Weekly. His growing family—he now has four daughters all under the age of 10—kept him close to home, working late at night in a studio attached to his house. The title comes from his second oldest, and the album is reportedly influenced by family and daily life, along with the unlikely combination of Peter La Farge's "Coyote, My Little Brother," the 2014 OutKast reunion and Kendrick Lamar's "Backseat Freestyle." Fans can hear the new material live during the band's tour, with dates in the U.S., Europe and Australia.
Esmé Patterson, We Were Wild
Release Date: June 10
Label: Grand Jury Music
Esmé Patterson is a self-described "songwriter and gambler" based in Portland. Her voice is smoky and prone to sudden bursts of enthusiasm, her performances spirited but intimate. We Were Wild is highlighted by "Alone," a singalong about depression, and "No River," a ditty about the joys and terrors of being human.
Red Hot Chili Peppers, The Getaway
Release Date: June 17
Label: Warner Bros.
It's been more than three decades since the release of the Red Hot Chili Peppers' self-titled debut, not quite two since the band dropped Californication and one (give or take a month) since it released its double-disc 28-track behemoth Stadium Arcadium, which won a Grammy for best rock album. Now the band—currently on tour with dates listed through late October—is poised to release its 11th studio album. The song "Dark Necessities," posted to YouTube in early May, has already garnered more than nine million views and 150,000 "likes," while the title track, posted Thursday, racked up more than 300,000 views by the next day. If the first two singles are representative, fans might find comfort in the fact that RHCP's latest output sounds familiar, although a bit of piano in the former and female backup in the latter feel refreshingly less so. Album pre-orders come with downloads of both songs.
Anthony D'Amato, Cold Snap
Release Date: June 17
Label: New West
Anthony D'Amato plays the kind of smartly sweet folk-rock we were promised when the whole folk revival came about in 2010 or so, but which is rarely actually delivered. For his latest on the New West label, he called on Mike Mogis (known for his work with First Aid Kit and Bright Eyes) to produce, and gets some vocal help from the likes of Conor Oberst and members of Cursive. But when you come for the music, make sure you stay for D'Amato's hilarious and often surreal videos.
Swans, The Glowing Man
Release Date: June 17
Label: Young God
What do you do after releasing two lengthy double albums filled with noise and terror? If you're Swans, you release yet another two-hour-long double album filled with noise and terror. The Glowing Man is said to be the fourth and final release from this lineup of the veteran noise-rock group—whose previous album To Be Kind was one of our favorites of 2014—and it features some live favorites from the band's 2014-2015 tour, including the title track (previously referred to as "Black Hole Man") and "Frankie M."
Mitski, Puberty 2
Release Date: June 17
Label: Dead Oceans
For anyone else, it would have been hard to follow-up 2014's excellent Bury Me at Makeout Creek, the record which pushed Mitski Miyawaki in front of a much-deserved larger audience. The album showcased her gorgeous voice and moved from acoustic ballad to experimental noise rock to punk-pop, often within the same song. But Mitski was just getting started, and from what we've heard of Puberty 2, there are clearly more roiling, emotional and slyly funny gems where that came from.
Ben Seretan, Bowl of Plums
Release Date: June 24
Label: Whatever's Clever
Ben Seretan is a curiously talented guitarist, songwriter and soundscape-creator who also works in a movie theater. His latest album, Bowl of Plums, alternates from twangy ("Thommy") to explosive ("My Lucky Stars, Part 2") to hymn-like ("I Like Your Size") with ease. Seretan likens the record to "a still life with dried flowers." The arpeggios and song structures are intricate, but the emotional heft is not.
Rae Sremmurd, Sremmlife 2
Release Date: June 24
Label: Interscope
Many would have been forgiven for thinking that after the insanely catchy and rather silly "No Flex Zone," Rae Sremmurd would have been a flash in the pan. But last year's SremmLife had surprising depth, slick production from Mike WiLL and an arsenal of famous friends like Nicki Minaj and Big Sean on deck. Now, the Atlanta brothers have returned, and from the looks of single "By Chance," they're back to their old ways (which consists of being a little dirty and winkingly decadent). If you're looking for a solid summer nights anthem, it might just be found on SremmLife 2.