Paul Sorvino Threatens Harvey Weinstein for Blacklisting Daughter Mira: 'He Better Hope He Goes to Jail'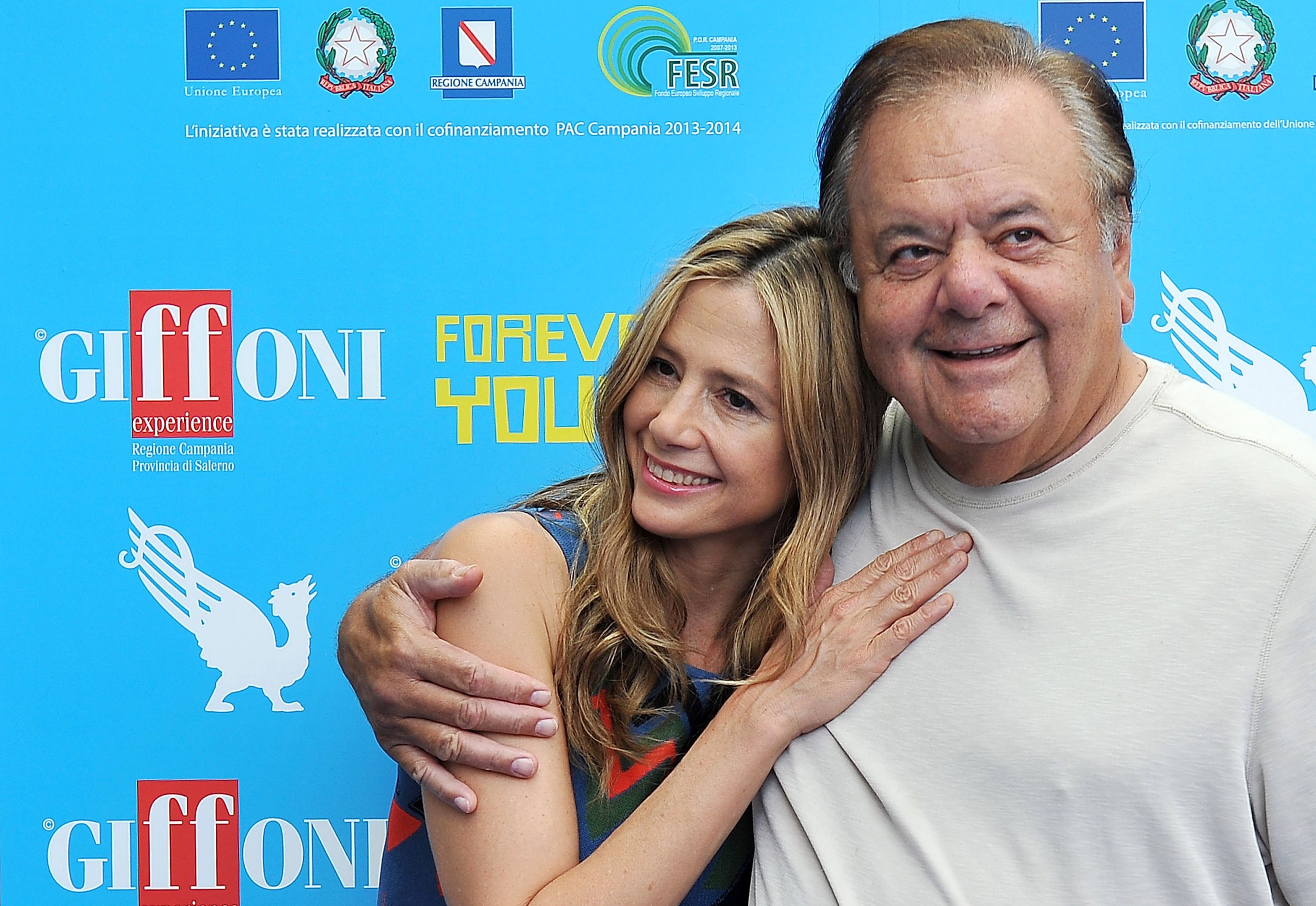 Unlike some men in Hollywood, Paul Sorvino had no problem speaking out against Harvey Weinstein. In fact, upon learning the disgraced movie mogul blacklisted daughter Mira Sorvino for rejecting sexual advances, the 78-year-old Goodfellas actor declared: "I will kill that motherfucker."
"If I meet [Harvey Weinstein] on the street, he better... he ought to hope that he goes to jail because if we come across, I think he'll be lying on the floor somehow. Magically," Paul Sorvino told TMZ on Wednesday while leaving a grocery store in West Hollywood.
Mira Sorvino, who won an Oscar for her role in the Weinstein-produced 1995 Woody Allen film Mighty Aphrodite, was one of the first women to accuse Weinstein of sexual harassment. Her account was part of the explosive October report published by The New Yorker.
"He started massaging my shoulders, which made me very uncomfortable, and then tried to get more physical, sort of chasing me around," she said in the story. The actress turned down the advances, citing religious reasons.
Last month, filmmaker Peter Jackson revealed he almost cast Sorvino and Ashley Judd, another Weinstein accuser, in The Lord of the Rings franchise. But according to Jackson, Weinstein's production company Miramax discouraged him.
"I recall Miramax telling us they were a nightmare to work with and we should avoid them at all costs. This was probably in 1998," Jackson confessed. "At the time, we had no reason to question what these guys were telling us. But in hindsight, I realize this was very likely the Miramax smear campaign in full swing."
When Mira Sorvino read Jackson's quote, she "burst out crying."
Mira Sorvino's acting career didn't bounce back to what it was in the '90s, but she has a robust career in social activism. She became a spokesperson in the fight against human trafficking, including serving as a U.N. Goodwill Ambassador to Combat Human Trafficking.
Paul Sorvino has always had a close relationship with his daughter. He attended the 1995 Academy Awards ceremony with her and cried as she accepted her Oscar. "When you give me this award you honor my father, Paul Sorvino, who taught me everything I know about acting," she said in her acceptance speech.
Paul Sorvino didn't know how Weinstein treated his daughter before the scandal broke. "If I had known it, he'd be in a wheelchair," he said to TMZ, saying he was "furious" when he heard. "My daughter is a wonderful person and a coruageous human being, and doesn't deserve to be treated this way by this pig."
"He's going to go to jail and die in jail," he said finally. "But if he doesn't, Harvey, come here, I've got some news for you! I'll just slap him around, I won't do anything terrible."