Paul Whelan, U.S. Citizen Jailed in Russia, Asks Biden to Negotiate His Release With Putin
Paul Whelan, an American man detained in Russia on an espionage conviction, asked President Joe Biden to advocate for his release during Wednesday's summit with Russian President Vladimir Putin. The prisoner's plea came during a May 30 phone call with his parents, which his family has released as an audio file statement ahead of the Geneva meeting.
"I implore you to bring this appalling case of hostage diplomacy to an end," Whelan said in the statement. "I remain innocent. No crime of espionage occurred. The secret trial, without evidence, proves those facts."
Whelan, who was arrested in Moscow in 2018, said he was only visiting Russia prior to the conviction.
Whelan told CNN in a phone interview that his arrest was "not an issue of Russia against me; it's an issue of Russia against the United States." He also said that the U.S. needs to resolve the "hostage diplomacy situation" as soon as possible.
For more reporting from the Associated Press, see below.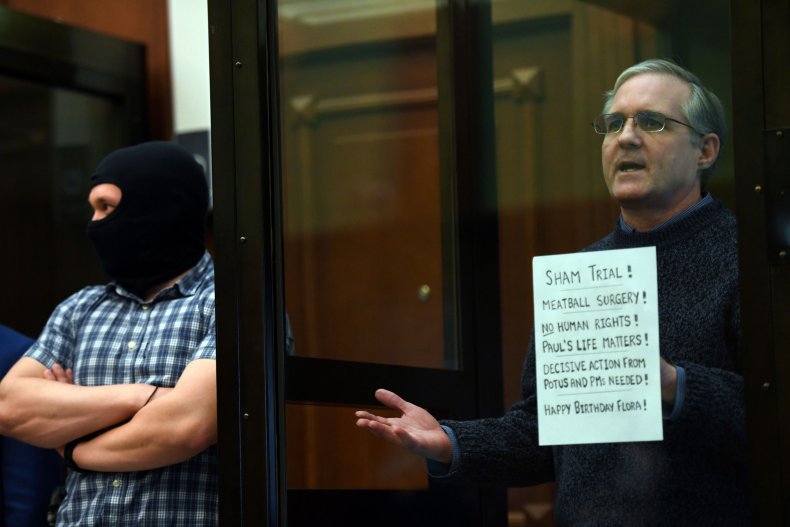 President Joe Biden has met with the leaders of three Baltic nations at the NATO summit in a move to reassure them of U.S. support before his Wednesday summit with Russian President Vladimir Putin in Geneva.
The White House says Biden met Monday with Prime Minister Kaja Kallas of Estonia, President Egils Levits of Latvia, and President Gitanas Nausėda of Lithuania, and "underscored strong U.S. support" for their security.
The White House added: "The four leaders committed to further strengthening our political, military, and economic partnerships, including working together through NATO to address challenges posed by Russia and China."
Italian Premier Mario Draghi made a not-so-subtle dig at former U.S. President Donald Trump in welcoming Biden to NATO and back into the European fold.
"This summit is a continuation of yesterday's G7 and is part of the process of reaffirming, of rebuilding the fundamental alliances of the United States that had been weakened by the previous administration," he said. "Think that President Biden's first visit is to Europe and try to remember where President Trump's first visit was?
"We are here to reaffirm these alliances, but also to reaffirm the importance of the European Union in all of this: a stronger European Union means a stronger NATO," he added.
Trump's first trip was to Saudi Arabia.