Paul Wight, FKA The Big Show, Joins AEW as a Performer and Commentator
Welllll this is a big surprise!
Paul Wight, formerly known as The Big Show in World Wrestling Entertainment (WWE) has signed with All Elite Wrestling (AEW).
The 20-year veteran will not just get between the ropes for the promotion, but serve as a commentator on the promotion's new show, AEW Dark: Elevation.
"It's been amazing to watch what AEW has built in just a couple of years," said Paul Wight in a press release. "AEW Dark is an incredible platform to hone the skills of up-and-coming wrestlers, but I also love that established AEW talent can build out their personalities and showcase themselves in new ways on Dark. It's no exaggeration when they say that AEW is boundless."
"Paul Wight is one of the most recognizable and impressive professional athletes in the world," said Tony Khan, CEO, GM and Head of Creative of AEW in a press release. "He wanted to come to AEW because he believes that we're the best promotion in wrestling, and we believe that he has a lot to offer us, both in the ring as a wrestler and also outside the ring as a commentator, host and ambassador for AEW."
"Paul is one of the most experienced stars in all of wrestling, and he's eager to work with our diverse roster," added Khan. "He can benefit and guide our young talent with his mentorship, and his expert commentary on AEW Dark: Elevation will educate and entertain our fans, and also educate the younger wrestlers on the roster. Furthermore, Paul enters AEW as a licensed wrestler, and he's very much looking forward to studying our talent firsthand from the commentary desk in preparation for his return to the ring!"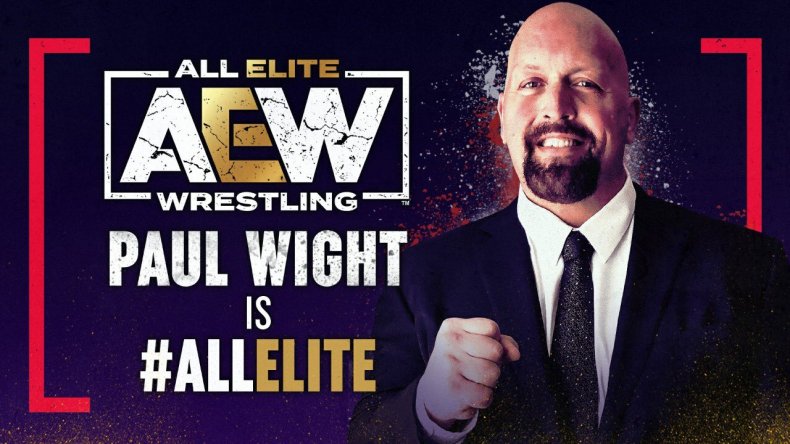 AEW Dark: Elevation will air Mondays at 7 p.m. EDT on the official AEW YouTube channel and will showcase established and rising stars within the promotion as well as independent wrestlers from within the industry.
All Elite Wrestling already has a YouTube-only wrestling show titled AEW Dark that airs on Tuesdays and acts in a similar fashion. Like the main AEW Dynamite show on TNT and Dark, Elevation will keep a win-loss record that will carry over into the weekly shows and the promotion's pay-per-view events.
Following the news, The Big Show began trending on Twitter with wrestlers, fans and industry professionals showing their surprise at this turn of events.
Wight himself took to Twitter to voice his excitement for the new chapter in his career.
Wight's career rose in prominence when he worked as "The Giant" in WCW in the mid-1990's. When the company was purchased by the WWE, he would continue his career as "The Big Show" and become a multi-time world champion.
The 49-year-old made his last WWE appearance in January on the RAW Legend's Night, but his last in-ring appearance was in a match against Randy Orton in the summer of 2020.
What do you think of Paul Wight joining AEW? Let us know in the comments section.