Paulette, 16th Named Storm, Forms Halfway Through 2020 Atlantic Hurricane Season
Tropical Storm Paulette became the 16th named storm of the 2020 Atlantic Hurricane season on Monday, making it the earliest "P" named storm in recorded history.
Forming in the Atlantic on Sunday as a tropical depression, Paulette strengthened into a tropical storm around 11 a.m. Its arrival broke the record for the earliest 16th named storm with the previous record holder being Philippe, which formed on September 17, 2005, according to the National Hurricane Center (NHC).
Modest strengthening is expected for the coming days, but forecasts don't expect it to gather enough muster to turn into a hurricane. About 1,205 miles from the Cabo Verde Islands, the latest forecast from the NHC doesn't foresee Paulette having any impact on land.
Predictions from the National Oceanic and Atmospheric Administration (NOAA) and AccuWeather forecast an "above-normal" hurricane season this year. In May, NOAA forecasted up to 19 named storms with six to 10 becoming hurricanes and three to six hurricanes being a Category 3 or higher, a designation that's considered a major hurricane.
Two months earlier, in March, AccuWeather predicted there would be up to 18 named storms, including seven to nine hurricanes. Of those hurricanes, AccuWeather expected two to four to become major hurricanes.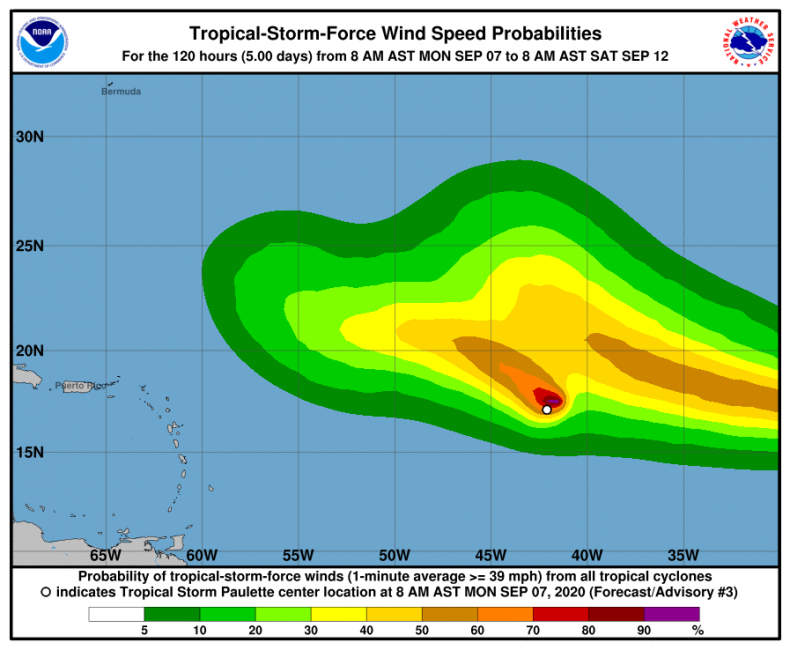 In August, NOAA updated its predictions to not only be an "above normal" season, but an "extremely active" year for storms. Historically, only two named storms form on average by early August and the ninth named storm doesn't usually form until October 4, according to NOAA.
The updated predictions expect there to be 19 to 25 named storms, including up to 11 hurricanes. NOAA once again predicted there would be three to six major hurricanes. AccuWeather also updated its projections and agreed there could be up to 11 hurricanes, with up to six being a Category 3 or higher.
"This is one of the most active seasonal forecasts that NOAA has produced in its 22-year history of hurricane outlooks," Secretary of Commerce Wilbur Ross said during an August 6 teleconference. "We encourage all Americans to do their part by getting prepared, remaining vigilant, and being ready to take action when necessary."
Atlantic Hurricane Season runs from June 1 to November 30 and an average season produces 12 named storms, six of which are hurricanes, three being Category 3 or higher, according to NOAA.
Halfway through the 2020 season, there have been 16 named storms. Of those named storms, five—Hanna, Isaias, Laura, Marco and Nana—turned into hurricanes. Only one, Laura, strengthened enough to become a major hurricane.