Pauline Hanson: Far-Right Australian Leader Shocks Wearing Burqa in Senate, Demands Ban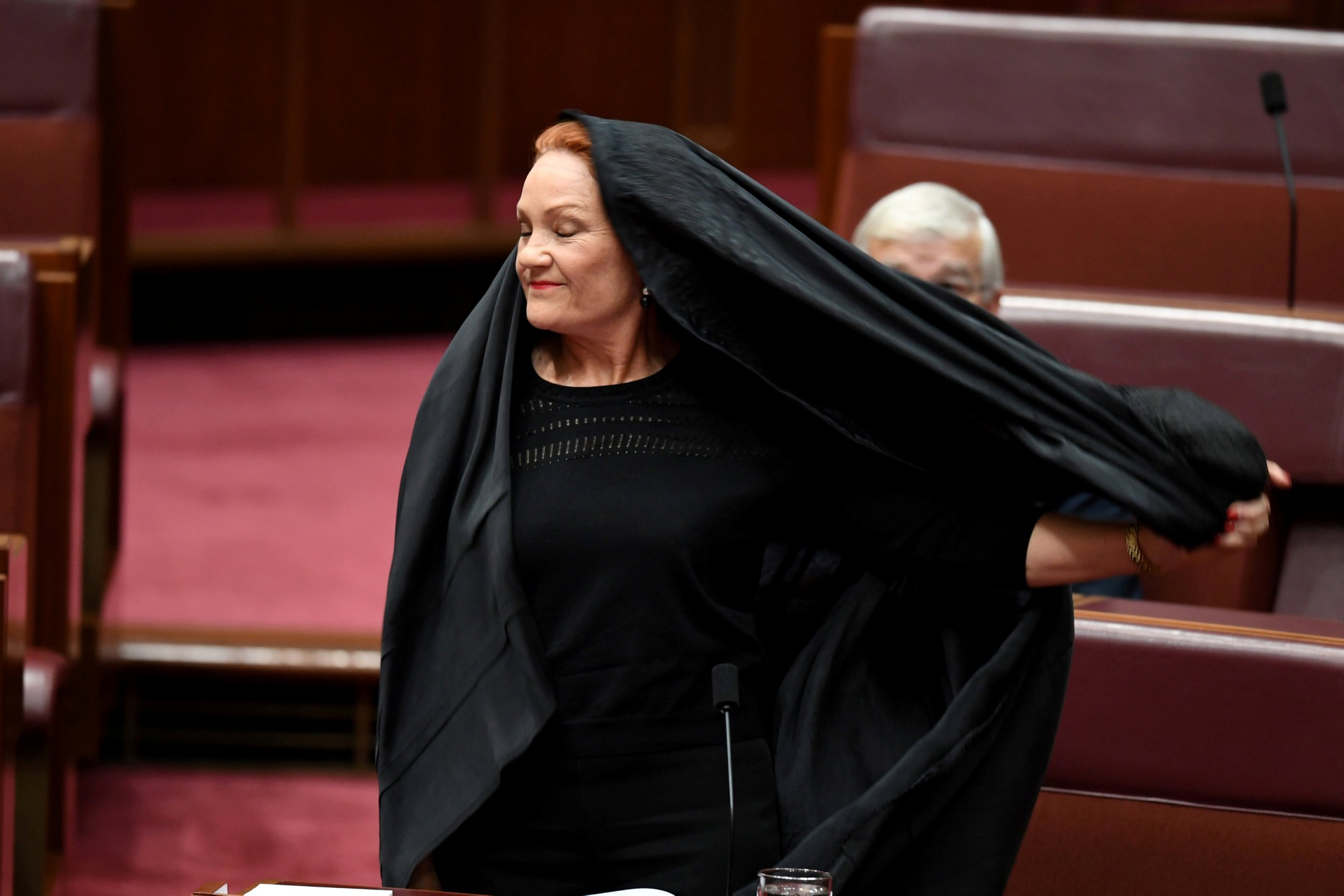 Pauline Hanson, the leader of Australia's right-wing One Nation party, provoked gasps in the Australian national Senate Wednesday after she entered the chamber wearing a full-length burqa to demand the item of Muslim clothing be banned.
Hanson, who has in the past caused controversy by saying students with disabilities should be removed from mainstream schooling, wore the full Islamic dress while waiting quietly to be called for questions. She removed the burqa, which had a conservative face mesh, with a flourish and launched into an attack on the item, which the Australian Senate will debate banning later on Thursday.
The actions by the senator for Queensland, in northeastern Australia, have been widely dismissed as a stunt, the Australian Broadcasting Corp. reported. As Hanson removed the garment, one of her colleagues could be heard to say: "Oh, what on earth?"
Australia's attorney general, George Brandis, offered a stinging rebuke to Hanson's decision to wear the burqa in the chamber, coming close to tears as he accused her of undermining relations with the country's Muslim community.
"To ridicule that community, to drive it into a corner, to mock its religious garments is an appalling thing to do. I would ask you to reflect on that," he said. Brandis added that Australia would not be banning the burqa to applause from across the Senate.
In her own speech, Hanson, whose One Nation party built upon a foundation of anti-immigration populism in Australia, cited security concerns as one of her reasons for wanting to ban the burqa.
Speaking to radio 2GB, she said she had been able to enter the Senate building by having a colleague vouch for her, rather than identifying herself. She went on to claim that she feared all Australian women might one day be forced to wear burqas.
"With the amount of kids that these Muslims are having and breeding here in Australia....possibly, one day, maybe not in the next five years but further down the track, it might be [that] my daughter or grandchildren will be told, 'You must cover up,' as is the case in many countries," she said.
Hanson has repeatedly taken an anti-Muslim stance since her election in 1996. In 2016, she claimed Australia was being swamped by Muslims.