Pawnee California Wildfire Update: 'Out of Control' Lake County Blaze Threatening Hundreds of Structures
Thousands of people have been told a massive wildfire burning through California, which has already forced mandatory evacuations, will continue to spread across the area.
Firefighters warn that the blaze, which started in Pawnee in Lake County, California, is "out of control" and shows no sign of slowing down, reports CBS SF Bay Area.
At least 10 houses have already been destroyed. Another 600 structures are currently under threat after the fire increased dramatically in size, encompassing more than 7,700 acres. It began around 5 p.m. on Saturday near the community of Clearlake Oaks.
Thousands of people have been evacuated from their homes in the Spring Valley area as a result of the fire. Authorities said there have been no reports of any injuries or deaths as of yet.
"What we're stressing is that people, when they get the evacuation order, they heed it immediately and get out and stay out until it is safe to return," Jonathan Cox, State Department of Forestry and Fire Protection Battalion chief, told the Associated Press. "This is one of four large fires burning in Northern California. It's a good reminder that fire season is upon us."
More than 230 firefighters have been deployed to tackle the blaze, Cal Fire said in an update. Helicopters and bulldozers are also being used, but the rugged area of Pawnee has made it difficult to get the equipment up close. "It's kind of the worst possible combination," Cox added.
Paul Lowenthal, assistant fire marshal for the Santa Rosa Fire Department, told the San Francisco Chronicle the changes in wind direction caused the fire to spread in multiple directions.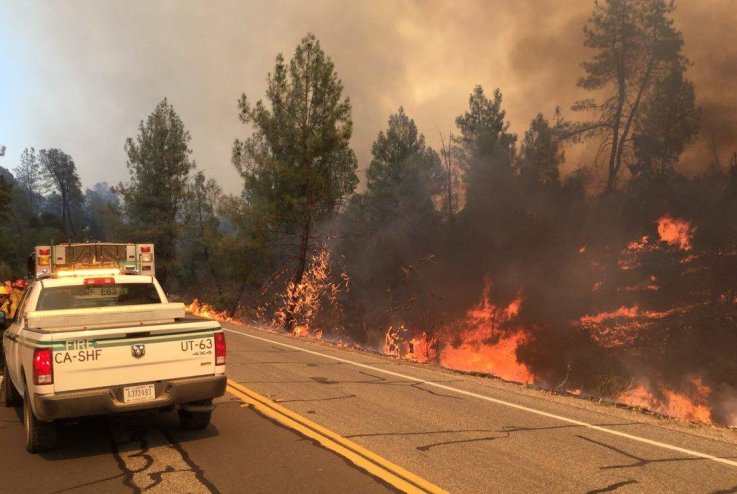 "I don't think any of us thought we would be here this early in the season," Lowenthal said. "This is the last thing anyone wants to go through. It has the potential to get a lot bigger given the wind and the directions it's being pushed."
Chris Dolce, meteorologist for weather.com, said that "increased humidity and cooler temperatures" should help firefighters by Monday.
In a statement, Cal Fire told local residents: "The fire burned very actively throughout the day in the Spring Valley area, north east of Clearlake Oaks in Lake County. The fire is being driven by low relative humidity, erratic winds and above normal temperatures.
"Expanded evacuation orders are in effect for the entire Spring Valley area and residents are reminded to heed all evacuation orders. Additional resources are en route to the incident."