Pawnee Fire Update: Lake County Blaze Spreads to 10,000 Acres, State of Emergency Declared
The governor of California has declared a state of emergency in Lake County, as the Pawnee Fire continues to spread rapidly.
The wildfire, which began on June 23, is currently burning across 10,500 acres. It has destroyed more than 20 homes and threatens a further 600 structures, according to Cal Fire.
The fire has already forced thousands to be evacuated from their homes across the entire Spring Valley community.
Governor Jerry Brown has now confirmed a state of emergency is in operation as more than 230 firefighters continue to tackle the blaze.
Announcing the proclamation, Brown said: "The circumstances of this fire, by reason of its magnitude, are or are likely to be beyond the control of the services, personnel, equipment, and facilities of any single local government and require the combined forces of a mutual aid region or regions to combat."
Two Fire Management Assistance Grants have also been approved by the Federal Emergency Management Agency (FEMA) for the state of California to help emergency services deal with the Pawnee Fire. In a statement, the agency confirmed that a state submits a request for an assistance grant when a "threat of major disaster" exists.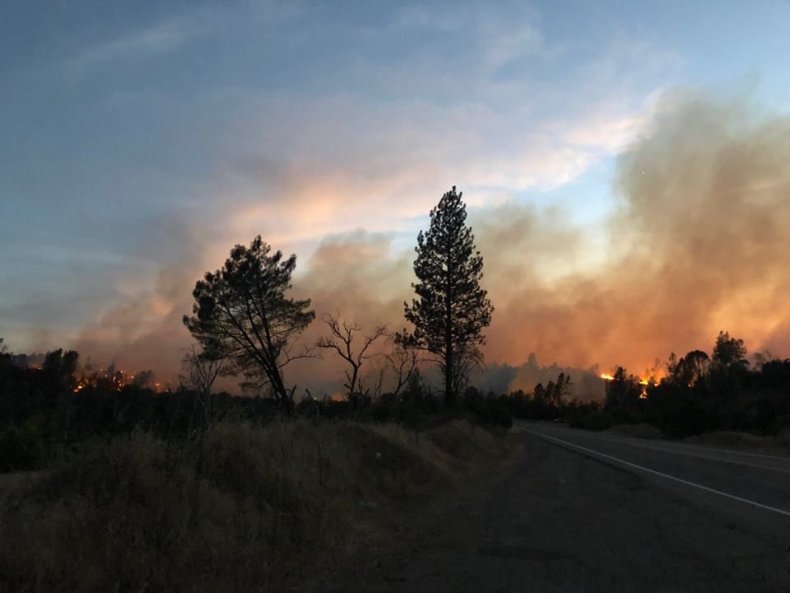 "The main fire growth is pushing east and northeast," Cal Fire Assistant Chief Billy See told KGO. "Each day we're fighting Mother Nature right now."
Residents who have already been forced from their homes have described fears that their properties could still be destroyed as the fire rages into its fourth day.
"We've been living with our hearts in our throats," Spring Valley local Lola Claypool told CBS 13. "You think, are we going to have a home when we go home. Where are we going to go? What are we going to do?"
Spring Valley residents have been warned it could take up to five days before they could be allowed to return to their homes.
Giving an update, Cal Fire said in a statement: "The fire burned very actively throughout the day in the Spring Valley area, north east of Clearlake Oaks in Lake County.
"The fire is being driven by low relative humidity, erratic winds, and above normal temperatures. Expanded evacuation orders are in effect for the entire Spring Valley area and residents are reminded to heed all evacuation orders. Additional resources are en route to the incident."