Billionaire tech entrepreneur and co-founder of PayPal, Peter Thiel, will soon no longer play a part in one of the biggest and most controversial companies in the world.
In a press release that was posted to social media Monday, Meta, the company formerly known as Facebook, announced that Thiel intends to step down from his position as a member of the social media giant's board of directors.
Thiel, who has been a member of the board since April 2005, will officially step down at the company's annual stockholders meeting this year, according to the press release. In a statement, Thiel was effusive in his praise of the company's CEO and founder.
"It has been a privilege to work with one of the great entrepreneurs of our time. Mark Zuckerberg's intelligence, energy, and conscientiousness are tremendous. His talents will serve Meta well as he leads the company into a new era," Thiel said.
Zuckerberg, in response to the news of Thiel's intention to step away from Meta, said, "Peter has been a valuable member of our board and I'm deeply grateful for everything he has done for our company—from believing in us when few others would, to teaching me so many lessons about business, economics, and the world.
"Peter is truly an original thinker who can bring your hardest problems and get unique suggestions," Zuckerberg continued. "He has served on our board for almost two decades, and we've always known that at some point he would devote his time to other interests. I'm grateful he's served on our board for a long as he has and I wish him the best in his journey ahead."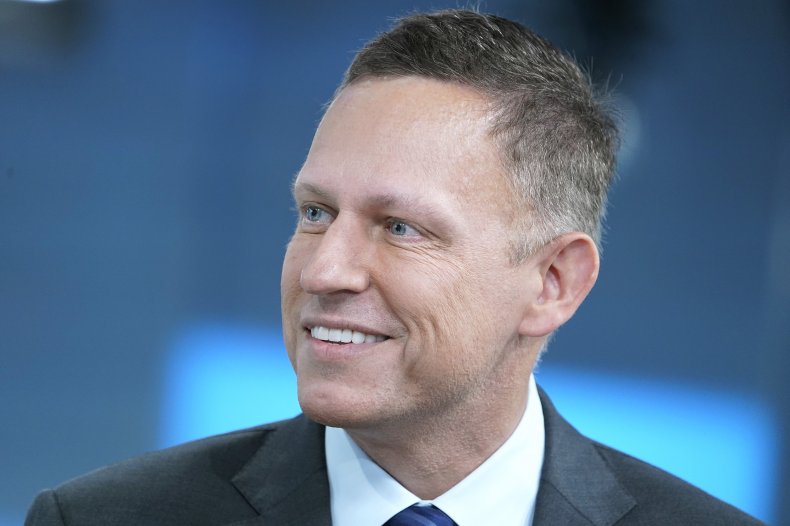 At 54, Thiel is one of the wealthiest people in the United States, with a net worth of $2.6 billion, according to Forbes. In addition to his time with Facebook/Meta and co-founding PayPal in 1998, his venture capital firm, Founders Fund, has a stake in Airbnb and SpaceX.
The conservative tech mogul will now focus his energy on politics, Bloomberg reported. Thiel will reportedly work to push pro-Trump candidates for the 2022 midterms, supporting Republicans like Blake Masters, who is running for the U.S. Senate in Arizona, and J.D. Vance, a Republican U.S. Senate candidate in Ohio, who recently picked up the endorsement of Representative Marjorie Taylor Greene.
In 2016, Thiel spoke at the Republican National Convention in support of then-candidate Donald Trump.
Late last year, Zuckerberg announced that Facebook was changing its name to Meta. During the announcement, the founder and CEO said the name change was needed to encompass everything that the company had branched into, like Oculus, Instagram and WhatsApp.
Facebook has consistently taken criticism, with many saying the company has gotten too big and that the popular social networking site is essentially an advertiser, a platform and a vendor. Last week, Democrat Representative Alexandria Ocasio-Cortez of New York and Florida's Republican Congressman Matt Gaetz sounded the alarm on the vast reach of the company, calling for it to be broken up.