PBS Gives You a Virtual Experience of Being Japanese American During WWII
Mission US is an award-winning role-playing game series from PBS station THIRTEEN. It teaches teenagers about some of the most difficult periods of time in history for the countries it follows and the next game in the series is about to launch in September.
"Prisoner in My Homeland" is the sixth game in the free interactive educational series. The game shows middle and high school students what life was like through the eyes of a Japanese American teenager named Henry Tanaka during World War II.
In the game, Tanaka's family is forced to leave their home on Bainbridge Island, Washington, for a prison camp in Manzanar, California. Players will make decisions based on survival and resistance, and challenge them to think about whether they should help their community, focus on family, support the war effort or resist injustice.
If this sounds like a difficult subject to tackle, that's because it is.
Like many of the other interactive games in the Mission US series that tackle slavery, colonization and the effect of western expansion on the Native American people, "Prisoner in My Homeland" aims to challenge and teach students the consequences of their actions set in a pivotal and difficult moment in U.S. history.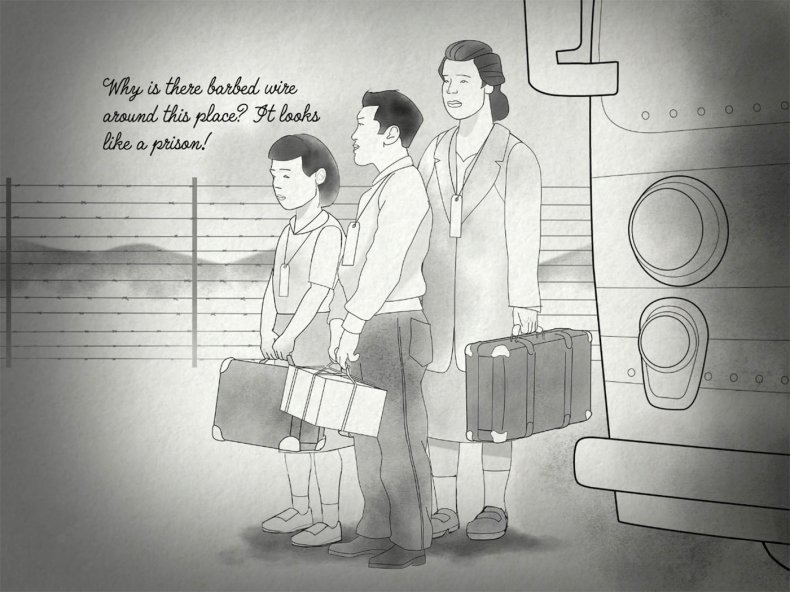 "Prisoner in My Homeland continues our work to engage young people in the stories of diverse Americans who have struggled to realize the ideals of freedom, democracy, and equality throughout our history," said Michelle Chen, senior producer, Mission US. "We hope that the game and the supporting educator resources will promote thoughtful discussion and deeper reflection on the critical issues of both our past and present."
The Mission US team collaborated closely with humanities advisors and members of the Japanese American community to develop "Prisoner in My Homeland." Densho, a digital archive that preserves oral histories and other primary source materials on the incarceration, consulted on content development for the game and its supporting educator curriculum guide.
An advisory board of leading scholars and researchers of the history of the incarceration guided development of the game's historical content, including Martha Nakagawa, author and researcher at the UCLA Jack and Aiko Herzig Collection and Eji Suyama Endowment project.
"Mission US: Prisoner in My Homeland is an innovative and creative introduction to exploring what life was like for those in the American concentration camps," Nakagawa said of the project. "This project will be an invaluable tool in reaching out to and educating the younger generation, many of whom will come of age when those who were in the U.S. camps will no longer be alive."
Tetsuden Kashima, Professor of American Ethnic Studies at University of Washington, Roger Daniels, Charles Phelps Taft Professor of History Emeritus at the University of Cincinnati and Allan Austin, Professor of History and Government at Misericordia University all contributed to the game's development.
The Mission US project also consulted with the Bainbridge Island Japanese American Community and the Manzanar Committee, who both provided feedback on game development.
As many students will be remote learning at this time, PBS THIRTEEN hopes you'll consider this interactive tool to teach and approach difficult discussions with your children.