PBS's Less-Than-Great Performance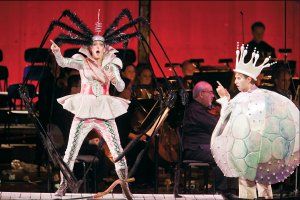 Despite its reputation for being as cutting edge as a fine pearl, Lincoln Center was sort of badass this season. The Metropolitan Opera scored a global coup with its debut production of Dmitri Shostakovich's wild 1930 work The Nose—directed with multimedia panache courtesy of South African artist William Kentridge. Next door, New York City Opera staged a modern version of Mozart's Don Giovanni that was as philosophical as it was sexy. And the New York Philharmonic pulled off perhaps the biggest success of all. Their absurdist production of Le Grand Macabre, the opera by Stanley Kubrick favorite Gyorgy Ligeti, sold out its run and brought down the critical house, with hosannas coming from regional and national critics. But despite all the noise you've heard about populist moves made by the concert hall in recent years—with telecasts and HD presentations in theaters around the country—you couldn't see any of these productions unless you journeyed to Manhattan. To put it plainly: in the 2009–10 season, public television failed to broadcast the splashiest happenings in America's resurgent classical-music culture.
Predictably, it was all about the money. PBS only pays the Met about $100,000 for TV syndication rights to the company's popular Live in HD theater broadcasts; filming each production costs approximately $1 million. That means the Met has been making all its own programming decisions for PBS's Great Performances series, which means a heavy dose of the Italian repertoire that caters to the Met's established—and cautious—audience (next season: Lucia di Lammermoor, again). In a talk given earlier this year, PBS network president and CEO Paula Kerger admitted that when it comes to public arts broadcasts, "we haven't done as good a job as we could."
Though Kerger is relatively new in her role, there are signs that she is overhauling the system. One of the finest American operas of the past quarter century, John Adams's Nixon in China, was not originally on the Met's list of HD broadcasts (and thus PBS telecasts) for next season. Last month, Kerger told NEWSWEEK she was talking about it with general manager Peter Gelb and the Met "because [Nixon] is something that I personally am very much interested in." Soon after that, the announcement was made: Nixon will be on next year's broadcast schedule. Other challenges remain, however. According to John Goberman, executive producer of Live From Lincoln Center (another part of PBS's arts universe), thus far Kerger hasn't suggested any direct investment into his series. "We're very available for money from PBS," Goberman said. "If some more money came along, we'd be pumping out more programming."
But Kerger is talking, and beginning to play, a pretty good game, as in her recent interview on PBS NewsHour, during which she discussed John Cage as well as community-based arts programming. She also envisions a strong online-only portal for PBS that would, over time, become a constantly updated archive of performances from venues across the country. But she doesn't yet have the money to match her ambitions. "I want to dedicate one night of prime time a week to arts programming, really mix it up, and begin to produce some work that is—for want of a better phrase—more challenging," she told NEWSWEEK. "If I get some philanthropy and some foundations interested, we can shoot some more work. We missed some big opportunities this year, no question."
Next season offers several opportunities to begin fixing the problem—with City Opera presenting an evening of modern monodramas (including one by MacArthur winner John Zorn) and the Philharmonic planning to follow its Macabre success with a production of Leos Janacek's The Cunning Little Vixen. Either one, if presented on television, would be modern-art appointment viewing. Kerger may prove to be the leader PBS needs to make it happen.