What may be the most improbable story in professional wrestling today is the resurgence and rebirth of Pierre Carl Ouellet or, as fans know him, PCO.
The 51-year-old wrestler from Quebec was once WWF Tag Team Champion in the early 90s. Back then he was known as Jean-Pierre LaFitte, one half of The Quebecers, before he bounced around other promotions like WCW, but PCO would tell you that his current run is the best of his career, especially in Ring of Honor.
"It's almost hard to believe that it's been six months [since I signed with Ring of Honor]," PCO told Newsweek. "So far it's been a pretty crazy, fun ride. It's been the most successful year of my entire career and I'm enjoying every second of it."
Since signing an exclusive contract with ROH in December 2018, the veteran wrestler has captured the ROH Tag Team Championships with Brody King, the ROH Six-Man Tag Championship with Brody and Marty Scurll, and the NWA Tag Team Championships. He even went one-on-one with the ROH World Champion Matt Taven.
But even with so many recent accolades and high-profile matches, PCO would be the first to tell you that he's not surprised that this is all happening at this stage of his career.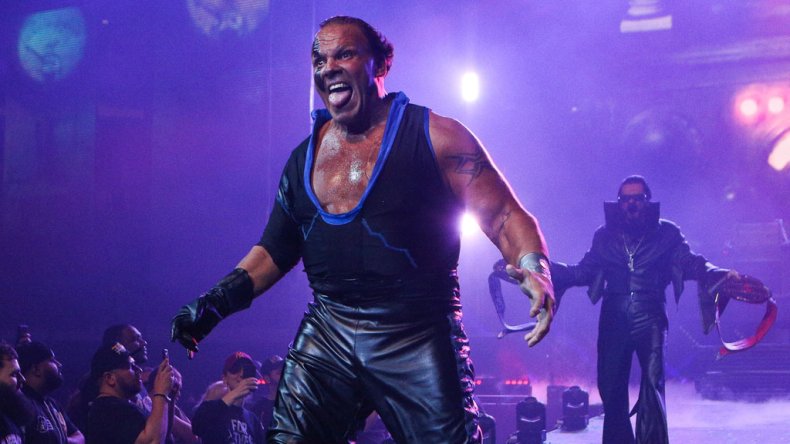 THE RESURRECTION OF PCO
"I always had these goals on my mind. I never lost it. I always wanted to reach out and have a year like this," PCO said. "In 2011 when the doors to the business were closed [to me], I didn't know what my next step would be."
PCO would retire from wrestling in 2011 and take up various sports including ice hockey, baseball and football. By nature, and his own admission, PCO would go "hard" on every sport he participated in and sought after the best competition. He would regularly take on opponents half his age in jiu jitsu tournaments and mix it up with NHL players on the ice during their offseason.
PCO spent five years outside the wrestling ring, instead putting his body through the ringer against high level competition in other sports. But one day his manager D. Destro had an epiphany. PCO, for all his ability in the ring, didn't have a character that he could sink his teeth into and one would be birthed simply by how the wrestler walked.
"That's how PCO came about, I was walking in front of Destro after the gym and he said, 'you are Frankenstein,'" PCO explained. "I didn't know much about [Frankenstein], I just knew the name. It was Destro who came up with the idea and the ideas around it. He's a big fan of monster movies and old time feats of strength and things like that. He put the character together. But when he described to me what would be the character I knew that's what I wanted to be."
The duo would put out a series of YouTube videos showing the manager digging up the body of PCO, and running electricity throughout his body to revive him just like Frankenstein's monster.
"I was always looking for a character like that. We say 'character,' but basically PCO is that person. It's not a gimmick it's really who I am. And in my past wrestling career, they would give me a character and it totally wasn't who I was. I took it because I had a chance to be in the WWE and step in, but it was more of taking this to get closer to who I am. So it was about getting my foot in, but it never happened."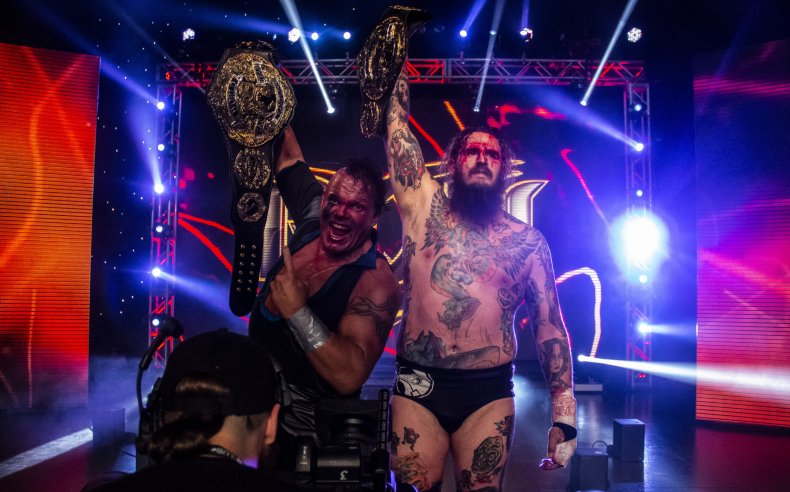 RETURN TO WRESTLING
With a new character that fit him, PCO would return to wrestling in 2016. Despite a gimmick that's not grounded in realism, PCO endeared himself to fans of all ages. He recalls meeting fans ranging from 10 to 40-years old at various events. Even his 10-year-old daughter would tell him when he would pick her up at school that her friends would ask if he lived in a castle.
But although he's playing Frankenstein's monster, the man behind the character isn't stiff or slow. A big draw of PCO is his high-flying in-ring skills as well as his ability to take a lot of punishment especially for a wrestler his age. It's something that he nor doctors can explain.
"I'm not playing a part, I'm not playing my character backstage, but people start to really think I'm not human. It's hard to explain," he said. "There's a lot of pain that I can endure. I have a body that even my doctor can't explain. I'll have severe cuts or get concussed or whatever and I'll be fine. It's just weird and the doctor says I'm not normal. I can't go to the hospital and say that I have an injury because they won't believe me."
After a couple of years of performing on the independent circuit, PCO started to get interest from companies looking to sign him full-time.
Although working the Indies gave him a lot of freedom and to fully control his creative, it was a lot of work. Often times PCO would be on the phone with promoters constantly to get his plane tickets paid - sometimes even trying to get two promoters to split a ticket so he can do two shows that were close together - and to get everything in order.
PCO would sometimes work four shows a week and it's not uncommon for the 51-year-old to have one show in Dallas before having to head to Los Angeles and then Philadelphia right after. Signing with ROH made things much easier for him.
"During that whole 2018 I got so many phone calls and offers from different groups, and serious wrestling companies. Some I didn't feel it and I don't want to take the first offer," PCO said. "I wanted something and somewhere I could feel comfortable and I was going to be able to have that freedom to stay who I am as a person, a wrestler and character. ROH told me they want me to do keep doing what I'm doing."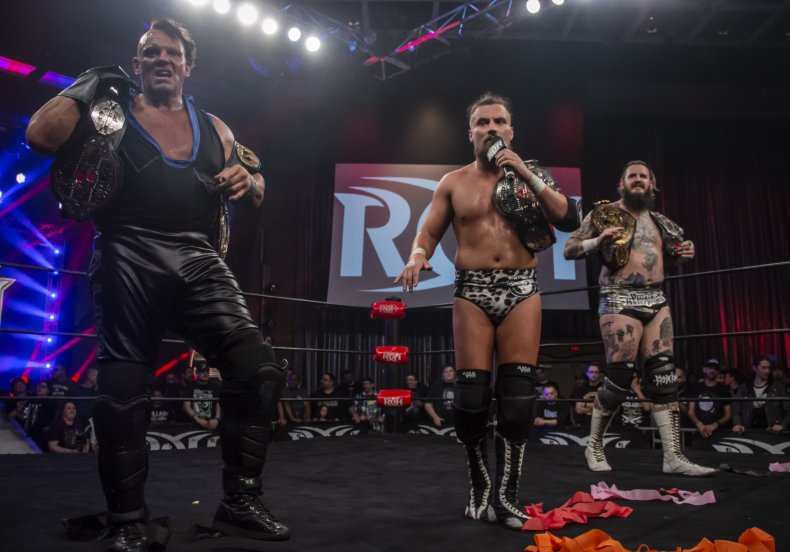 VILLAIN ENTERPRISES
When PCO signed with Ring of Honor, the promotion was in a transitional phase.
Many of the company's top stars like The Young Bucks, Hangman Page and Cody Rhodes were about to leave the company to start All Elite Wrestling. Knowing that some of the faces of the company were leaving put some pressure on the veteran wrestler, but he was confident that his particular skill set would help him make a splash.
"There is pressure. You want to step it up and you want to make a difference," PCO said. "The thing that made me feel comfortable was that the Bucks, Cody and Page and everyone else that left they work different styles. Me being a monster and unpredictable and all of that was good. The perception is totally different."
PCO feels that ROH, and the talent, had time to adjust to the changes wrought by AEW. This includes the creation of Villain Enterprises, a new faction led by Marty Scurll.
Marty and PCO met back in 2007 when they were both wrestling full-time in England. Although PCO felt that year "went down the drain" his connection to Scurll would be a huge factor in his decision to join ROH.
"He was a big factor in me coming to ROH and making Villain Enterprises," PCO said. "I knew about his character and everything that he wanted to do and I thought it was a perfect fit. With Brody it's the same thing. I faced against him a bunch in 2018 and he was one of the hottest indie guys. So when [ROH] said we want to put you three together I said yea that's going to be awesome. That's why I was very favorable to sign with ROH and it was a perfect fit at the time."
Capturing multiple titles in their short time together, Villain Enterprises look to continue their dominance of ROH this Friday at the Best in the World show. PCO, King and Scurll will put their Six-Man Tag Team titles on the line against PJ Black, Mark Haskins and Tracy Williams.
"It's going to be great. They are all good," PCO said. "Haskins, he's great at a lot of things. He's a great technician, the way he does things, his speed. An all-around great wrestler. TW is the same. He's an unbelievable wrestler and PJ can do it all. I feel like Marty can be that wrestler too, he's the pure villain and Brody can mix it up, very powerful. I like to take a lot of risks and fly. I think that match is going to be awesome."
To get fans more hyped for their match, PCO and Destro released the latest episode of their webseries teasing the creation of new Six-man Tag Team Championship belts. PCO didn't want to say too much about it but he promised that things will get interesting and people are in for a few surprises at Best in the World.
As PCO gets closer to his 52nd birthday, his rebirth in pro wrestling is a direct result of this new "golden age of wrestling."
"It's all about timing. In 2011 there was one company and the Indies were not that good. I faced Walter at Game Changer Wrestling (GCW) during WrestleMania 34 weekend in New Orleans and around that time, the indie scene exploded big time," PCO said. "I see all these companies sell out and even smaller companies are selling so much more tickets. They are getting so much better than they used to. And even in Canada, you see companies drawing 800-1000 people on a regular basis, which is crazy. It gives wrestlers a chance to perform on a regular basis and sometimes full time."
PCO feels pro wrestling's current momentum, much like his own, isn't showing any signs of slowing down.
"Even when WWE is grabbing people and not using them just to take them off the street you still have talented wrestlers all over the place and companies. The whole industry is so healthy. It's a good time for the fans and the wrestlers. It gives a lot more work, a lot more leverage. There's great wrestling everywhere and the companies are going to fight to get the best wrestling so the fans will win in that regard."
ROH Best in the World will stream live Friday, June 28 at 9 p.m. EDT on Honor Club.
Uncommon Knowledge
Newsweek is committed to challenging conventional wisdom and finding connections in the search for common ground.
Newsweek is committed to challenging conventional wisdom and finding connections in the search for common ground.
About the writer
Phillip Martinez is a game and culture reporter for Newsweek. Prior to joining Newsweek in 2018, he was a reporter and editor for iDigitalTimes and Player.One. A Bronx native, he graduated with his Bachelor's degree in Journalism from St. John's University in 2010. An avid Nintendo fan and wrestling mark, he's always looking to become a Pokémon Master while fantasy booking this year's WrestleMania. You can contact him at p.martinez@newsweek.com