Peace Activists Face Up to 25 Years in Prison for Breaking Into Nuclear Submarine Base
Seven Catholic anti-war protesters who raided the Kings Bay Naval Submarine Base in Georgia last year have been convicted of conspiracy, depredation of government property, destruction of government property and trespassing. They each face up to 25 years behind bars.
America magazine reports that members of the Catholic peace group called the Kings Bay Plowshares 7 were found guilty by a jury that took less than two hours to deliberate. Each of the seven, who range in age from 55 to 78, will be sentenced for the three felonies and the misdemeanor charge.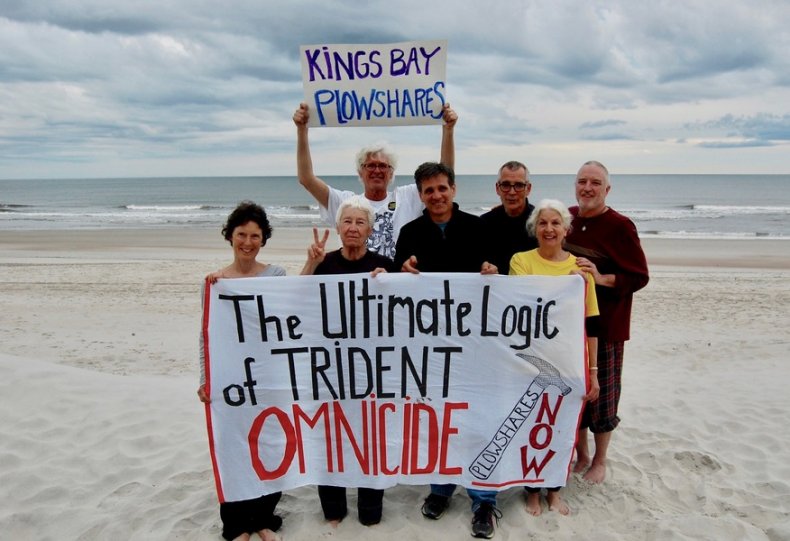 On April 4, 2018, the protesters used bolt cutters to break a padlock and then breach a security fence at the naval base near the city of St. Marys, Georgia. Once inside, they split into three groups to perform acts of protest vandalism.
At an installation demonstrating the Trident nuclear missile, Mark Colville and Patrick O'Neill pulled out hammers and smashed the dummy missile, symbolically following the instructions in Isaiah 2:4: "He shall judge between the nations, and shall decide disputes for many peoples; and they shall beat their swords into plowshares, and their spears into pruning hooks."
Clare Grady and Martha Hennessy went to the Strategic Weapons Facility Atlantic's administration building. Using baby bottles filled with their own blood, they doused a Navy logo on the wall and hung crime scene tape.
Elizabeth McAlister, the Reverend Stephen Kelly and Carmen Trotta went to the nuclear weapons storage bunkers and spray-painted slogans on the pavement outside. The group was apprehended while trying to cut through an electrified fence leading into the bunker area.
At trial, attorneys for the group used the defense of necessity, according to The Ithaca Journal. The group claimed they were acting to prevent the "imminent harm" of nuclear war, arguing that "only by symbolically disarming these nuclear weapons is there any hope for real disarmament."
Prosecutors disagreed. A facilities management specialist testified that even though nobody was harmed, their actions caused $31,833 worth of damage to the base.
The protesters are allowed to reside in their homes until sentencing is determined in 60 to 90 days. Kelly has declined that offer and will remain in jail.
Prison will not be a new experience for many of the Plowshares 7. Grady spent six months behind bars in 2006 for splashing blood on a recruiting office in Lansing, New York, during the Iraq War. The group had expected a guilty verdict, with O'Neill telling the press, "Nothing meaningful comes out of life that doesn't require sacrifice."