Peace Deal in Sudan: Army and Protesters Agree to Share Power
Earlier today, Sudanese military and civilian opposition leaders gathered in Khartoum, Sudan's capital, to sign a landmark peace deal that both parties hope will put an end to eight months of unrest.
The deal establishes an interim ruling council of five civilians and five generals, with an eleventh member to be selected by both sides. The council will govern for three years, until the next round of elections. A new prime minister, nominated by civilians, will be appointed next week, according to reporting by the BBC.
Anti-government demonstrations began in December 2018, with protesters calling for the removal of President Omar Al-Bashir, the military leader who had ruled the country since the 1980s.
The protests turned violent in April, when government forces killed 22 people during a sit-in outside the military headquarters in Khartoum.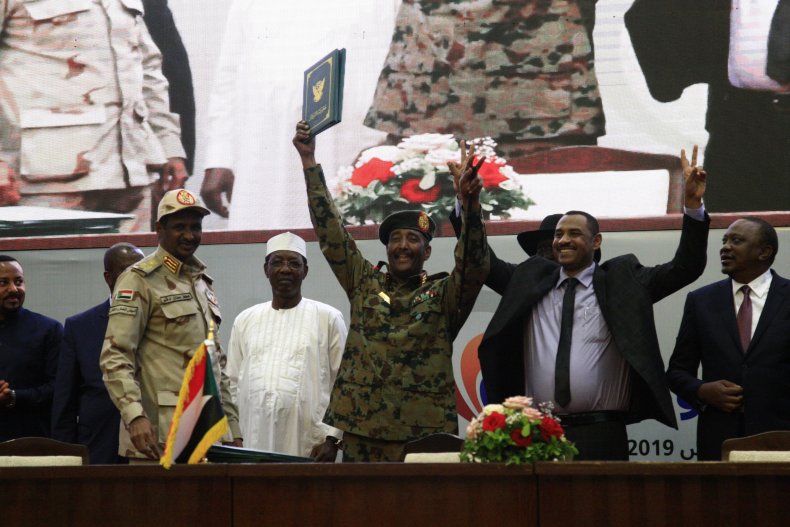 In a military coup on April 11, the Sudanese army arrested Al-Bashir and announced that it would govern Sudan for the next two years, setting off further protests and counter-protests by pro-democracy and Islamist groups throughout the summer.
The army established a military junta, called the Transitional Military Council, to govern. While General Abdel Fattah al-Burhan was named chief of the council, many considered paramilitary commander and former Al-Bashir ally Mohamed Hamdan "Hemeti" Dagolo the country's real leader, with the BBC calling him "the warlord who may control Sudan's future."
Hemeti was well-known as a leader of the janjaweed militias that wreaked havoc in Darfur in the early 2000s.
Despite his documented human rights abuses, Hemeti was successful at garnering support for the military junta from regional allies including Saudi Arabia, Ethiopia and Egypt. He also met with diplomats from United States and Britain over the summer.
Peace talks between the military junta and civilian opponents stalled on June 3, with protest leaders holding the military responsible for attacks on a peaceful demonstration that left at least 30 people dead at another Khartoum sit-in, according to the Associated Press. Reporting by The New York Times put the death toll as high as 118.
Negotiations resumed in secret early in July with Sudanese, regional and Western officials meeting at a private mansion in Khartoum. Attendees included Hemeti and the leader of Sudan's Communist Party, Siddig Yousef, as well as United States envoy Donald Booth and representatives of Saudi Arabia, Britain and Ethiopia. The talks were mediated by representatives of the African Union.
According to the agreement signed today, the joint civilian and military council will rotate power until the next round of national elections in 2022.
"We will stick to every single letter we have agreed on," Hemeti told a BBC reporter after the ceremony.