Historic Peace Deal Signed by U.S. And Taliban in Effort to End America's Longest War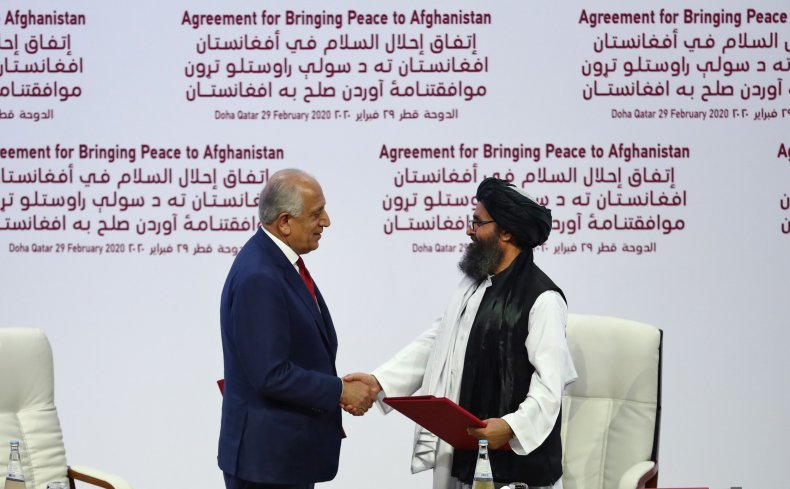 Representatives for the United States and the Taliban signed a preliminary agreement to negotiate a broader framework for peace in Afghanistan, which included a promise to withdraw American troops in the country over a 14-month period.
The U.S. currently has approximately 13,000 troops stationed in the country.
The agreement, signed in Doha, Qatar, on Saturday, marks the first step in the process for achieving more durable peace, a goal that has remained elusive for nearly two decades as America's longest war became a foreign policy imbroglio.
"When I ran for office, I promised the American people I would begin to bring our troops home, and seek to end this war. We are making substantial progress on that promise," President Donald Trump said in a statement Friday. "If the Taliban and the government of Afghanistan live up to these commitments, we will have a powerful path forward to end the war in Afghanistan and bring our troops home."
The deal includes a commitment to a reduction in violence between Taliban and Afghan security forces, and a dry run of this provision has yielded an 80 percent decline in large attacks, according to The New York Times. Moreover, the Taliban has agreed to dissociate itself from foreign terrorist groups such as Al Qaeda, for whom it provided safe haven during the planning of the September 11 terrorist attacks.
The violence-mitigation plan follows some of the deadliest attacks on U.S. forces in recent memory. In 2019, the number of U.S. troop fatalities reached its highest level in five years. More civilians were killed in July 2019 than in any month in at least a decade, according to the United Nations.
"We've had very successful negotiations, we think they'll be successful in the end," Trump said Saturday ahead of a planned update on the spread of coronavirus in the United States. "The other side's tired of war. Everybody's tired of war. It's been a particularly long and gruesome one."
Trump added that he plans on meeting personally with Taliban leaders in the not-too-distant future.
American officials hope that a cease-fire will be included in any permanent agreement, which still needs to be negotiated and remains a wild card in the peace-seeking efforts. The exclusion of the Afghan government from the process that led to Saturday's deal was another risk factor. The Taliban, however, has previously refused to engage in direct talks with Afghanistan's U.S.-backed administration.
The Trump administration's pursuit of a deal has been a thorny endeavor from the start. Talks stretched on for over a year and progress has been fitful, with abrupt cancelations punctuating quiet negotiations in the background. John Bolton, the former national security adviser, was a staunch opponent of a prospective deal until his ouster from the Trump administration. He issued a tweet in response to news of the deal, calling it an "unacceptable risk to America's civilian population."
Nevertheless, the tentative agreement is being hailed by the international community as the first, necessary step in securing lasting peace.
"Recent progress on peace has ushered in a reduction of violence and paved the way for intra-Afghan negotiations between a fully inclusive Afghan national team and the Taliban to reach a comprehensive peace agreement," the North Atlantic Treaty Organization, which maintains an international coalition of troops in the country, said in a press release. "We call on the Taliban to embrace this opportunity for peace."
This article has been updated to include comments made by President Donald Trump Saturday afternoon from the White House.