Peace Talks Delayed After Kosovo's President Indicted for War Crimes
A planned White House peace summit between the presidents of Serbia and Kosovo will be rescheduled after Kosovo's president was indicted for war crimes.
U.S. officials had hoped that Saturday's meeting between Kosovar President Hashim Thaci and Serbian President Aleksandar Vucic might help resolve decades-long conflicts between the countries. Thaci cancelled his plans to attend the summit after his indictment was made public on Wednesday, although the summit was initially expected to move forward with Kosovo Prime Minister Avdullah Hoti scheduled to attend.
On Thursday, Hoti announced he would not be attending the meeting due to "new developments" related to the indictment. Richard Grenell, who arranged the summit and is President Donald Trump's special envoy to Serbia and Kosovo, responded with a promise to hold the meeting at a later date.
"Thank you, Prime Minister Hoti," Grenell tweeted. "We understand your decision and we look forward to re-scheduling the meeting soon."
It is unclear when the postponed summit might take place. Grenell said that the U.S. approach to the peace talks was purely economic and "has always been to concentrate on jobs and the economy," without getting "involved in the politics" of Serbia and Kosovo.
Thaci's 10-count indictment by the specialist prosecutor's office at The Hague, was publicly revealed after he was accused of attempting to obstruct the investigation. He and several others, including Democratic Party of Kosovo leader Kadri Veseli, are accused of war crimes related to Kosovo's war with Serbia in the late 1990s.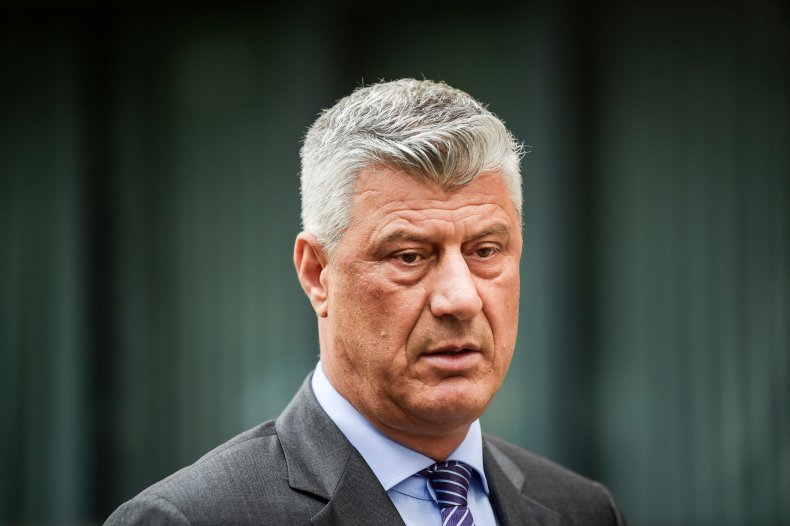 Thaci, Veseli and the other suspects are alleged to be "criminally responsible for nearly 100 murders," with "hundreds of known victims" including political opponents and a host of ethnic minorities. A pretrial judge has six months to decide whether to confirm the charges or drop the case.
Kosovo, a former province of Serbia, declared its independence in 2008. The U.S. was one of the first of around 100 countries to recognize the country's sovereignty, which is not recognized by Serbia and remains a point of international contention.
The Kosovo government issued a statement following the public disclosure of Thaci's indictment, defending the president's innocence and the country's war with Serbia.
"The Government of the Republic of Kosovo considers that no one should be considered guilty without a final decision by the Court," the statement read. "The war of the people of Kosovo and Kosovo Liberation Army was just and for its freedom and should therefore remain as the most important period of the country's history."
Newsweek reached out to Hoti's office for comment but did not receive a response in time for publication.