'Ferguson October' Marches Through St. Louis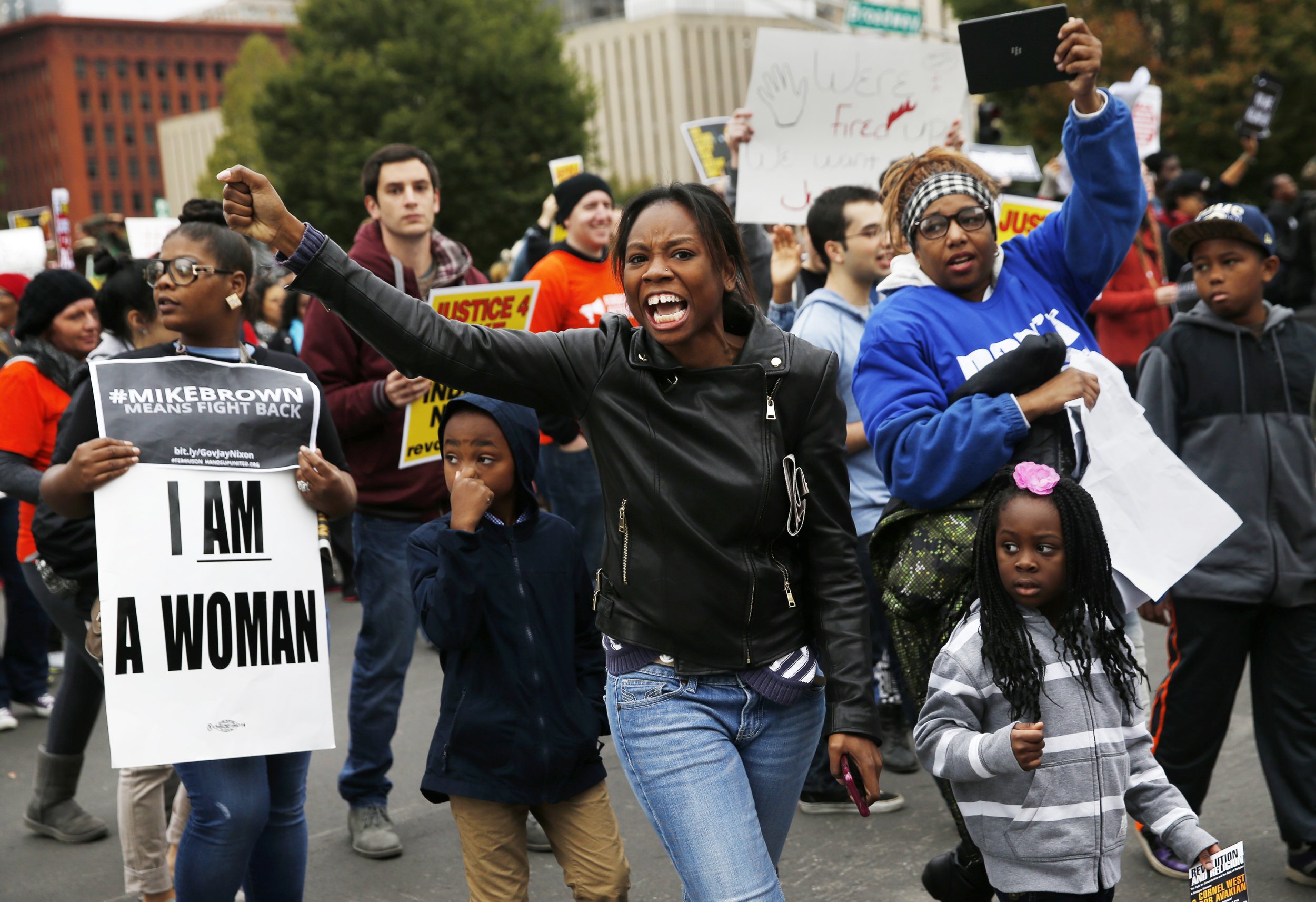 The streets of St. Louis were awash with demonstrators on Saturday morning, as thousands gathered to protest police violence, part of tribute to two black teenagers fatally shot by Missouri police officers in the past two months.
Some marchers wore orange shirts emblazoned with the words "Ferguson October," the name of Saturday's protest, which was organized by Hands Up United, the Organization for Black Struggle, labor unions and other groups, according to The St. Louis Post-Dispatch. Protesters held up signs, chanting "No justice, no peace" and "Hands up, don't shoot," the alleged last words of the late Michael Brown, the unarmed black teenager who was shot and killed by a police officer on August 9th in Ferguson, Missouri. On October 8, 18-year-old Vonderrit Myers, Jr., was killed by an off-duty St. Louis police officer in the city's Shaw district, reigniting the tense protests that began in late August.
The Michael Brown and Vonderrit Myers, Jr. shootings and the chokehold death of Eric Garner by an NYPD officer in Staten Island have opened the door to a public discussion about racially-fueled police violence in the United States. Recent studies have shown that virtually no comprehensive data exists regarding police shootings.
Authorities are worried that the Ferguson October events may spark protests again, but Sam Dotson, St. Louis Police Chief, was reportedly walking amongst the crowd, chatting with activists and shaking hands. He did not disclose how many officers were in the area patrolling the marches, but he told the Post-Dispatch that no officers were in tactical gear. "What's also important is that everybody has a right to be here and have their message heard," Dotson said.
A crafty protester at the event had even created a likeness of Michael Brown, with his hands up, out of paper-mache and marched with it through the downtown streets.
Witnesses described the marchers as peaceful, and said they were welcomed by local authorities. Police were present, patrolling alongside the march, and used barricades to halt incoming traffic. They didn't use any force, unlike the tear-gassed filled protests in Ferguson, Missouri that made the headlines in late August.
On Friday, Michael Brown's family released a statement supporting the peaceful protests: "While we respect every citizen's right to free expression, it is our hope that those coming to Ferguson to protest the shooting of our son this weekend do so peacefully and lawfully."