Hong Kong's Protesters Say Peaceful Resistance Is Key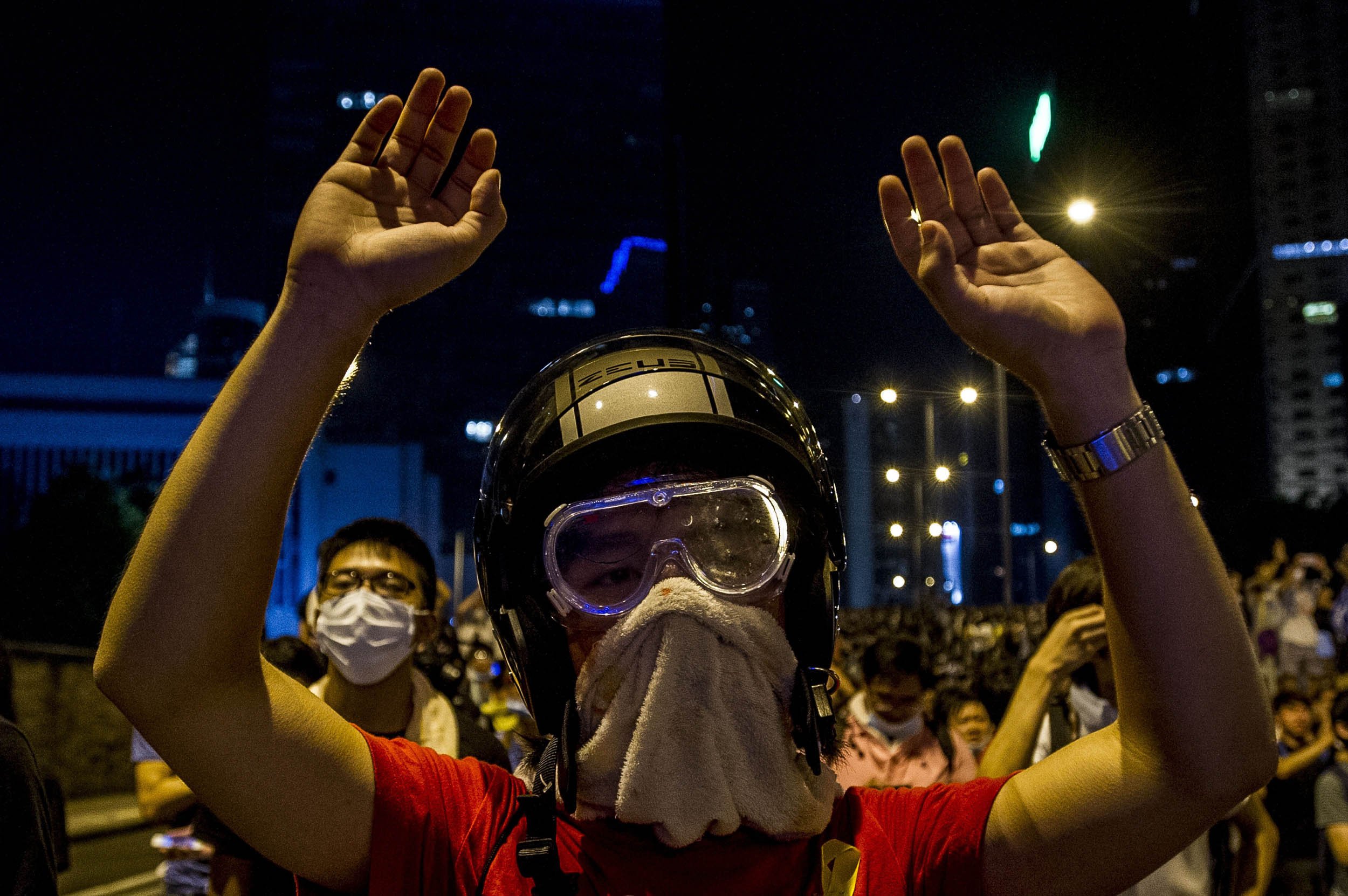 Hong Kong's pro-democracy protests have seen tens of thousands of demonstrators take to the streets to demand universal suffrage from the Chinese government.
What started as a student-led campaign for democracy last week evolved into a standoff with police, who lobbed tear gas at the growing crowds and made arrests Sunday and Monday. But one group taking part in the movement says protesters are focused on maintaining a "peaceful resistance."
"We are seriously upholding the principle of nonviolence," Chan Kin-man, co-founder of democracy group Occupy Central with Love and Peace (OCLP) and a professor of sociology at the Chinese University of Hong Kong tells Newsweek.
"We are fighting a non-democratic regime, we don't have as many resources as them, we don't have weapons," said Chan. "The only thing we rely on is our spirit. We spend a lot of time explaining the importance of having a movement that can express our love to the community," he said.
OCLP started in March 2013 as a way to put pressure on the governments of Beijing and Hong Kong to allow fair and open elections in Hong Kong. Chan said the group is inspired by other peaceful movements that have fought "against systems, not individuals," he said, speaking from a square next to the central government office in Hong Kong on Monday, where protests were continuing.
The protests partly have their roots in an unofficial referendum earlier this summer which called on Beijing to allow for free elections in which Hong Kong residents could nominate their own candidates for local government positions. Beijing has said voters can choose from a list of pre-determined candidates.
Chan compared the 2017 elections to an election in authoritarian regimes such as North Korea or Iran. "All the candidates have to be screened by Beijing before they're put forward," Chan said of the movement's impetus. "As an international city we don't think this is acceptable," he said. "We want a genuine universal suffrage by the end of 2017."
"We learned from examples like Gandhi in 1940s and Martin Luther King in the 1960s," said Chan. "[We were] also inspired by Nelson Mandela in fighting for democracy."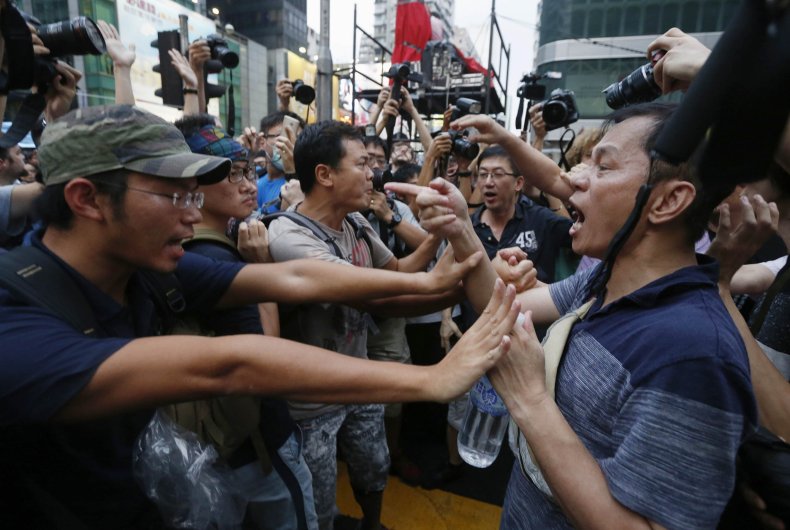 In Focus
Pro-democracy protesters in Hong Kong, many of them students, faced tear gas and arrests as they took to the streets in massive numbers to call on China to allow free elections for territory's next leader
Launch Slideshow

27 PHOTOS
The movement has been dubbed the "umbrella revolution" by some, with protesters using umbrellas to protect themselves from tear gas and the sun.
The protests saw Hong Kong police firing tear gas into crowds for the first time in nearly a decade, since protests erupted outside the 2005 World Trade Organization talks, The Telegraph reports. The action has brought "shame" to the city, said Anson Chan, former chief secretary of Hong Kong said in a statement.
"What we need now is leadership and accountability, not violence and repression," the statement read.
Photos and videos with the hashtag OccupyCentral have been widely shared over social media, despite the Chinese government's decision to block Instagram on Sunday. Some praised protesters for organizing supplies, handing out water and tidying up after themselves.
Chan said this were examples of the movement's strategy of nonviolence.
Protests are expected to continue through October 1, which is China's National Day, according to local media.
"We hope that Hong Kong people can hang on and occupy the several spots that we are now having our demonstrations [until] at least October 1…to show our dignity and our determination to fight for democracy," Chan told local media on Monday.