'Peacemaker' Character Guide: Who Joins John Cena's Supervillain in the HBO Max Show?
Peacemaker wasn't really a team player in The Suicide Squad, but that's all going to change in his self-titled HBO Max show, which launches on Thursday, January 13 with its first three episodes.
The supervillain, played by John Cena, is joined by a whole host of new characters as well as a few old friends for a mission to stop an enemy that could threaten all life on Earth as we know it.
The cast of the DC show spoke with Newsweek about their characters. Here is a guide to everyone joining Peacemaker on his journey to maintain peace, no matter the cost or who he has to kill to get it.
All the Characters who Join John Cena's Supervillain in 'Peacemaker'
Adrian Chase/Vigilante
Adrian Chase aka Vigilante, like Peacemaker, is keen to fight off bad guys and seek justice, even if he's committing crimes to get it.
Vigilante is the self-titled best friend of Peacemaker, though the villain's pet eagle Eagly would have something to say about that, and he is desperate to work alongside his pal and all but forces himself onto the team.
Freddie Stroma plays the character on the forthcoming show, and he admitted he "loved" portraying a comedic version of the anti-hero.
"I mean, it was the comedy [that] was definitely a huge draw for me, I love that. And I think one of the things I really liked was just the miscommunication and so many takes," Stroma said. "He's just constantly on another wavelength, he's always thinking the wrong thing and people are trying to figure out what it is and, as an actor, it's fun because then you get to play with whatever it is you think it is.
"And then on top of that, once you're on set James [Gunn] is directing, and then he's just giving you a whole different other thing, and it's just a lot a lot of fun."
Leota Adebayo
Leota Adebayo is a new member of the taskforce Peacemaker leads, and she is brought in after a recommendation from Amanda Waller (Viola Davis).
Despite the fact she has little experience in the field, the agent is smart, quick-witted and willing to do what she can for the team.
Adebayo is the opposite of Peacemaker in many ways, especially in her belief system, but, somehow, she is also the only person to see the supervillain for who he really is.
Emilia Harcourt
Emilia Harcourt (Jennifer Holland) first appeared in The Suicide Squad and was one of Waller's team who rallied against her to help the supervillains defeat Starro.
As a result of her insubordination, Harcourt has been assigned to work with Peacemaker and the team on their covert mission.
While she feels being put on a team with Peacemaker is punishment for the events of The Suicide Squad, that doesn't mean she doesn't hold off on fighting off bad guys and protecting her team.
Of doing her own fight scenes with the help of her stunt double, Holland said: "I spent an extraordinary amount of time working with the stunt team and fight coordinators on all of the different stunts and fights that we do on the show, and I had just the best stunt double who without her I wouldn't have been able to do anything that I do on the show.
"Julia is my hero, and she taught me everything, she spent countless hours with me, teaching me the proper stance and the proper form and, you know, how to sell something and make it really aggressive.
"And I loved all of that stuff so much, I had such a good time, and it's probably I'd say a good 50/50 between me and my stunt double that ended up in the show, it's probably not that much different than what ends up for most people, but I got to do all of it."
Heaping praise on her stunt double, Holland added: "They just don't always use my pieces in certain areas because there's certain kicks that Julia is gonna do much better than I do.
"There's, you know, a flip or something that she's gonna take care of, or the big, dangerous like stock portions [of a fight scene], she takes care of that. She's the true bad*** behind Harcourt."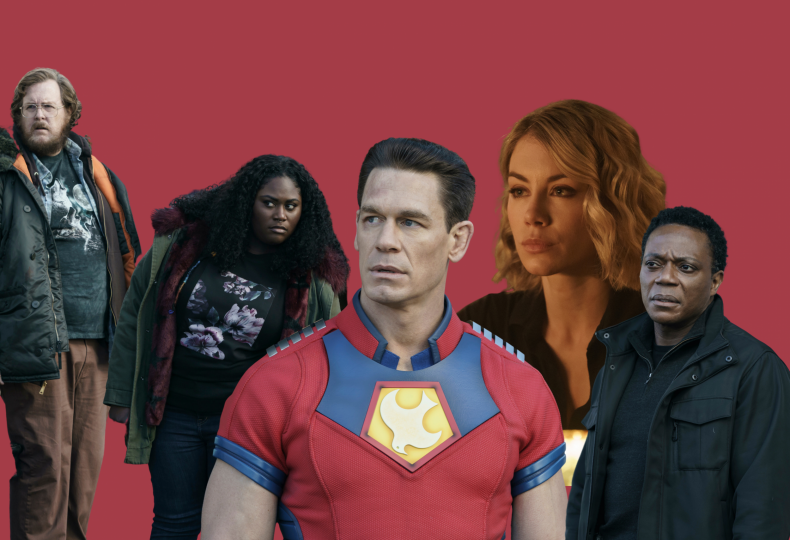 John Economos
John Economos (Steve Agee) also first appeared in The Suicide Squad and, like Harcourt, has been put on a team with Peacemaker as punishment for going against Waller in the DC movie.
The de-facto tech wizz of the team, Economos is able to help with hacking, surveillance and other technological sides of their missions, but that's not all as he also gets a few chances to go into the field in the HBO Max show.
This was something actor Agee was delighted by, saying: "Once James gave me the script, first of all, I was just excited to be doing the series, I was like, yes, 100% I'm in.
"I kind of figured I would be at a computer the whole time and then when I read in the episodes that I, you know, I'm killing with a chainsaw and machine-gunning [people] and [am] just out in the field, I was like, 'Oh, my God, this is a dream come true for me.'
"I'm never that guy. I'm always the stoner or the computer guy, or the wise a** in the office. Yet, this was literally something, you know, in 20 years I've never gotten to do, so, yeah, it was amazing."
Clemson Murn
Clemson Murn (Chukwudi Iwuji) is the leader of Peacemaker's team, and replaces Waller as their no-nonsense boss, but he is not as much of an open-book as he might seem to be, at first.
Murn is fiercely loyal to his team, and for Iwuji it was Gunn's hilarious script that was one of the major appeals of playing the part: "I got sent like three sides of dialogue and I read it and, initially, I got sent a breakdown of the character, and I was gonna just pass on it because I was like, I'm never gonna get that they should go hire the Rock or someone, this isn't me.
"But then I read the dialogue and I started laughing. And I showed it to my wife, I said, 'Is this as funny as I think it is?' She says, 'Yes.' And, specifically, there was so many clues for me at least as to exactly how I wanted to play this guy.
"But the eyes, the dead eyes, the stillness, all that stuff was in the writing, his dryness. So I said I have to, whether I get it or not, doesn't matter but I want to have fun with this character.
"So, I was drawn to the image of Murn in those few pages James was able to give me and I was like, I would actually be very interested in playing this character, and my version of this character.
"And also what got me was as I read the whole story of it was to know that although I'm playing him beat-to-beat as this taciturn, dangerous [man] what really drives him, the hearts that drives him, what a wonderful payoff. You know, I can't wait for people, the audience, to experience that, you know."
Judomaster
Judomaster (Nhut Le) is an enemy of Peacemaker who comes across the supervillain and his team while they are on a mission.
The martial arts expert is a fierce fighter and not one that the team can defeat as easily as they might fend off someone else.
Augie Smith
Augie Smith (Robert Patrick) is Peacemaker's dad, and he can be best described as a racist bigot who is emotionally cut off from his son.
Patrick joked about "picking on the racist" while talking to Newsweek about Augie, but said of playing his character: "Well, it was really wonderful. I was thrilled that James thought of me for this.
"We had a couple of conversations about it. You know, it's really to establish just how awful an upbringing [Peacemaker] had, and it was very important to tell his story, that background, that history.
"So, you know, he's just an abominable human being, just a horrible, horrible person. And I, you know, I understand that dynamic father-son, I understand that. It's the thing that all of us guys deal with, this 'is my dad gonna ever give me a pat on the back?' And in this case, no."
Peacemaker launches on HBO Max on Thursday, January 13 with its first three episodes, and then airs on a weekly basis.