'Peacemaker' Episode 1 Recap: How John Cena's Supervillain Breaks Away From 'Suicide Squad'
John Cena's Peacemaker was shot in the neck and had a building fall on top of him in The Suicide Squad, but that wasn't enough to keep him down for long.
Peacemaker, which landed on HBO Max with its first three episodes on Thursday, January 13, opens with its eponymous character in hospital, five months after the events of the DC movie, with nothing but a replaced clavicle to show for the damage that was done to him.
The character, whose real name is Christopher Smith, is all healed up and can go back home, according to the doctor, and he takes this as his chance to escape having to go back to prison by leaving inconspicuously.
Before he does so, Smith decides to check in with janitor Jamil to ensure no one is looking for him, with the pair engaging in a rather amusing chat about his superhero status (Peacemaker argues he is one), his racist views (Peacemaker promises Jamil he'll kill more white people), and Aquaman's penchant for fish.
Luckily for Peacemaker, the authorities don't seem to be at all concerned that one of their former prisoners is able to walk free, and he manages to leave by taxi without incident and returns to his trailer park home.
Peacemaker's new mission
However, his peace doesn't last long as he is confronted by agents Emilia Harcourt (Jennifer Holland), John Economos (Steve Agee), newbie Leota Adebayo (Danielle Brooks) and their leader Clemson Murn (Chukwudi Iwuji).
They reveal to him he was only allowed to leave the hospital because he's needed to join their task force, who have been put in charge of a covert operation called "Project Butterfly."
Much to Smith's disappointment, "Project Butterfly" has nothing to do with Mothra as he hoped, and he agrees to meet the team for a debriefing at a local restaurant later that night.
In the meantime, he heads to his father Augie's (Robert Patrick) house to collect a new costume, helmet, and his pet Eagle, and best friend, Eagley.
Augie clearly holds no love in his heart for Smith as he didn't care that his son was in prison let alone hospital, and he also calls him "pathetic" for allowing himself to be shot in the neck.
The patriarch, who can best be described as a racist bigot, laughs at how Bloodsport's (Idris Elba) father tortured him using rats, and becomes even more disappointed in Smith when he learns it was Bloodsport who shot him, yeesh.
Despite this frosty reunion, Augie lets Peacemaker take a new helmet and suit from his secret lab, and also gives him back Eagley.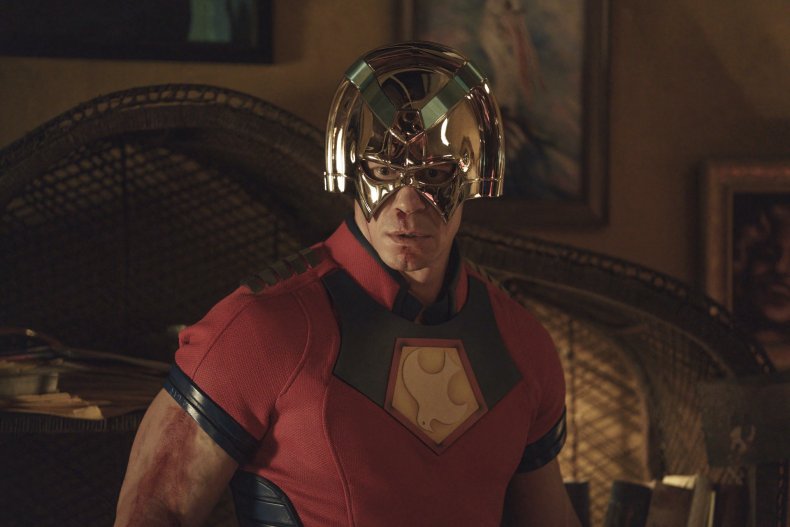 Getting to know the team (kind of)
Suited and booted, Smith meets with his team at a local diner where he learns that their first target is a US senator, and he promptly fails to connect with his cohorts, instead annoying them with his inappropriate remarks.
A busboy (Freddie Strome) from the diner immediately recognizes Peacemaker and celebrates his return outside the building because, while the Supervillain doesn't recognize him, the young man is, in fact, Vigilante.
After their meal, Peacemaker lets Adebayo meet Eagley and the pair chat about her marriage, with Smith incorrectly assuming she has a husband, and he also reveals he has a "big d**k" after she comments on how he confidently said her surname wrong by mistake.
In an amusing scene Peacemaker drives home while headbanging to classic rock songs with Eagley enjoying the win in his face, but when he sees Harcourt heading to a bar he decides to go inside and meet her.
Harcourt just wants to enjoy her beer in peace but that is apparently not meant to be because she has to fend off not one but two different guys, before Peacemaker also tries his luck by suggesting they have sex.
She tells him he can "f*** himself" and leaves, and it doesn't take long for Peacemaker to find a different woman at the bar who would be interested in a no-strings-attached fling with him.
As Smith is enjoying this one night stand, Adebayo is seen chatting over Zoom with Amanda Waller (Viola Davis) who tasks her with placing a forged diary in his trailer the first chance she has, and it is soon revealed that the reason why she joined the task force is because she is Waller's daughter.
Surprise attack
Following their night of passion, Peacemaker chats away to the girl he slept with while she brushes her teeth and decides to enjoy an impromptu song and dance in his white briefs to The Quireboys' "I Don't Love You Anymore."
His bliss is quickly stopped short when the woman suddenly attacks him and reveals she has superhuman strength, something that allows her to throw him around like a rag doll in her attempt to kill him.
Peacemaker fights her off and jumps from her window to the ground below, heading to his car to retrieve his helmet and activate its sonic boom explosion as she attacks him once more, an act that kills her instantly in a rather gruesome way.
The episode ends with Peacemaker sitting in the crater created by his helmet with Eagley sitting by his side as the police come hurtling down the road.
The first three episodes of Peacemaker are available to watch now on HBO Max, and the show airs weekly every Thursday.