'Peacemaker' TV Show: John Cena and James Gunn Talk About 'The Suicide Squad' Spinoff
Not content with just appearing in The Suicide Squad, John Cena's Peacemaker has more fight left in him yet and is set to reprise his role in a new HBO Max spinoff series created by James Gunn.
Not content with just the one outing, Cena will return as the unstable anti-hero in a show that was written and co-directed by Gunn. Not much is known about the mini-series so far but Cena and Gunn spoke to Newsweek about the bonus project while on the press tour for their recent movie, which introduced the character to audiences for the first time.
The concept was dreamt up by Gunn in 2020 while he was still editing The Suicide Squad. He and Cena explain what stage the project is at now, and why Peacemaker was chosen for his own show over the other heroes and villains in the DCEU .
How Peacemaker Got His Own Spinoff
Peacemaker has been a comic book character since the 1960s but it's taken him over 50 years to make his cinematic debut.
Cena was eventually cast as Peacemaker for Gunn's The Suicide Squad after other actors "didn't work out" as Cena puts it. He said it was a surprise to join the cast of the main movie, let alone bag himself a starring role in his own TV show.
"I remember him [Gunn] calling me saying 'hey would you–' 'yeah sure.' I didn't even know what it was because I didn't know what concept he would have or where he was [with it] or even if anything was possible to film at that point due to the restrictions but I guess he was moved by the performance in the movie," said Cena.
Gunn told Newsweek that he developed the idea for Peacemaker the TV series while he was stuck in lockdown in 2020. He said: "I needed something to get my mind off of being in quarantine so that's where Peacemaker came in."
Gunn admits he even impressed himself with the speed at which he developed the project. "I pitched Peacemaker on August 5 of last year, and hadn't written it yet and now here we are, and we're wrapped after shooting eight episodes. I wrote the whole thing, cast it, shot it all and we're done, in less than a year."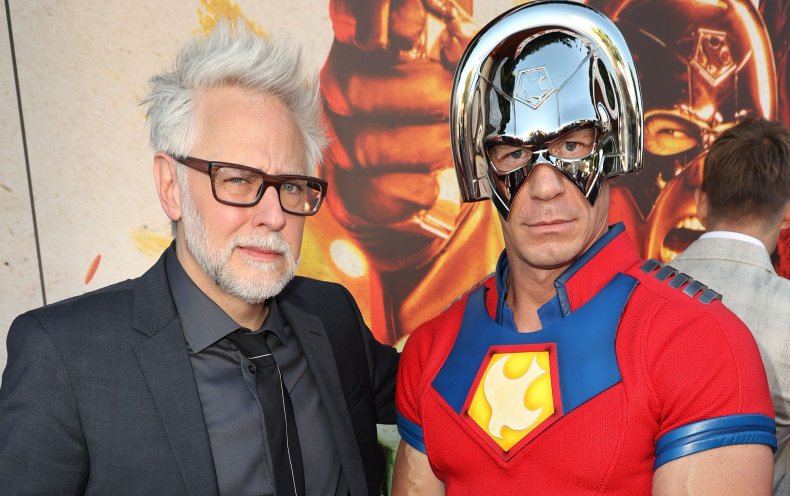 Spinning Off from 'The Suicide Squad'
The whole series may already be shot and ready to go, but The Suicide Squad will be given room to breathe before Peacemaker's story continues on HBO Max. Casey Bloys, chief content officer for HBO and HBO Max greenlit the series, and confirmed to The Hollywood Reporter that Peacemaker would arrive in January 2022.
The eight-part series was written entirely by James Gunn and he directs five episodes while Brad Anderson, Jody Hill and Rosemary Rodriguez also direct an episode each.
As well as Cena, Steve Agee and Jennifer Holland will reprise their roles as NSA agents in the upcoming series. Other actors confirmed to appear include Danielle Brooks (Orange is the New Black), Robert Patrick (Terminator 2: Judgment Day) and Freddie Stroma (Harry Potter)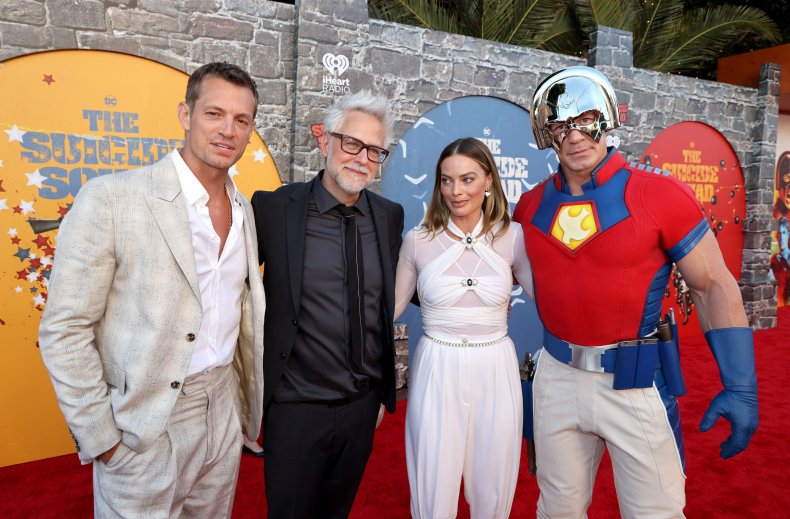 An idea conceived entirely in quarantine, Cena thinks Gunn in lockdown is a wonderful but worrying concept. He said: "I know the change in everyone's life over the past two years has been in some perspectives catastrophic but it has allowed us time and what we do with that time is our choice.
"James Gunn alone with his thoughts is a very creatively dangerous mix and just kind of him pent up with himself, he wrote this episodic for Peacemaker."
While Peacemaker was introduced in a movie featuring dozens of comic book characters, Cena and Gunn decided Peacemaker was a character worth exploring further outside of the constraints of The Suicide Squad.
Cena continued: "We had talked on set about the layers of Peacemaker but The Suicide Squad is stacked. There's like 25 main cast members and you do have to tell all of those stories in 2 hours and 30 minutes so you do leave a lot on the table.
"That's one of the traits of a great movie, leave the audience wanting more and I guess with an episodic we got to lean into that a little bit," Cena said.
The Suicide Squad is available to watch in theaters and on HBO Max now. The spinoffTV series Peacemaker is scheduled for release in January 2022.