Peaches Recall: Aldi Pulls Fruit Over Salmonella Concerns
A supermarket chain has voluntarily recalled bags of peaches that it sells in at least 20 states due to salmonella concerns, the Food and Drug Administration (FDA) announced on Wednesday.
Aldi, which runs about 2,000 stores across 36 states, said in a press release that the recall was a precautionary measure. The company said it received the peaches from its supplier, Wawona Packing Company LLC, and was concerned about possible Salmonella enteritidis contamination.
The Centers for Disease Control and Prevention (CDC) said Wednesday it is investigating the peaches alongside the FDA and food regulation officials in several states after at least 68 people got sick from salmonella contamination. The CDC said many of the ill individuals purchased the peaches after they arrived at Aldi stores on June 1 and said it thus believes the fruit is the source of the outbreak.
The first ill person connected with the outbreak reported feeling sick on June 29 and the most recent person to get sick reported their symptoms on August 3, according to the CDC. No one has died in connection with the salmonella contamination, but at least 14 people were hospitalized by Wednesday, the agency said.
The peaches were available for purchase in 2-pound bags and in bulk at the company's grocery stores in 20 states, as well as on Instacart, according to the Aldi press release. The company said it already removed items of concern that have not yet been purchased from its stores by Wednesday but encouraged any customer who purchased the peaches to throw them away or take them back to their local Aldi store for a refund.
"Throw the peaches away, even if some of them were eaten and no one has gotten sick," the CDC advised Aldi customers on its website. The agency encouraged those who have purchased the peaches to also sanitize any area with which the peaches came into contact, such as refrigerator shelves or kitchen countertops.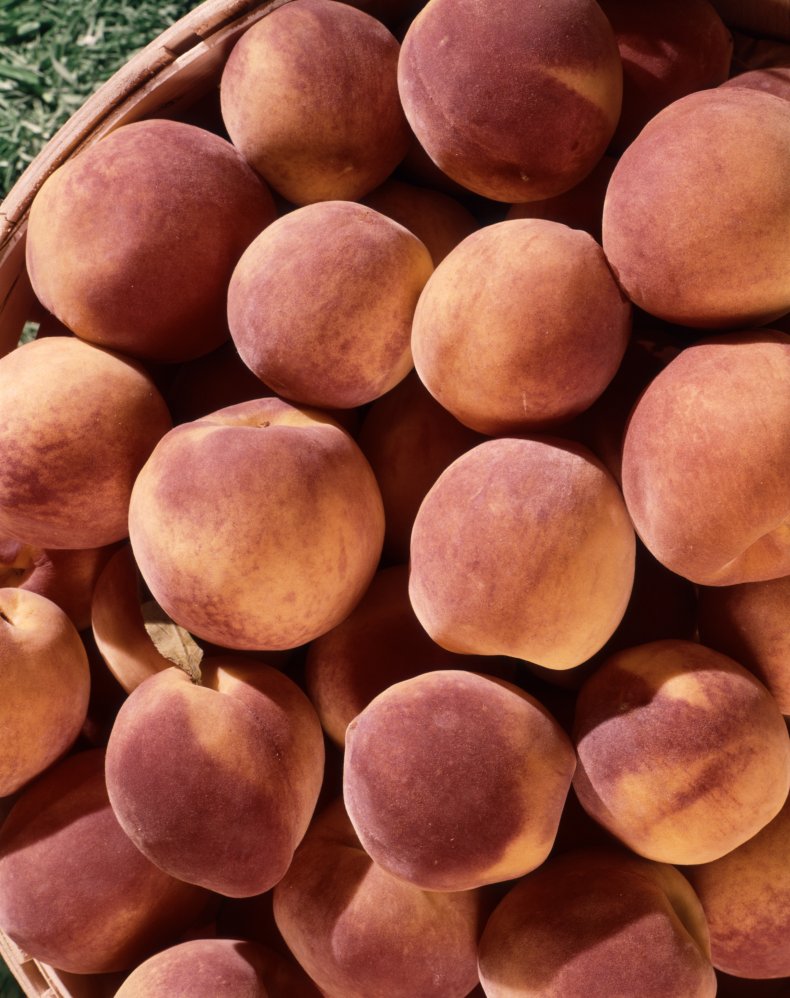 The company provided the universal product codes (UPCs) for the 2-pound bags of peaches so that customers can identify whether or not they purchased items of concern. The bag of Wawona Peaches has the UPC 033383322001 and the organic bag has the UPC 849315000400.
The FDA said both bags and the loose peaches were sold at Aldi stores in several states, including Connecticut, Florida, Illinois, Iowa, Kentucky, Maryland, Massachusetts, Michigan, Minnesota, North Dakota, New Hampshire, New York, Ohio, Pennsylvania, Rhode Island, South Dakota, Vermont, Virginia, Wisconsin and West Virginia.
The 68 individuals who have gotten sick live in Iowa, Maryland, Michigan, Minnesota, New Jersey, New York, Pennsylvania, Virginia and Wisconsin, according to the CDC.
The CDC said it is investigating the outbreak to determine whether any stores aside from Aldi sold the peaches.
Wawona Packing Company LLC told Newsweek on Thursday that it is looking into the incident but said it was too early in the company's investigation to comment further.