Peacock Release Date and Time: When Is the Streaming Service Launching?
Peacock is the latest streaming service launching in the U.S., coming hot off the heels of HBO Max and the Quibi. This new streamer, which has a July release date, will feature the best of NBC content like Parks and Recreation, 30 Rock, and (eventually) The Office alongside new series like the adaptation of the novel "Brave New World."
When is Peacock launching?
For some users, Peacock is already available and has been since April. Subscribers to Comcast's Xfinity X1 and Flex packages can access the streaming service now, and watch shows like Law and Order: Special Victims Unit, Everybody Loves Raymond and House. Those Xfinity users get the full Premium version of the streamer at no additional cost.
For users who are not Comcast cable customers, the release date of Peacock is Wednesday, July 15, with the streamer expected to launch just after midnight.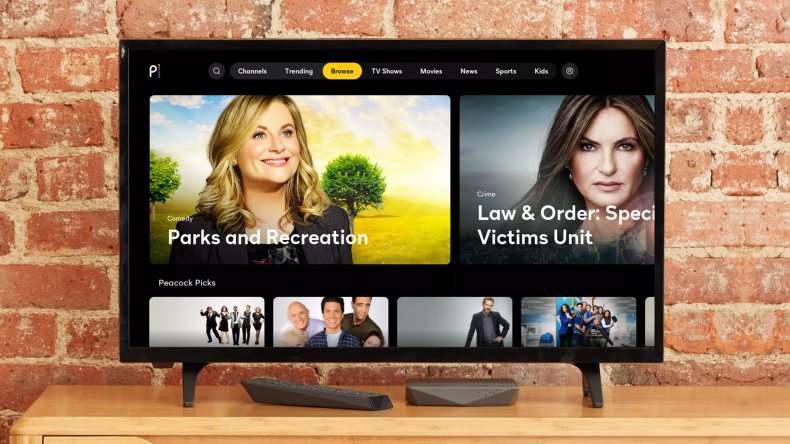 Users who pre-order the subscription to the service before its release date can save $20 on their subscription. The streamer is offering Peacock Premium with ads for $29.99 a year (reduced from $49.99) or (mostly) without ads for $79.99 a year–per Peacock's subscription page, "Due to streaming rights, Peacock channels, events and a few shows and movies will still contain ads."
When Peacock launches on July 15, it will also offer a free version where users can watch many of the show's pieces of content with ads. This free version, however, will be missing some of the content, including the Peacock originals like Brave New World, sports docuseries In Deep with Ryan Lochte, and the second Psyche movie, Lassie Come Home.
The service is currently only available in the U.S. and does not have any release dates set for other countries.
After the launch time, Peacock will be available via Peacocktv.com, and on Apple devices and Apple TV. The streamer is also set to be available on Android devices (including Chromecast), LG Smart TVs, Xbox One S and X and Vizio SmartCast TVs.
However, the streamer will not be available on Roku, Amazon Fire, or PlayStation at launch. Deals are said to be ongoing with Amazon and Roku, however, meaning that the service is likely to come to those devices in the coming months.
HBO Max, which launched in May, was also unable to strike a deal with the two device makers, who account for about 70% of the connected TV market. An HBO Max app has not appeared yet on either of the devices, so users may be in for a wait before they can watch Peacock.