Peacock That Escaped From Zoo in Boston Gets Lured Back With Fake Mating Call
A police officer used an unusual tactic to cajole a runaway peacock back home⁠—he played a mating call on his cell phone.
Officers were on patrol in Roxbury, a neighborhood of Boston, Massachusetts, on Monday when they were approached by a concerned member of the public at around 6:00 a.m. EST. The person was worried about an animal that had escaped from Franklin Park Zoo.
According to a statement released by the Boston Police Department, additional officers were called to the scene where they came across "an extremely large, slightly intimidating, and quite beautiful, male peacock."
It was then that one of the police officers, Patrick Sullivan, had a bright idea. Using "his quick wit," he played a peacock mating call from his cell phone. The electronic mating call did the trick and Sullivan was able to lure the peacock into a fenced yard. With the peacock safe and secure, he waited for Boston Animal Control to come and pick it up.
Sullivan described the encounter in an interview with CBS Boston: "I can say that in my two years with the police department I've never had any interaction with any kind of escaped peacocks or anything like that," he said.
He said the bird started following him as soon as he heard the mating call. "You did see a lot of smiles and laughs. It was kind of nice. It was a lighthearted moment which isn't something you see every day," said Sullivan.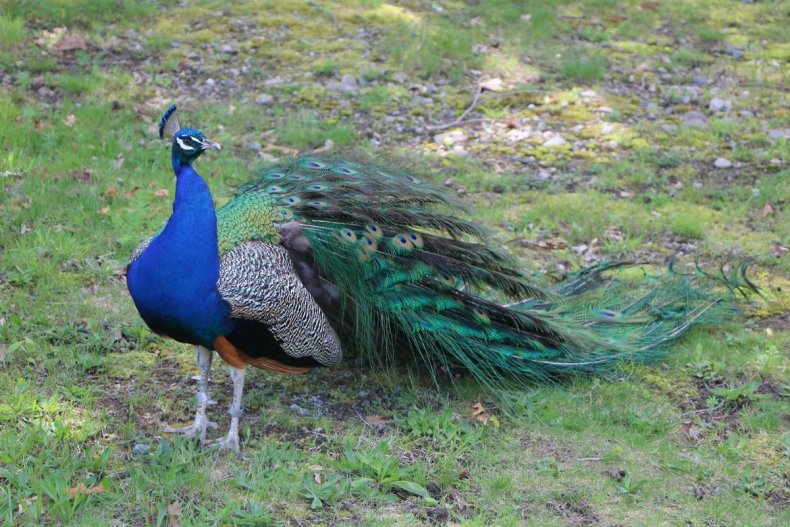 According to The New York Times, the runaway peacock is called Snowbank and he is turning 7 years old this summer. Officials at Zoo New England, who run Franklin Zoo, told The Times it is possible he made a break for it while out on the hunt for love. They explained peacocks at Franklin Zoo, where Snowbank has been living since 2013, are typically free roaming.
"And while they typically wander throughout the zoo, it is currently mating season, and it's possible he ventured out looking for love in search of a peahen (female peacock)," the email to The Times stated.
Zoo New England officials told Newsweek Snowbank often roosts for the night in a large tree near one of the Zoo's entrances.
"Yesterday morning, instead of flying down onto zoo grounds, he flew outside of the gate, where he began his adventure," they stated.
Sullivan said he felt bad for deceiving Snowbank, saying dating in Boston right now is a challenge given the current health crisis and social distancing restrictions. However, Snowbank appears to be doing just fine. He has returned home and is doing well, officials told The Times.
"Once Ed O'Brien, the assistant curator for Bird's World at Franklin Park Zoo, had Snowbank safely in hand, the peacock was really calm," officials from Zoo New England later told Newsweek.
"Snowbank seemed to take everything in stride and was calm on the ride back to the zoo. Although Snowbank did seem a little tired from his adventure, he settled right in once he was returned to his home at Franklin Park Zoo."
According to the Boston Police Department, it isn't the first time an animal has gone walkabout. In 2003, a 5-foot adolescent male gorilla, called Little Joe, left the park and attacked two people—a 2-year-old girl and an off-duty zoo employee.
Franklin Park Zoo remains temporarily closed in response to the outbreak of COVID-19.
The article has been updated to include comments from Zoo New England and details on Little Joe's escape.