'Peaky Blinders' Season 5 on Netflix: Who was Oswald Mosley and How Did He Die?
Netflix has now released Peaky Blinders Season 5, meaning that U.S. viewers can finally watch the latest season of the BBC drama. Sam Claflin stars in Peaky Blinders as Sir Oswald Mosley, a real-life British political figure from the 1930s who founded a fascist political party. However, Season 5 takes some liberties with the true story of Mosley and his rise to power.
Who was Sir Oswald Mosley?
At the start of Peaky Blinders Season 5, Sir Oswald Mosley is a Labour MP, and the season follows him from this point to the founding of his own political party the British Union of Fascists in 1932 and one of their first rallies, which provides the season with its gripping finale.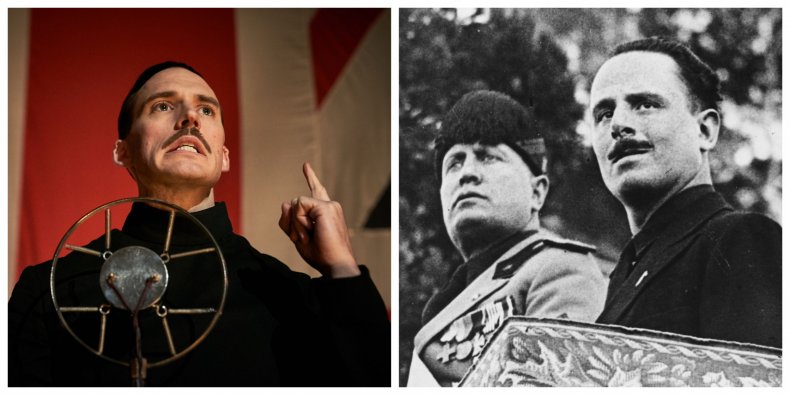 The BUF became known as the 'Blackshirts' for their distinctive uniform, with party members also becoming known for their rallies, Nazi-style imagery and anti-semitic statements.
Mosley ingratiated himself with the fascist rulers of Europe, touring Italy with Mussolini and marrying second wife Diana Mitford in Joseph Goebbels' Berlin home, where Adolf Hitler was a guest.
At its peak, the BUF had 50,000 members, with support from papers such as the Daily Mail, who famous ran a headline reading "Hurrah for the Blackshirts!", with a subsequent article calling them "a well organized party of the right ready to take over responsibility for national affairs with the same directness of purpose and energy of method as Hitler and Mussolini have displayed."
Following the breakout of World War Two, Mosley was arrested and interned along with his wife, with the pair only being released in 1943. Without Mosley, the BUF folded, and after numerous attempts to launch another party, he moved to Ireland in 1951, before later moving to Paris—though he did return to the U.K. to unsuccessfully run for British Parliament in 1959 and 1966.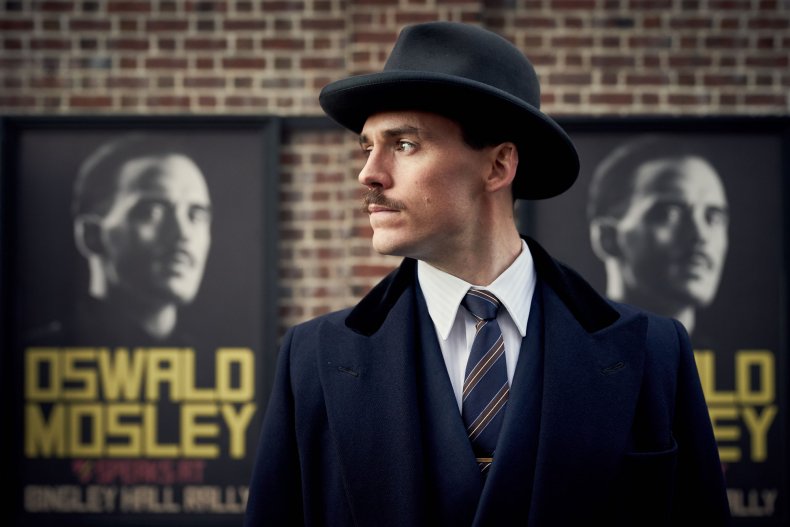 How Did Sir Oswald Mosley Die?
Though Mosley narrowly escapes an assassination attempt by Tommy Shelby (Cillian Murphy) in Peaky Blinders Season 5, in reality he did not die until decades later.
By the 1970s, the former MP was suffering from Parkinson's Disease and he eventually died in 1980 aged 84 in Paris. His wife Diana, meanwhile, did not die until 2003 at the age of 93.
The previous November to her death, MI5 documents revealed that when Diana, who Hitler once called an "angel," and Mosley were arrested, she was actually considered the greater threat. One communique read: "Diana Mosley, wife of Sir Oswald Mosley, is reported on the best authority, that of her family and intimate circle, to be a public danger at the present time." According to The Guardian, the documents also said she "is said to be far cleverer and more dangerous than her husband and will stick at nothing to achieve her ambitions. She is wildly ambitious."
According to The Times in London at the time of Mosley's cremation: "There had been many telegrams of condolence from Britain, but according to Mr Alexander Mosley, one of his sons, not one single abusive message. "All that was a very long time ago", he said.
Peaky Blinders Season 5 is streaming now on Netflix.