Woman Kicked Off Plane After Informing Crew She Had a Nut Allergy, Forced to Take 26-Hour Bus Ride Instead
A woman was kicked off a plane after she informed the cabin crew that she had a nut allergy.
Meleri Williams, a 20-year-old trainee teacher from Cardiff University in Wales, U.K. was boarding an Aerolineas Argentinas flight en route from Argentina's capital Buenos Aires to Esquel, where she was due to volunteer at a primary school, when she was told she couldn't continue the journey due to her severe allergy to peanuts.
Shocked by the cabin crew's refusal to let her join the flight, Williams was forced to make the nearly 1,150 mile journey to the school in Esquel by bus which took 26 hours to complete, The Mirror reports.
"My allergy is very severe and could lead to anaphylactic shock where my airways could close up and I could potentially die," she said.
But instead the cabin crew reportedly notified her it would be a greater inconvenience to others for her to board the flight.
"I explained that I could develop an anaphylactic shock if I was in an enclosed environment where nuts are consumed, but they didn't seem to understand," Williams said.
"The only food they had for their passengers was packets of dried fruit and nuts.
"They said that it would affect a greater number of people if nuts wouldn't be served," she said.
Williams also attempted to book a subsequent flight thinking "maybe if we gave them a warning it would be okay" but was told it would be impossible, she told Metro.
"There was a lot of fuss, I was very upset by the end I must say and then having to just walk away was awful," she said.
"It was very distressing trying to explain everything," she added.
Williams also claims other airlines, including Norwegian Airlines, have been very accommodating when alerted about her allergy on her previous travels.
"Everything had been very easy until this incident. We flew from Gatwick to Buenos Aires with Norwegian Airlines and they were very attentive and helpful," she said.
Williams has made a complaint to the Argentinian carrier about her treatment by cabin crew, which she thought was "totally unacceptable" but has the airline has reportedly yet to respond.
"We did not receive any sort of apology, which was also very upsetting and on what was our first visit to Argentina, creating a very poor first impression of the country," she noted.
Newsweek has reached out to Aerolineas Argentinas for a comment.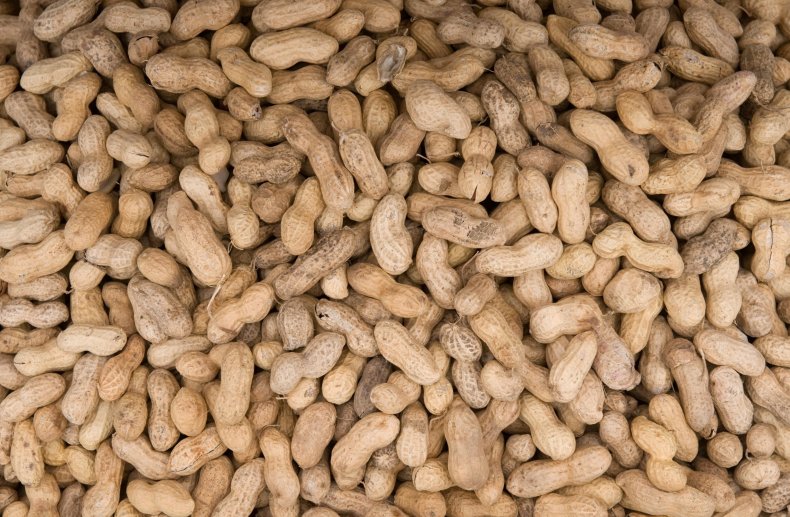 The most severe and life-threatening allergic reaction to peanuts is anaphylaxis, the American College of Allergy, Asthma and Immunology (ACAAI) notes.
"Symptoms may include impaired breathing, swelling in the throat, a sudden drop in blood pressure, pale skin or blue lips, fainting and dizziness. Anaphylaxis should be treated immediately with epinephrine (adrenaline), typically administered in an auto-injector," ACAAI states.
Peanut allergens fall under the two allergen sensitivities that cause the greatest concerns for airline passengers (the other being animal allergies), according to the Federal Aviation Administration (FAA).
"People who are severely allergic to these substances (or parents of children who are severely allergic to these substances) are typically very responsible at monitoring their environment to avoid exposure and taking appropriate action if symptoms from exposure occur," the FAA states in its advisory circular to airlines.
But protocol on dealing with passengers with peanut allergies depends on the airline. "There are some airlines that do not serve peanut snacks and there are some airlines who are willing to accommodate your request to serve a non-peanut snack on your flight," the FAA notes.
"You should call an airline's reservation number to get specific information for that airline. Even if no peanuts are served on your flight, however, no airline can guarantee a peanut-free flight. There may be peanut ingredients in the meal or other passengers may carry peanuts onto the airplane with them," it adds.
The FAA also advises any passengers who do have a severe peanut allergy to contact their physician before any flights to discuss the risks. "In the case of life-threatening allergies to peanuts, your doctor may advise you to carry an epinephrine auto-injector and oral liquid diphenhydramine to immediately and aggressively treat a reaction," the federal body advises.
"I do carry an Epipen but did not want to put myself in a position where there was a high risk and I could suffer from an allergic reaction midflight," Wiliams noted.
While the FAA acknowledges it would be impossible for airlines to create a completely peanut-free flight in all cases, it does note that airlines can take several steps to help prepare their staff for dealing with passengers with peanut allergies.
"Educate your personnel regarding the basis for passenger concern in this area...allergies to peanuts account for the majority of fatal and near-fatal anaphylactic reactions. To accommodate peanut-free food requests, review systems that you may already have in place to address special passenger dietary needs. Train your crew members to respond quickly and properly to a passenger who may be experiencing an allergic reaction (if you choose to have crew members medically assist passengers," the FAA states.
However, some health organizations say more research and measures need to be in place to address concerns over severe allergies during air travel.
Earlier this week, the Food Allergy Research & Education (FARE) group sent a letter to US airlines highlighting the burdens faced by those who suffer from allergies during their travels.
"It's unbelievable that anyone would be removed from a plane or denied the ability to travel simply because of their food allergy. Much more must be done to keep the food allergy community safe while flying," Lisa Gable, the chief executive officer of FARE, told Newsweek.
"The letter asks for their voluntary commitment to stock epinephrine auto-injectors in all onboard medical kits. We welcome the opportunity to work with the airline industry to ensure appropriate policies are in place to protect individuals with food allergies," she added.
"Allergic and hypersensitivity reactions such as anaphylaxis and asthma exacerbations may occur during air travel. Although the exact incidence of in-flight asthma and allergic emergencies is not known, we have concerns that this subject has not received the attention it warrants. There is a need to provide passengers at risk and airlines with the necessary measures to prevent and manage these emergencies," according to a report by the World Allergy Organization Journal.
"Systemic allergic reactions (SAR) (a serious systemic allergic reaction is defined as anaphylaxis) and asthma exacerbations (AE) may occur during air travel. We have concerns that to date, these have not received sufficient attention from passengers, airlines, and the medical community.
"In view of the potentially avoidable morbidity and mortality, a review about the epidemiology, management and prevention of allergic and asthma emergencies during air travel is needed to increase awareness about these reactions and how to prevent and treat them," it adds.