Pearl Harbor Day 2018: 25 Striking Photos of the Hawaii Attack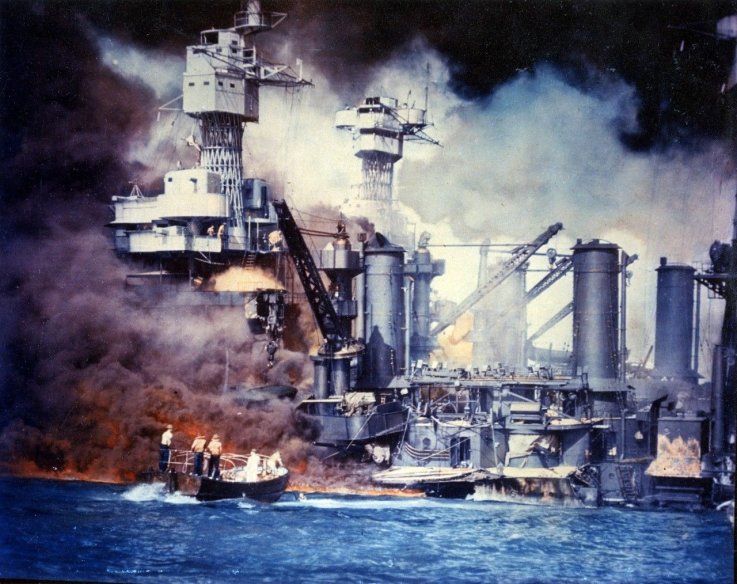 December 7, 1941, at 7:48 a.m. local time, 353 Imperial Japanese aircrafts bombed eight U.S. Navy ships docked at Pearl Harbor in Hawaii. Some 2,403 Americans were killed, 1,178 more were wounded and 960 were declared missing. As an event, it ignited U.S. involvement in the ongoing Second World War. Every year since, Americans from Washington, D.C. to Hawaii have honored those that died and remember the day that will "live in infamy," to quote then-President Franklin Roosevelt.
"Yesterday, December 7, 1941—a date which will live in infamy—the United States of America was suddenly and deliberately attacked by naval and air forces of the Empire of Japan," Roosevelt said in an address to Congress the day after the attack. He later added, "No matter how long it may take us to overcome this premeditated invasion, the American people in their righteous might will win through to absolute victory."
The attack was a surprise. Many U.S. servicemen were still in their pajamas or eating breakfast when the bombing started. All eight ships lined up on what was called "Battleship Row" were critically damaged or destroyed altogether. The USS Arizona exploded after a bomb hit its forward magazine (ammunition room), killing all 1,100 servicemen on board. Eleven other ships were sunk over the course of the attack and 188 planes destroyed.
In addition to Pearl Harbor, Japan also attacked U.S.-held bases in the Philippines, Guam and Wake Island over a seven-hour period. Because there never was a formal declaration of war from Japan, the country was later charged with war crimes during the Tokyo Trial in 1946.
In 1962 the USS Arizona Memorial opened on the site where the battleship exploded. It is visited by more than 2 million people annually. The sunken remains were officially declared a National Landmark in 1989.
Below are some of the most iconic photos taken on the day of the attack. They are provided by the Library of Congress, National Archives and the U.S. Navy archives. These photos provide an intimate look at one of the worst attacks the U.S. has ever seen, and make it clear why we remember all the U.S. servicemen who lost their lives every National Pearl Harbor Remembrance Day.