Indiana Veteran, One of Only Three From His Company to Survive Pearl Harbor, Beats Coronavirus
A 91-year-old man who survived Pearl Harbor is recovering after contracting COVID-19.
The former airplane mechanic was one of just three men from his company who survived the Pearl Harbor attack on December 7, 1941.
This year, Bates tested positive for COVID-19 and spent weeks at the Indianapolis VA hospital battling double pneumonia.
He is now recovering at American Village, part of the Indiana senior care foundation American Senior Communities. He is working with occupational and speech therapists and is gradually regaining his appetite and strength, according to Indianapolis' Wish TV.
"Robert has never given up his fight and he is getting stronger every day," said director of nursing, Ashley Collins.
Pearl Harbor, the U.S. naval base near Honolulu, Hawaii, was the scene of a surprise attack by Japanese forces in 1941. More than 2,400 Americans died in the attack, including civilians, and another 1,000 people were wounded.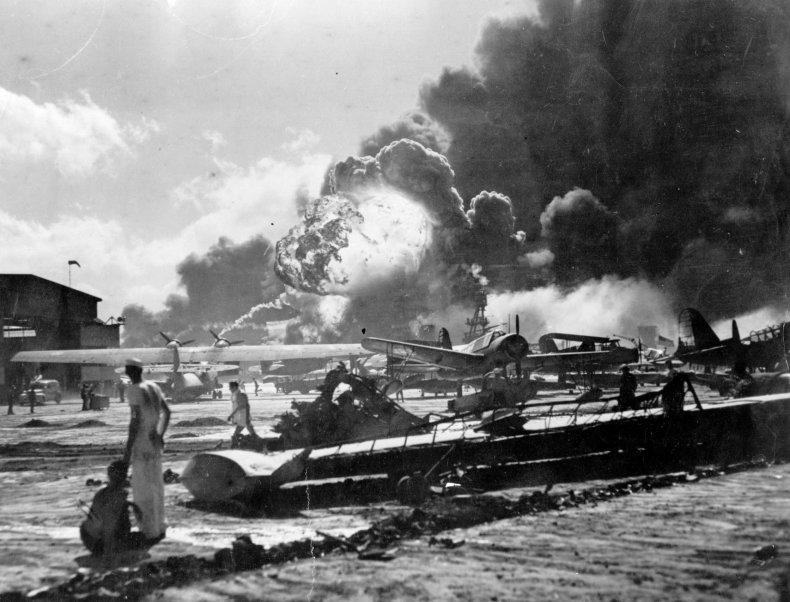 The following day, President Franklin D. Roosevelt asked Congress to declare war on Japan.
Bates survived and returned to Indiana after World War II, where he raised a family and worked for the postal service.
He first came to American Village in 2011 for rehabilitation and returned in 2015 to live as a long-term resident.
"God and the love of my family keep me going every day. Life is a blessing and I still have some living to do," he said.
Earlier this year, a centenarian who served in World War II recovered from COVID-19, just in time to celebrate his 104th birthday.
William "Bill" Lapschies of Oregon was one of 15 residents at the Edward C. Allworth Veterans' Home to test positive for coronavirus in early March, according to a report by Portland's KATU 2 television station. Two other residents at the veterans' home have died after being infected.
Carolee Brown, Lapschies daughter, said the family was so grateful for her father's recovery.
"We're so thrilled he's recovered from this and we just had to do something for him," she said, according to a report published by Chicago's WGN 9.