Pedestrian Bridge Collapses Over Freeway Following Crash, At Least 6 Injured
A pedestrian bridge in Washington D.C. collapsed on Wednesday following a vehicle collision, leaving at least six individuals injured.
The incident occurred at around 11:52 a.m. local time between Kenilworth Ave & Polk St. NE, according to Washington D.C. Fire and Emergency Medical Services (EMS).
Shortly after D.C. Fire and EMS reported the incident on Twitter, they issued several updates.
At 12:50 p.m. local time, D.C. Fire and EMS tweeted, "Update bridge collapse I-295 prior to Polk St NE. 6 patients assessed, 4 of those were transported."
The tweet also noted that a truck was struck by falling debris from the bridge and became partially trapped. The truck began leaking diesel fuel, according to D.C. Fire and EMS.
"Hazmat unit mitigating diesel fuel leak from truck that is partially beneath bridge. At least 1 other vehicle was struck by debris. Collapse blocks both directions," the department wrote in the tweet.
A spokesperson for D.C. Fire and EMS told Newsweek that the truck was from Frank's Scrap Metal and the diesel leak came from the truck's saddle tank.
The D.C. Fire and Hazmat unit was able to plug the truck's diesel leak and the Washington D.C. Department of Energy and Environment will offload the remaining diesel in the tank, according to the spokesperson.
While the previous tweet from D.C. Fire and EMS said that four individuals were taken to area hospitals following the incident, during a press conference, D.C. Deputy Mayor for Public Safety Chris Geldart said that the number has since increased to five. All individuals sustained non-life-threatening injuries, Geldart said.
During the press conference, Geldart stated that preliminary investigations led officials to believe that a vehicle driving on State Highway 295 hit the bridge and caused it to collapse.
Geldart said that DC-295 will remained closed as officials continue to investigate the scene and work to clear debris from the road.
D.C. Mayor Muriel Bowser also spoke during the press conference. "I'm very grateful to all the first responders who have gotten here very quickly, for our fire department, our Metropolitan police department," Bowser stated.
"We're gonna ask D.C. residents and all commuters to pay close attention to our HSEMA [Homeland Security and Emergency Management Agency] alerts, as well as all the local broadcasts, to be mindful of how you can avoid this area," she said.
Bowser also said during the press conference that the city does not have any "structural concerns" about the bridge, noting that it was last inspected in February.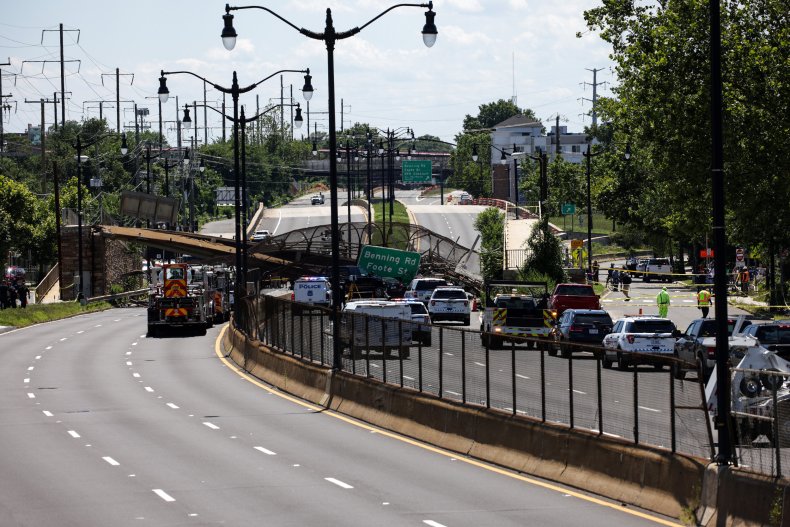 According to a tweet from D.C. Police Traffic, both the northbound and southbound lanes of DC-295 remain closed.