Pediatricians Urge Parents, Families to Get Vaccinated as Kids COVID Hospitalizations Rise
Pediatricians are urging parents and families with children to get vaccinated as the Delta variant causes a rise in COVID hospitalizations among kids.
The rapid spread of the highly transmissible variant has led to coronavirus surges in states like Florida and Louisiana and doctors are noticing that the infected population is beginning to shift toward a younger crowd.
At South Florida's largest hospital system, the pediatric case positivity rate rose to 19.4 percent during the first ten days of August. For most of the pandemic, that figure had stayed in the low single digits.
"The biggest difference that we're seeing is the number of children who have a positive test," Jackson Health System's Dr. Barry Gelman told Newsweek. "Then, that translates to a small percentage of them getting sick and a smaller percentage sick enough to be admitted to the hospital."
Gelman, who is the chief medical officer at the Holtz Children's Hospital, said the best way to keep kids safe from the virus, especially at a time when children under 12 are ineligible to get vaccinated, is to ensure that everyone around them gets their shot.
"In many cases, kids are getting infected by their unvaccinated parents in the home," he said. "It's not kid to kid. It's that parents are unvaccinated and they're out in the workplace or traveling or doing whatever and they're bringing the virus home. Then, their kids who have no immunity are getting infected."
He said the first step to protecting kids is to create a bubble of people who are vaccinated around the child.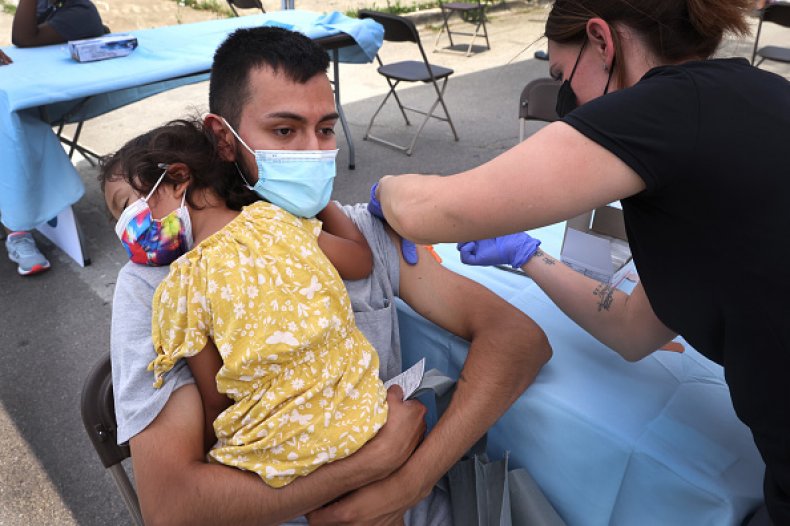 "That doesn't just mean immediate family members. It means babysitters, it means nannies, it means tutors, it means school teachers, it means the parents of friends, if they're going on a play date," Gelman said. "The more people surrounding a child in the household—or whatever their environment is going to be—who are vaccinated, the more the child is protected."
Ochsner Health's Pediatrics System Chair Dr. William Leannarz agreed that vaccines are one of the most effective ways at preventing infections among the nation's youngest populations.
"Make sure that every member of your family, who is of age to receive the vaccine, has received the vaccine because, obviously, the household is where the closest contact happens," Lennarz told Newsweek.
Gelman also pointed out that in Florida, kids aged 12 to 19 have become the age group with the highest case positivity rate. He worries that these unvaccinated teens could, unfortunately, infect younger kids who attend K-12 schools once the school year begins.
"K-5 or K-6, depending on how old this particular child is, cannot be vaccinated. But seventh grade, eighth grade and all of high school can be vaccinated if your child's in middle school," he said.
He noted that it's important for parents to educate their older children about vaccines because many young people often don't think they can get sick.
"In an abstract, cognitive way they feel like they have a feeling of invincibility," Gelman explained.
While it was previously assumed that children would be asymptomatic if they contracted COVID-19 or that the virus would only manifest into severe cases among those with underlying conditions, the Delta variant has quickly upended those ideas.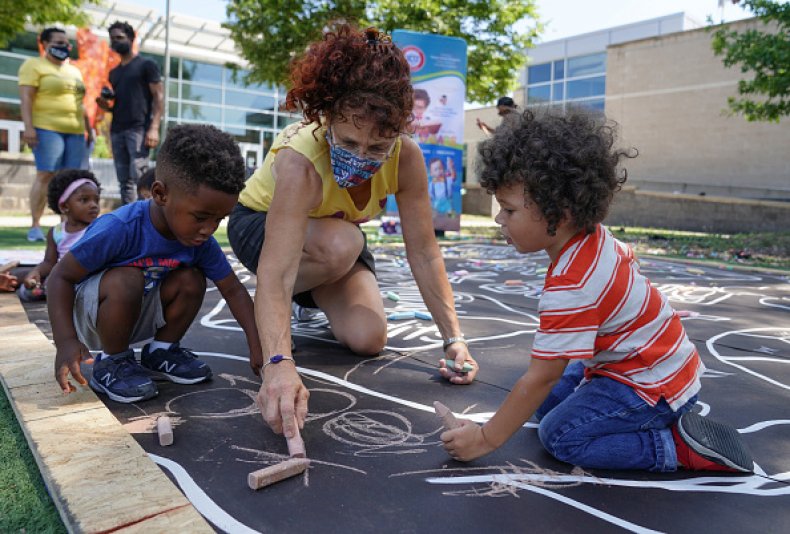 "We have had some kids that have underlying conditions and other kids that have would seem to have no apparent risk factor," AdventHealth for Children's Chief Medical Officer Dr. Michael Keating said to Newsweek. "It's that unpredictability—these chances that I wouldn't take with myself or my own children and I don't recommend for my own patients."
He continued, "It's a slippery slope and one that you'd like your child not to be potentially at risk for."
Lennarz has also seen how the randomness of the Delta variant has played out in his own pediatric patients.
He said that the majority of children who have required inpatient hospitalization at Ochsner Health have been fairly healthy, while kids who were expected to be at greater risk have been okay despite contracted COVID-19.
With states remaining divided on whether students should be required to wear masks when returning to school in the fall, pediatricians are preparing for an uptick in cases among kids.
"We do see going back to school as potentially creating more opportunity for spread of the virus but what we saw in the spring and the last year, is how effective schools cold be at mitigating by using masking and distancing," Lennarz said.
In Louisiana, where Lennarz works, Governor John Bel Edwards has mandated that anyone in kindergarten and older needs to wear a mask when indoors. But in states like Florida, where Governor Ron DeSantis has banned schools from implementing mandates, doctors say unmasked students could further the current surge among children.
"We're having a debate about whether [masks] should be a parental choice or no, but the CDC and the American Academy of Pediatrics have made clear that there are great advantages to kids masking," Gelman said. "If you ask me, which is better: to keep kids home learning online or to be in school with a mask? It isn't even close. Kids need to be in schools, ideally with masks on."
"At the end of the last school year, approximately 75 to 80 percent of the kids were in schools and at the time, they were asked to mask," Keating said. "I think the return to that type of behavior was effective and would continue to be so."
Correction 08/12/21 9:22 a.m. ET: An earlier version of this story said that Jackson Health System is in Central Florida. The system operates in South Florida.