Mom Used App to Help Cops Nab Pizza Deliveryman Accused of Raping Her 12-Year-Old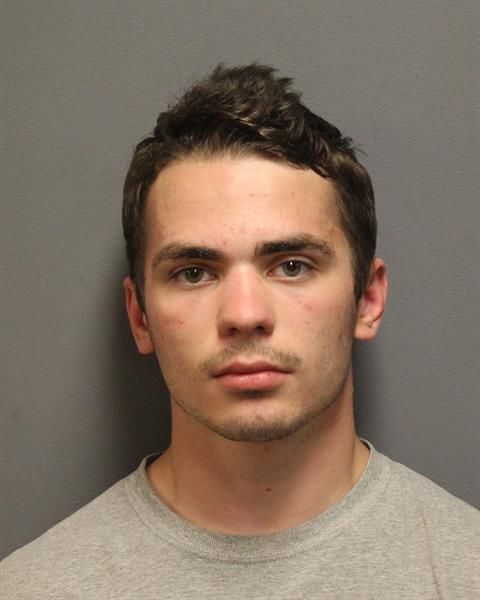 A pizza deliveryman was busted by a sleuthing mom after she discovered her 12-year-old girl was missing. She then helped Pennsylvania authorities slap charges against him for allegedly engaging and chronicling the illicit sexual encounters with the victim he met during a pizza order.
Joshua McGilvary, 19, was arrested on Tuesday by investigators from Luzerne County Sheriff's and Dupont Borough Police for striking up a sexual relationship with the preteen he'd met in May after delivering a pizza to the house of a 15-year-old friend of the victim's, according to police and court documents.
It was the girl's mother who overnight between June 24 and June 25 used the Find My iPhone app to track down her daughter to the deliveryman's home in Duryea, Pennsylvania, after fibbing that she was spending the night at a relative's house.
Rather, the girl met up with McGilvary at 2:45 a.m.—after he got off work—and after arriving at his home, the pair undressed and engaged in oral sex. McGilvary applied a condom and they engaged in "vaginal intercourse" before "they both fell asleep in his bed," according to the affidavit filed on Tuesday in Luzerne County Central Court.
Dupont Borough Police detectives also detail in their report that they discovered the alleged attack against the victim once her mother "learned that her daughter was not at a relative's house and immediately started looking for her daughter."
At around 9:15 a.m. the mother and the victim's sister "were out on the street looking for her" and she quickly got dressed to leave.
McGilvary advised to tell her mother "that she slept on the couch" and not in his second story bedroom," the affidavit states.
McGilvary, who police say worked as a Domino's Pizza deliveryman in Old Forge, Pennsylvania, allegedly met the 12-year-old victim in May, after completing a pizza delivery. While handing over the food, police say in the report McGilvary allegedly asked for the young girl's cellphone number, and "she provided [it] to him."
The youth and the deliveryman started to communicate through social media applications Instagram and SnapChat "in the late afternoon and evening hours."
Once hauled into custody, McGilvary waived his Miranda rights and quickly denied he knew the victim was 12 years old.
Newsweek's attempts to reach McGilvary, his family or an attorney were unsuccessful. Newsweek reached out to Domino's and was referred to a general manager, but did not receive a comment in time for publication.
McGilvary allegedly copped to driving the girl to his house to spend the night on his couch, but that they ended up in his bedroom and had sex.
The accused also allegedly attempted to wipe his phone free of the sexual evidence, but authorities were still able to recover the video of the encounter and two nude pictures of her.
He also allegedly told cops that he offered a ride to the victim who didn't have a house key and "that she won't be able to get in her house because the doors are locked and she didn't have a key," according to the affidavit.
McGilvary allegedly told the cops he offered to let her crash on his couch while he would sleep in his bed.
But once they arrived McGilvary told the authorities that they went "directly up to his bedroom where they begin to make out," he allegedly told them, according to the affidavit.
Both he and the victim were rousted awake "by the victim's phone going off" and McGilvary remembered "seeing the victim's mother and sister in the street," according to the affidavit.
He also told the cops that "the victim's mother was mad."
While McGilvary allegedly expressed his proclivity to "use his cell phone to record his sexual encounters with girls" and that he watches the footage "for sexual gratification," he said he didn't record a video of the victim and him having sex.
When informed they were able to recover photos and one video featuring him having sex with "the victim" he allegedly attempted to dodge and stated that it was a 17-year-old ex-girlfriend, the affidavit states.
But, according to the court document, specific birthmarks and scars were able to be confirmed to be those of the victim from the footage that was shot on the same night he allegedly slept with the 12-year-old.
In the process of investigating, authorities found that McGilvary previously carried on a sexual relationship with a 15-year-old girl. McGilvary allegedly said that they had oral sex but after he put a condom on, he "got the vibe she didn't want to sexual intercourse and stopped" before falling asleep, the document states.
Like the 12-year-old victim after her, the 15-year-old and McGilvary started corresponding on SnapChat and that they quickly turned into sexting. "At some point they agree to send nude images/videos to one another," the police report states.
But the two had a rule: "no screen shots were allowed."
With the 15-year-old girl, McGilvary allegedly didn't wait to take her to his home, but rather, according to the affidavit, "engaged in sexual intercourse and oral sex with the victim in the back seat of his vehicle."
When interviewed by investigators, the victim stated that McGilvary gave the teen a gift by purchasing "her a vape which he eventually provided her…"
The accused told cops that he wasn't attracted to young girls, but rather "he's attracted to 'tiny and short' girls less than 100 pounds," while making two measured fists "approximately 6-inches apart," according to the affidavit.
"I know that sounds pedophilic," he allegedly told investigators.
McGilvary was held on $200,000 bond after being arraigned on charges of rape, involuntary deviate sexual intercourse, child pornography, filming sex acts involving a minor, corruption of minors and indecent assault, according to the charging documents.